"Zero defects": when print quality and precision of inspection meet the customer's needs
February 23, 2021
Print control reaches its highest levels when two cutting-edge technologies meet: OMET and BST eltromat have developed the best combination of printing and quality inspection, playing the game on key issues as ease of use, versatility and an excellent price/ performance ratio.
Thanks to an increasing number of joint installations, OMET's technology and the wide range of BST eltromat quality control and workflow solutions – especially with the label inspector digital strobe TubeScan for a 100% real time print inspection – have achieved valuable synergies and superior results in producing high-end labels. OMET customers are showing growing appreciation for the easiness in keeping under control the printing and finishing quality, for the effective defect detection task and for the complete workflow control, that allow them to supply faultless products complying with the job specification, with less waste and increased reliability.
"Dialogue with the machine operators has always been a top priority for us – says Roberto Maiocchi, Narrow Web Sales Manager of BST -. We consider them like the first and fundamental objective in product development, because they are the first interlocutor for our systems. We thank OMET for giving us the opportunity to perform worldwide with the TubeScan series integrated on the advanced technology of their machines".
Several operations depend on a right dialogue between the operator and systems like the TubeScan during the printing process: to verify a barcode, to inspect fine text, to monitor delta E, to recognize an alphanumeric sequence, to monitor printing patterns distances, to compare and validate a pre-press PDF, to support cutting process, to inspect reflective labels and to detect the missing ones or print faults, to check clear on clear, to inspect UV, to control rewinder and finishing stations, to count and complete, to manage workflow and remove waste.
Thanks to the combined use of BST TubeScan system and OMET printing machines, achieving a "zero defects" print has become a standard.
---
"Zero difetti": qualità di stampa e precisione nell'ispezione incontrano le esigenze del cliente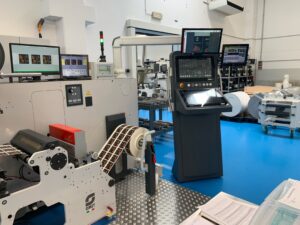 Il controllo stampa raggiunge i massimi livelli di efficacia quando due tecnologie all'avanguardia si incontrano: OMET e BST eltromat hanno sviluppato la migliore combinazione di stampa e controllo di qualità, giocando la partita su temi chiave come la facilità d'uso, la versatilità e l'ottimo rapporto prezzo/prestazioni.
Grazie ad un numero crescente di installazioni congiunte, la tecnologia OMET e la vasta gamma di soluzioni BST eltromat per il controllo qualità e del flusso di lavoro – in particolare grazie allo strobo digitale "label inspector" TubeScan per il controllo 100% in tempo reale della stampa – hanno raggiunto sinergie e risultati di livello superiore nella produzione di etichette di fascia alta. I clienti OMET dimostrano crescente apprezzamento per la facilità di ispezionare la qualità di stampa e finitura, per l'efficace rilevamento dei difetti e per il controllo continuo dell'intero flusso di lavoro, che permette loro di fornire prodotti impeccabili e conformi alle specifiche di commessa, con meno scarti e più affidabilità.
"Il dialogo con gli operatori delle macchine da stampa ha sempre avuto la massima priorità per noi – dichiara Roberto Maiocchi, Narrow Web Sales Manager della BST -. Lo consideriamo il primo e fondamentale obiettivo nello sviluppo di un prodotto: i nostri sistemi devono interagire anzitutto con loro. Ringraziamo OMET per averci dato la possibilità di performare in tutto il mondo con i sistemi della serie TubeScan integrati sull'avanzata tecnologia delle loro macchine".
Le operazioni in cui risulta determinante il dialogo tra l'operatore e un sistema come il TubeScan sono innumerevoli durante il processo di stampa: verifica dei codice a barre, ispezione Fine Text, monitoraggio Delta E, riconoscimento sequenza alfanumerica, monitoraggio distanze di dettagli di stampa, confronto e convalida di un PDF di prestampa, facilitazione del processo di taglio, ispezione etichette su materiale riflettente, rilevamento etichette mancanti e difetti di stampa, controllo "clear su clear", ispezione UV, controllo riavvolgitore e stazioni di finitura, conteggio e completamento, gestione del flusso di lavoro e rimozione degli scarti. Grazie all'utilizzo del sistema TubeScan della BST e delle macchine da stampa OMET il raggiungimento di una stampa con "zero difetti" è diventato uno standard.