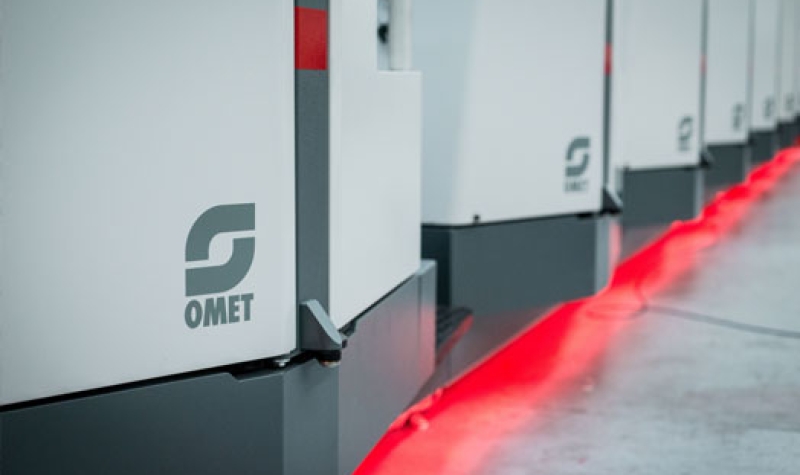 "Your Passport to Packaging" – OMET Open House on March 20th-21st
February 23, 2017
Packaging will be the main topic of the next "Open House" organized by OMET, scheduled for the 20th and 21st March 2017. The most important global players of the packaging sector will be welcomed at OMET Headquarters in Lecco for the official presentation of the new Varyflex V4 Offset: the only solution in the entire mid-web market with fully automatic offset technology by sleeve, which assures extreme flexibility and user-friendly operations.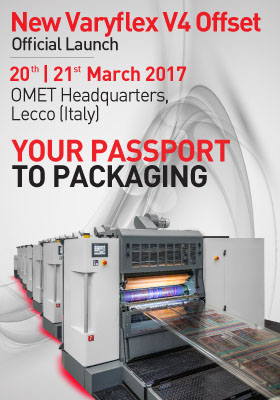 The flexible packaging market keeps on growing: particularly strong is the demand for hybrid technologies, able to satisfy not only the need for high printing quality but also the need for high-density color applications. The Varyflex V4 Offset can satisfy both this requests thanks to the combination of high-quality offset technology and newly designed flexo stations.
This printing combination will be shown during the event, named "Your Passport to Packaging", in a live demonstration where the new 33″4/8-wide press, with maximum mechanical speed of 400 m/min, will highlight all its potentialities. The Offset groups feature sleeve technology, which allows a complete repeat changeover in few minutes, thanks to the Easy Sleeve Format Change and the automatic pressure adjustment system.
The Varyflex V4 Offset has been designed to print either with "Wet-On-Dry" configuration, mounting UV lamps in-between the printing stations, or "Wet-On-Wet" with UV drying or Electron Beam curing at the end of the line. "We chose to show the Electron Beam curing system because we believe it can provide extreme drying efficacy in packaging printing production – explained Marco Calcagni, OMET commercial director – especially with complex jobs and food packaging.
The Varyflex V4 Offset is highly competitive in this ever-changing market where job runs are shorter and shorter and the alternative printing solutions, like rotogravure and CI flexo machines, add higher production costs to low flexibility and limited configurations".
OMET will give all the visitors the possibility to see the entire production site where they will be able to admire new innovative solutions and technologies, result of the continuous investment in research and development, which has always been second nature to OMET.
The event is organized in partnership with ebeamTechnologies and Rossini Spa.
Reserve your seat in the front row, write us at elena.maggi@omet.it
---

"Your Passport to Packaging" – OMET apre le porte il 20-21 marzo
Packaging protagonista al prossimo "Open House" OMET, programmato per il 20-21 marzo 2017. I più importanti produttori del settore a livello mondiale e la stampa saranno ospiti della sede di Lecco per la presentazione della nuova Varyflex V4 Offset: una delle poche macchine al mondo con tecnologia offset a maniche in linea, che permette di lavorare in completa flessibilità e con una gestione assolutamente user-friendly.
Il mercato del flexible packaging è in continua e forte crescita: aumenta in particolare la richiesta di prodotti stampati con tecnologie miste, che possano soddisfare sia un'esigenza di alta qualità, a cui risponde la tecnologia offset, sia una richiesta ad alta densità tipica della tecnologia flexo.
La Varyflex V4 Offset risponde a questa esigenza. Durante l'evento OMET, battezzato "Your Passport to Packaging", sarà mostrata la nuova linea di stampa con i nuovi gruppi offset combinati con gruppi flexo in fascia 850 mm, capace di raggiungere una velocità meccanica massima di 400 m/min.
La macchina è stata progettata per lavorare sia in configurazione Wet-On-Dry, montando lampade UV tra un gruppo stampa e l'altro, che Wet-On-Wet con asciugamento UV oppure Electron Beam a fine linea, assicurando un'estrema flessibilità. "Abbiamo scelto di mostrare il sistema di asciugamento Electron Beam perché crediamo che dia assoluta garanzia di qualità essiccativa per la stampa di packaging – spiega Marco Calcagni, direttore commerciale OMET – in particolare su lavori complessi ad alto carico di colore e per il packaging alimentare. La Varyflex V4 Offset è particolarmente competitiva in un mercato in cui le tirature sono sempre minori e gli impianti alternativi, come le macchine rotocalco e CI flexo, hanno costi di processo molto più elevati, oltre ad essere limitati in termini di flessibilità e configurazione".
Durante l'Open House sarà mostrata una soluzione ibrida con stampe offset con tecnologia sleeve a cambio rapido (Easy Sleeve Format Change), che permette un cambio formato completo in pochi minuti, in configurazione Wet-On-Wet con asciugamento Electron Beam, il tutto abbinato a stazioni flexo di nuova generazione completamente automatizzate.
Gli ospiti avranno anche l'occasione di visitare il settore produttivo OMET, eccellenza italiana del settore che ha fatto dell'innovazione un obiettivo primario, dimostrandolo anno dopo anno con continui e importanti investimenti nella ricerca e sviluppo di nuove tecnologie.
L'evento è organizzato in collaborazione con ebeam Technologies e Rossini Spa.
Per confermare la propria presenza, scrivere a elena.maggi@omet.it