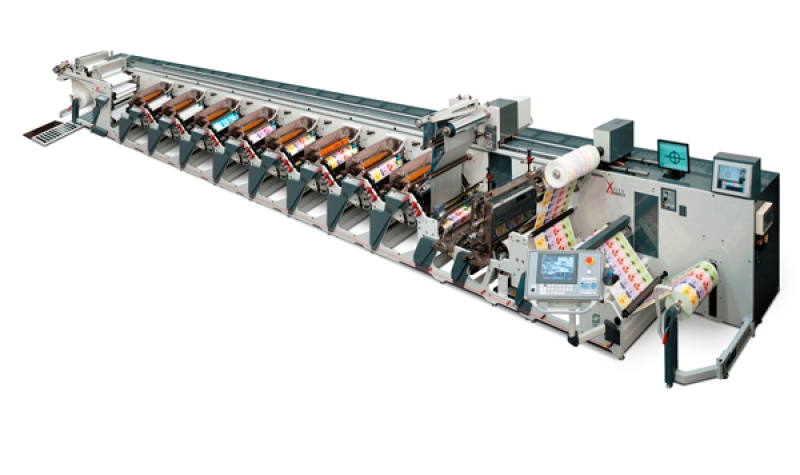 XFlex X6 now available in width 530 mm (21")!
January 13, 2014
The XFlex X6, available in widths 340 (13,4'') and 430 millimeters (17'') – recently shown at Labelexpo Europe 2013 with the addition of offset printing units – adds a new measure: 530 millimeters (21''). The new width reflects the strategic positioning of OMET in the flexible packaging market, which counts traditionally on increased production volumes with respect to the label industry.
The machine, partially renovated in the structure to better adapt to the new width, has a construction made ​​more solid by the use of hardened steel and is the result of quality mechanical processing and use of first-level components.
As with previous models, the XFlex X6 530 is the concrete realization of  in-line multi-process and presents the different technologies available in OMET's portfolio:  flexo, offset, gravure and hot melt coating in a fixed position, and cold foil, hot foil and screen positioned anywhere along the press.
Characteristic trait, a standard on X6 XFlex 530, is the ability to leverage one of the most recent technological solutions by OMET: the removable die-cutting cassettes (optional solution on models with narrower widths). The die-cutting cassettes simplify the job changeover and allow the preparation of a new print job offline, while the machine is engaged in the production of the previous work. Thanks to the interchangeable cassettes the machine set-up is accelerated and the possible inclusion of embossing is facilitated and involving less waste. This innovation offers in addition the possibility of reducing the costs of the lifting devices and warehouses on each single press since the exchange of the die cut and the replacement of the tools are carried out  "remotely" in an area specifically designated of the plant and with a single hoist/warehouse to serve more printing lines.
Objective of the technological advancement of OMET is to serve the flexible packaging market with a machine designed to better meet the critical issues and the pace of work typical of this industry. The XFlex X6 530 aims at ensuring a greater flexibility of the machine in terms of reception of print jobs and production volumes and generally offer a better cost management.