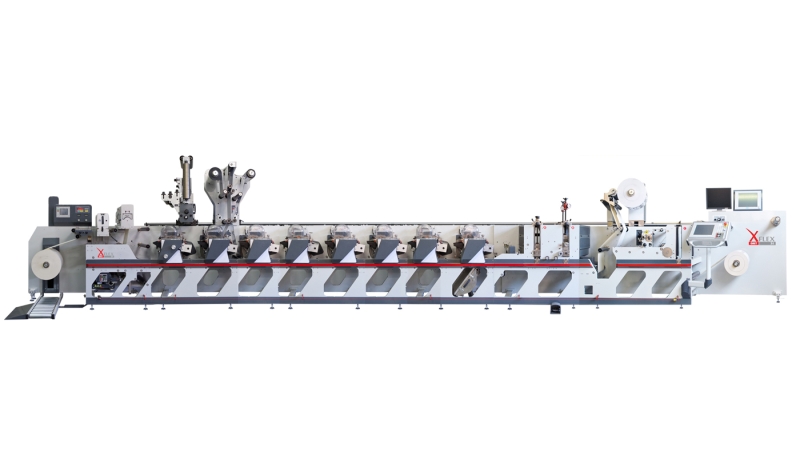 family name: XFlex code: X4
first seen: LABELEXPO EUROPE 2011
since then: EVERYBODY WANTS IT!
featuring: SHORT WEB PASS, REDUCED TIME-TO-REGISTER, LOW WASTE LEVELS, QUICK SET-UP, USER FRIENDLINESS
dedicated to: WHOEVER WANTS TO PRINT QUALITY CONSISTENT SHORT RUNS WITH A SPECIAL DEDICATION TO START-UP OR LOW BUDGET COMPANIES
what's more incredible: IT USES TRADITIONAL PRINTING CYLINDERS..!
what's more striking: IT IS EQUIPPED WITH TWIN SERVO-MOTORS ON EACH PRINT UNIT AND VISION-1 ADVANCED PRE- AND REGISTER SYSTEM !
A new development within the X-Flex family. XFlex X4, with twin servo-motors on each printing unit and inheriting most of the striking features of the elder sister X6, is meant for all the converters who use conventional printing cylinders.
An even shorter web path and an innovative electronic register control system make of this new model the 'best performer' in its class. A brand new 'easy change' system is unique in the market, and guarantees faster set-up and run-to-register times than any comparable printing press.
Any printer using the new X4 will be able to obtain higher quality and superior production performance than any of their competitors.
The new X4 has been designed and built with one aim: to make it easier for the operator to produce top quality work on all kinds of material.