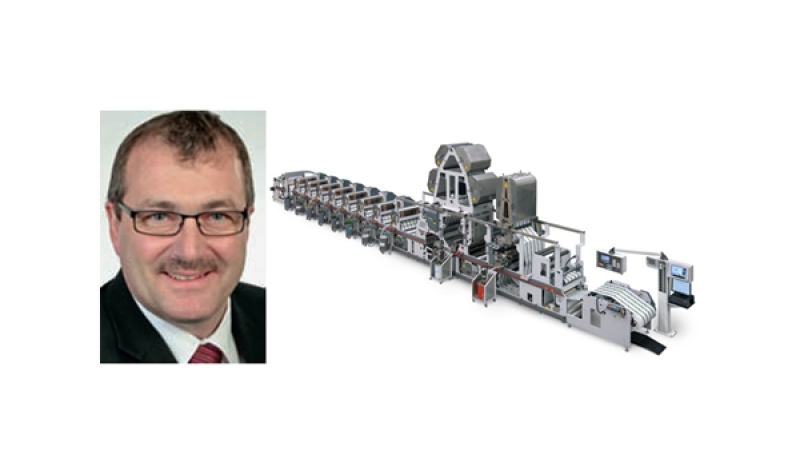 What mid-web hybrid presses bring to packaging production (2)
June 4, 2014
by Peter Ploehn, Chromos GmbH
Second half of the article published per courtesy of Deutscher Drucker, Issue 5, 2014
SUITABLE CONCEPTS
How does a mid-web press concept, mixing a large number of technologies, look?
The talk is about flexible and modular configurations of mid-web presses that can be enlarged to fulfil the required expectations (composition of a machine to be suitable for instance for foils, carton, labels, etc.);
Moreover it is advantageous to realize on a press a hybrid printing technology with changeable combinations of different printing and finishing processes;
It can be advantageous to flexibly apply the most different drying process inside a machine (for instance for combined solvent-based gravure printing and UV flexo printing), so that its optimal features can be exploited in each printing process. In this view we shall also consider that customers' requirements and technology changes can be accommodated;
Through modular press concepts, which can be adapted also for the future, and today still unknown print jobs, investment security is increased.
So a machine can be configured as a simple unwinding unit, final rewinder or multi-web version. Here the preparation of the web material is also generally integrated, such as web pre-treatment (Corona), web cleaning (contact or without contact), web guide control, material transport with web tension systems, etc.
HYBRID-PRINT CONCEPT
A hybrid printing concept is the use of a variety of printing methods on a printing position. Here, the exchange of different printing processes from one another becomes possible.
Certain print processes can be used only in firmly defined positions (for example an offset unit will have a higher weight and need a high stability to reach the required quality). Such a unit will certainly not be easily replaceable (weight, precision, quality). In such an array, modular hybrid printing units are often positioned before and after a steady offset section. There is a drying process after each printing unit, through which each colour is dried. An exception can be given by a steady offset section, in which a flat web run occurs and a "final dryer" is employed.
Additional functions (hot foil, cold foil, lamination, coating, hot seal, etc.) can be freely positioned and used where they are needed according to the printed job.
The possibilities resulting for the final product are here multiple.
Thanks to all these possibilities and assemblies it becomes possible to realize a machine configuration that can successfully suit individual needs in so many cases, ranging from mere roll-to-roll presses for flexible packaging through folding carton, multi-web applications, to very complex configuration (e.g. for lottery tickets) with over 20 different print units, additional treatments, digital press rotary processing, inspection systems and special product storage units.
FINAL PRODUCTS POSSIBLE
What final products could be printed today on a hybrid mid-web press with flexo as primary printing process?
Foil products such as flexible foil packaging, shrink sleeves, wraparound, in-mold, aluminum, etc. in combination printing (UV flexo, solvent-based flexo, gravure printing, offset print) with lamination, reverse printing, cold foil or different types of surface treatments;
Carton products like drink cups, packaging for liquids, packaging for sandwiches, fast-food packaging, simple folding carton boxes, blisters, etc.
There is certainly no general solution to face the trend mentioned at the beginning towards increasingly smaller run dimensions in all the print industry.
The flexible concept of a hybrid mid-web press is a solution that can be seen as a way to complete the available established printing press concepts.
Click here to read the article Part 1.
THE AUTHOR
Peter Plöhn, studied machine construction engineering, since the beginning of 2012 has been working in the sales department at Chromos GmbH. Focus are printing presses by OMET for Flexible Packaging in Germany.