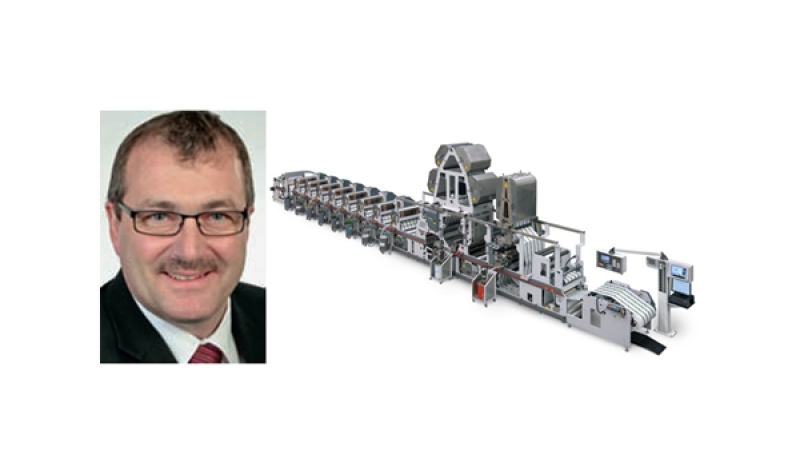 What mid-web hybrid presses bring to packaging production (1)
May 26, 2014
by Peter Ploehn, Chromos GmbH
First half of a two-part article published per courtesy of Deutscher Drucker, Issue 5, 2014
Rotary packaging printing
The trend to print small runs has also come to packaging industry. Printing machines have to become increasingly more flexible and modular to economically fulfil the more frequent changes of orders. A possibility is given by combined print on hybrid machines, as it is experienced especially in label production.
Could something similar be available also for packaging manufacturers? There is an increase of small and very small runs, which deserves our attention also in packaging printing. There are production runs of only a few thousand meters in a growing number of pieces. Managers of printing houses talk about a large number of printed jobs in the range of 2,000 up to 3,000 meters in length. This figure refers not only to printers in Germany.
Of course exist larger printed volumes in industry too, but they are decreasing. Large outputs are not necessarily run in a production cycle any longer today, but they are subdivided into additional smaller production cycles in a certain span of time. That reminds us of the 'just-in-time' philosophy followed in other sectors of industry.
THE CAUSE OF THE TREND
What are the reasons of such a trend?
–          Storage is reduced everywhere in the total production chain (cost pressure);
–          Job designs can be adapted in the short term (promotion jobs, reaction at changes…);
–          Global marketing of final products and features specific for each country (language, etc.);
–          A growing number of materials into the final packaging. In a product group there  are different packaging types that have to look 'the same' for the final consumer. Single lot dimensions become smaller as a consequence of that.
KNOWN IN THE LABEL INDUSTRY
This development started in label industry a long time ago and there have already been reactions:
–          Presses with very short changeover times have been created;
–          Waste has been strongly reduced;
–          Smaller web widths have been established. Widths of 330/340/370 mm are not an exception in the label market any longer today;
–          Improved print process concepts (sleeves, servo drives, short colour units, etc.) are to be seen increasingly more;
–          Next to conventional methods, digital printing is increasingly more represented.
The question is: how can we economically face this existing trend in packaging printing? Not producing small print orders and developing only economically interesting ones? Will companies then survive in the long term?
Or shall we produce on available machinery in a mixed combination? How will margins globally look? Shall we hope to shorten and optimize changeover times, tool costs, etc.? (Increasing the number of print orders per shift, reducing costs). In the end, it is really economic to produce?
Shall a reduction of production costs (print tools, consumables, storage costs for print tooling, etc.) be a target? Are we becoming competitive with the falling price of the final product?
A solution for packaging printing is offered by the combination of different print processes and color systems, coupled to higher flexibility in the choice of the printing process, etc. In the label industry we have known combination printing with hybrid presses for several years, and it is considered as established. The interchangeability of printing and finishing processes according to the press manufacturer is possible here, too, and combination printing is actively used for the production of "flexible" customized orders.
SUITABLE ALSO FOR THE PACKAGING INDUSTRY?
How can we now use this concept for the packaging industry? Here we can see a solution in the hybrid printing unit technology of a "mid-web" press. What does actually "mid-web" mean?
Here we can start from the following differentiation:
–          Narrow Web: up to max 20" (510 mm) print width
–          Mid Web: from 20" to 35" (approximately 900 mm) print width
–          Wide Web: over 35" print width (i.e. over 900 mm)
What does it mean practically? There are so many different processes that can be employed in a hybrid press.
In the list of the printing technologies which deserve to be named we can find: flexography, offset, gravure, silk screen, digital. Finishing processes can be punching, creasing, cross cutting, piercing, nesting, die-cutting, embossing, splicing, etc.
If we consider additional treatments we can list for instance: cold foil, hot foil, lamination, coating, varnishing, etc. Drying processes such as UV-drying (conventional and inert) are used, as well as hot-air drying, solvent drying, LED, ultrasounds, electron beams and so on.
The above-mentioned treatments are some of the most important processes, which can be used in industry today when printing labels, foils, cartons, tube laminates, aluminum, etc. These different processes can be assorted and flexibly combined into the existing mid-web press concepts. A press that satisfies all that can be possibly thought of does not certainly exist in reality.
A choice of presses which are singularly considered to be right can be reasonably sorted out only with a realistic machine requirement profile and knowing the different applications (to be continued next week).
Peter Plöhn, studied machine construction engineering, since the beginning of 2012 has been working in the sales department at Chromos GmbH. Focus are printing presses by OMET for Flexible Packaging in Germany.