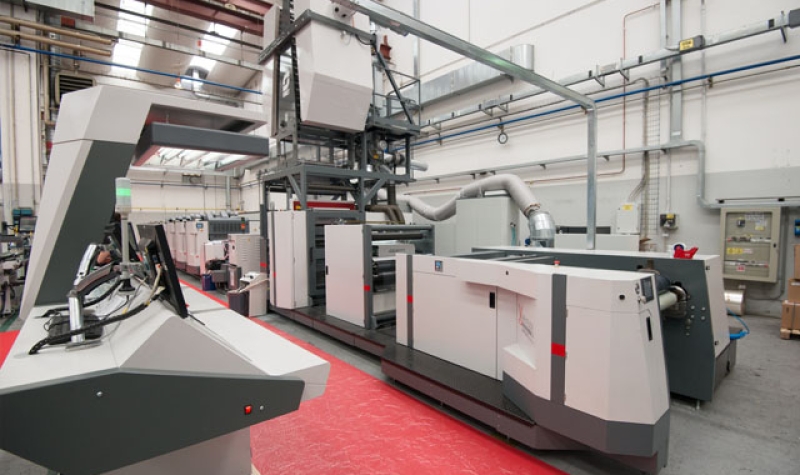 Varyflex V4 Offset: OMET to introduce the future of flexible packaging
March 22, 2017
Flexible packaging owns the future. Adaptable packages fitting the products. Colorful space-saving cases, resealable and safe, spreading on the shelves and becoming more and more appreciated by the producers and the consumers thanks to user-friendly logistics, use and recycling.
Moving with the future means to invest in technology development and OMET has never given up on it: this is part of its DNA since 1963. This is the message behind the Open House "Your Passport to Packaging" organized by OMET on the 20th and 21st March, which gathered some of the most important players of the sector as well as the major specialized newspapers. The event was the occasion to launch the new Varyflex V4 Offset: a mid-web machine featuring OMET patented offset technology combined with in-line flexo units, the first of its kind to lead the way towards a premium quality, flexibility and a consistent cost reduction.
Numbers do not lie. Packaging is the leading sector of the entire global printing industry, overcoming commercial and editorial products. Moreover, flexible packaging is destined to become the main segment of the packaging market: with a 25% share and a CAGR (compound annual growth rate) forecast of 5.1%, it is about to pass the board segment, reaching a turnover of $ 126 Billion[1]. This potential growth is led by the "Food & beverage" sector. In Europe, almost 90%[2] of food packaging on the market is flexible: sachets, stand-up pouches, squeezable and resealable cases and so on. Asia-Pacific and Latin America represent a great market potential offering big margins of penetration due to the lack of modern packaging systems.
In this context, the key words to success are flexibility, quality and safety. Flexibility is a major trend due to the increasing request of packaging versioning to satisfy targeted marketing initiatives and demand a premium price. In fact, flexible packaging offers higher printability and extended personalization capability, with the possibility to produce value-adding packages with different shapes and sizes to reach the target with higher precision.
As a consequence of the increasing product customization, print runs and time-to-market tend to shorten: production lead-time and costs have become two crucial factor to be competitive on the market. Yet, the quality of packaging cannot be scarified, since it is essential when it comes to maximize the appeal on the shelf and drive the choice of the final consumer. Last but not least, safety it is one of the focal points for the success of flexible packaging, as it provides high barrier properties and improves products preservation.
According to Flexible Packaging Association, flexible packaging allows for the reduction of 91% of raw material and could save 96% of space when empty: it is estimated that almost 3 times more units fit on a standard pallet. This means an easier logistic management and a drastic reduction of waste: this aspect has been drawing the attention of the global industry for the last years, both in terms of efficiency and eco-friendly approach.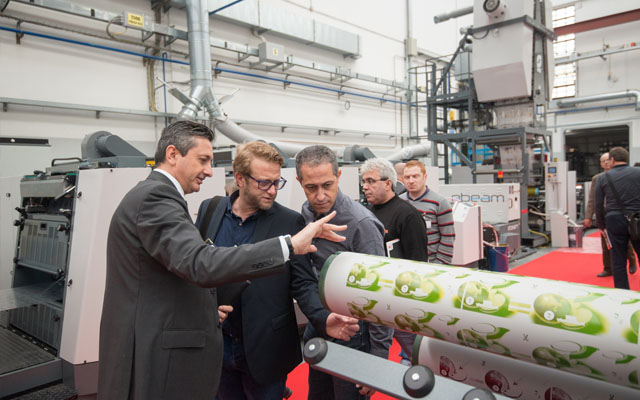 "Offset technology is the best solution to ride these market trends – explained Marco Calcagni, OMET commercial director -. The low cost as well as the short lead-time preparation of the plates allow for quicker and more frequent job changeovers, crucial advantage to be responsive to market necessities without profit reduction. It provides more flexibility compared to rotogravure or flexo printing, whose printing tools could take days or even weeks to be available and ready to print. For short and medium runs, offset technology is absolutely the most cost-effective solution, combining low production costs to high quality results, especially with CMYK printing, vignette printing, light/dark areas and fine lines".
Varyflex V4 Offset features 33"1/2-wide offset groups with OMET patented sleeve technology, combined with new fully automatic flexo units able to reach a maximum mechanical speed of 400 m/min.
Thanks to the integration of the Electron Beam curing system and to low-migration inks, Varyflex V4 Offset is the perfect solution for food packaging printing, with no risk for ink and solvent residuals on the packs.
Every offset unit features the "Easy Sleeve Format Change" system, with independent pressure adjustment and automatic register control, which allow quick and easy job changeovers in few minutes. This press is designed to work in different configurations: Wet-On-Dry with interdeck UV curing or Wet-On-Wet with UV or EB curing at the end of the line. The configuration showed in the Open House was composed by 7 offset groups plus one flexo Wet-On-Wet with EB curing, with the addition of another Wet-On-Dry flexo unit with hot air drying system.
"We chose to implement the Electron Beam system because of its high-curing properties especially on complex job with full-color printing – explained Mr. Calcagni-. It was a choice driven by the increasing requirement of packaging safety especially in the food and cosmetic sectors, where strict rules discipline the utilization of specific materials and inks that could come in contact with alimentary or dermatological products. Generally speaking, Varyflex V4 Offset is a high-competitive machine in a market where runs are getting shorter and shorter and the alternative technologies, like rotogravure and CI flexo, has higher production costs and are not flexible in terms of process and configuration".
In other words, Varyflex V4 Offset was designed to anticipate the necessities of the market and lead the companies towards the future. With this line, OMET widens its products range and consolidates its leading position in the flexible packaging market, providing an answer to the widespread need for added value and customization. The main features of the machine obtained sincere appreciation during the Open House, showing once again the reasons why OMET is one of the leading companies of the packaging printing market.
[1] Research and markets, "Flexible packaging market – global forecast to 2021"
---

Flexible Packaging, OMET apre le porte al futuro con la Varyflex V4 Offset
Il futuro è del flexible packaging. Imballaggi "morbidi" che acquistano forma sul prodotto. Confezioni colorate e salva-spazio, spesso richiudibili e sicure, che ormai riempiono i carrelli della spesa e sono sempre più apprezzate sia dai produttori sia dai consumatori per la comodità di utilizzo, il risparmio di costi e l'eco-sostenibilità.
Ma stare al passo col futuro vuol dire investire in tecnologia. Ed è quello che continua a fare OMET con le sue macchine. Questo il messaggio dell'open house "Your Passport to Packaging" organizzato da OMET il 20 e 21 marzo: ospiti, nel sito produttivo di Lecco, alcuni dei più importanti produttori mondiali del settore e rappresentanti della stampa specializzata. Durante l'evento è stata presentata la nuova Varyflex V4 Offset: una macchina con tecnologia di stampa offset combinata con gruppi flexo in linea che promette una svolta verso la qualità e la flessibilità, con un notevole risparmio sui costi.
I numeri non mentono. Nel mondo ormai si stampa ormai più packaging rispetto a libri, giornali o stampati pubblicitari. E l'imballaggio flessibile è destinato a diventare il segmento principale del packaging: con una quota del 25%, ha già superato metallo e plastica, e con un tasso di crescita composto annuo del 5,1% si appresta a superare cartone e cartoncino pieghevole, arrivando nel 2021 a primeggiare con un giro d'affari di 126 miliardi di dollari[1]. A trainarlo, c'è su tutti il settore "food and beverage": in Europa ormai circa il 90%[2] delle confezioni sono di questo tipo: dal sacchetto delle patatine agli astucci stand-up, dalle buste per i cereali o caffè agli squeezable richiudibili dei succhi di frutta e delle ricariche dei detersivi. Grande potenziale è rappresentato dai Paesi dell'Asia-Pacifico e dell'America Latina che offrono ampi margini di penetrazione per la scarsa diffusione dei sistemi moderni di imballaggio.
In questa cornice, flessibilità, qualità e sicurezza sono le parole d'ordine per avere successo. Flessibilità perché spesso vengono richieste più versioni dello stesso packaging a fronte – per esempio – di iniziative di marketing. Gli imballaggi flessibili sono più facili da stampare e offrono una varietà unica di forme, taglie e formati che permettono di lavorare sul valore aggiunto e centrare il target di mercato con maggior precisione.
Di conseguenza le tirature tendono a diminuire perché si cambia spesso, i prodotti sono sempre più personalizzati ed è cruciale la velocità per ridurre i tempi di time-to-market. La qualità del packaging non può essere sacrificata, perché determina spesso la scelta del consumatore, ed è fondamentale per massimizzare l'impatto visivo a scaffale. La sicurezza, qui citata per ultima, è forse il fattore critico di successo del flexible packaging per le proprietà barriera che migliorano e allungano la conservazione dei prodotti.
Non solo. Secondo i dati della Flexible Packaging Association, il flexible packaging consente di ridurre del 91% l'acquisto di materia prima e del 96% l'utilizzo dello spazio: si calcola che nello stesso pallet ci stiano, in media, il triplo delle confezioni. Ciò significa gestire più facilmente il magazzino e soprattutto ridurre gli sprechi: un aspetto su cui è puntata l'attenzione globale sia a livello di efficienza produttiva sia a livello di rispetto ambientale.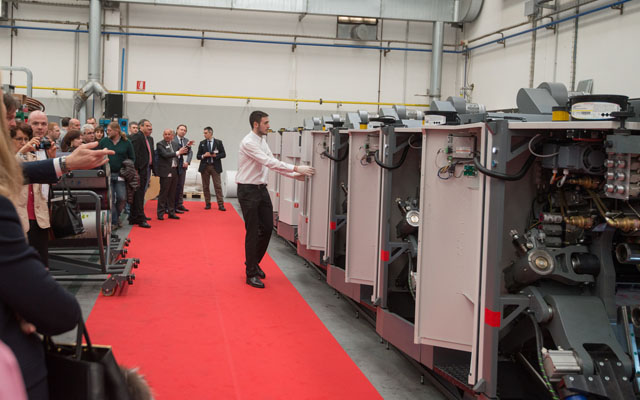 "La tecnologia offset è quella che risponde meglio ai trend di mercato – spiega Marco Calcagni, direttore commerciale OMET -. Il basso costo di sostituzione delle lastre consente di cambiare lavoro velocemente, ed è decisivo per la velocità del time-to-market. Consente maggior flessibilità, perché le lastre sono pronte in poche ore, mentre per un cilindro rotocalco ci vogliono giorni o settimane, ed è in assoluto la miglior soluzione per la stampa a 4 colori. Per le tirature medie e basse, la stampa offset risulta essere la tecnologia che impatta meno sui costi produttivi, garantendo comunque assoluta qualità: ha una precisione superiore alle altre tecnologie soprattutto nelle didascalie, i chiaroscuri e le linee fini. La differenza è evidente: la stesura uniforme dell'inchiostro tipica della stampa offset, permette di ottenere risultati qualitativi eccelsi".
La Varyflex V4 Offset, presentata durante l'Open House, monta gruppi offset in fascia 850 mm con tecnologia Sleeve OMET brevettata, in combinazione con gruppi flexo completamente rinnovati capaci di arrivare ad una velocità meccanica massima di 400 m/min. Grazie all'integrazione del sistema Electron Beam e all'utilizzo di inchiostri a bassa migrazione, la Varyflex V4 si presenta come soluzione sicura per la stampa di imballaggi alimentari, eliminando completamente il rischio di residui di inchiostro o solvente sul packaging.
La nuova linea di stampa dispone del sistema cambio rapido a sleeve (Easy Sleeve Format Change) con controllo automatico delle pressioni di stampa che permettono un cambio formato completo in pochi minuti. E' stata progettata per lavorare con diverse configurazioni: Wet-On-Dry con asciugamento UV tra un gruppo stampa e l'altro; Wet-On-Wet con asciugamento UV oppure Electron Beam, mantenendo un'estrema flessibilità di processo. Durante l'Open House è stata mostrata la soluzione con 7 gruppi offset e un gruppo flexo Wet-On-Wet con asciugatura Electron Beam, con l'aggiunta di un ulteriore gruppo flexo con asciugamento ad aria calda.
"Abbiamo scelto di mostrare l'Electron Beam per la garanzia di qualità essiccativa nella stampa di packaging – spiega Calcagni – in particolare su lavori complessi ad alto carico di colore. Una scelta dettata dalla crescente esigenza di sicurezza, in particolare nel settore alimentare e cosmetico, particolarmente esigenti sull'utilizzo di materiali e inchiostri di stampa sofisticati che potrebbero entrare in contatto con i prodotti che ingeriamo o mettiamo sulla pelle. In generale, la Varyflex V4 Offset è una macchina particolarmente competitiva in un mercato in cui le tirature sono sempre minori e gli impianti alternativi, come rotocalco e CI flexo, hanno costi di produzione molto più elevati, oltre ad essere limitati in termini di processo e di configurazione".
In altre parole, la Varyflex V4 Offset è stata progettata per anticipare le esigenze del mercato e portare le aziende nel futuro. Con questa linea, OMET ampli la gamma consolidando la sua posizione nel mercato dell'imballaggio flessibile, rispondendo alla diffusa esigenza di maggior valore aggiunto e personalizzazione. Le sue caratteristiche hanno riscosso elevato apprezzamento durante l'Open House, confermando le ragioni per cui OMET si attesta da anni come uno dei leader mondiali del mercato.
[1] Research and markets, "Flexible packaging market – global forecast to 2021"