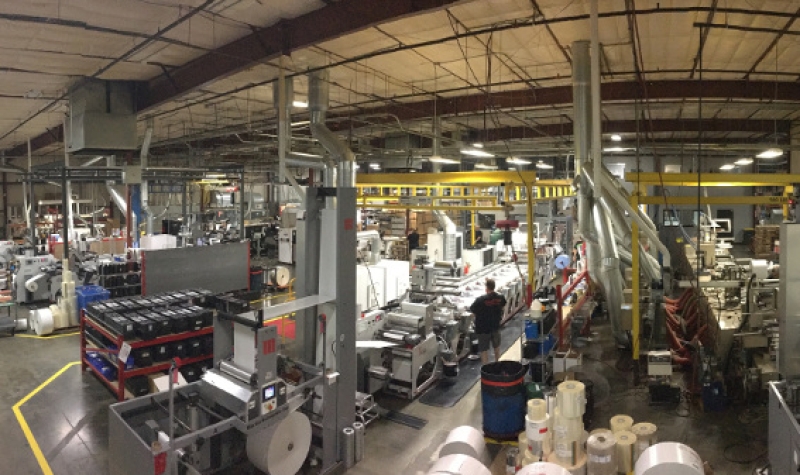 Usa, fifth OMET press in 3 years for Phenix Label
September 5, 2018
For more than a century, Phenix Label has led the industry by constantly evolving to bring better solutions to each of its customers. With a wide range of options to consider, Phenix Label chose OMET as the perfect partner for the modernization of its converting plant starting in 2016 a great collaboration.
"Our mission is to be the best in the industry" – says Todd Fatino, Phenix Label Vice President of Innovation – "We lead our industry by promoting teamwork and integrity in a family-oriented culture. Through innovation and continuous improvement, we provide superior quality and unmatched service. Established in 1896, Phenix Label is today at 4th generation family owned by Hans M. Peter. "With peerless quality and unmatched service – continues Mr. Fatino – we have grown over the past 100 years to offer our loyal customers much more than labels and packaging. Today, we bring advanced technology to package design. We bring an unwavering commitment to quality and service. We bring our culture of accountability and a dedicated team of professionals who take pride in promoting customers brand and products".
It is no accident that name of company is Phenix. Like the mythical bird symbolizing strength, growth, rejuvenation, and rebirth, we adapt to meet the ever-changing needs of clients. "We are not afraid of change nor the evolution of the industry – declared Mr. Fatino – In fact, we embrace it".
Before modernization of its manufacturing equipment, Phenix spent 1.5 years investigating the current printing press technology before deciding on OMET. "We travelled to the press manufacturers site as well as individual converting plants – tell us Mr. Fatino – utilizing the various types of printing presses. Some of the deciding factors were technology/engineering, family owned company for 50 plus years, diversification… tissue machines, ball bearing division…"
After a first OMET X6 530 installation in 2015, Phenix Label installed 2 OMET iFLEX 370 and 2 OMET X4 370. It means 5 OMET presses in 3 years. Latest press is a 10 color X4 equipped with GEW LED curing technology, corona treating, web cleaning lamination, sheeting and cold foil. Phenix continues to modernize their plant with new OMET press's and phasing out of the existing Aquaflex/Instaflex technology.
"Our marketing target is to delivery the WOW factor to our customers – explains Mr. Fatino – We don't just take order, we work with the customer from start to shelf to create consistent and compelling package design. OMET presses really help us in quality and quick delivery to our customers. Plans are to purchase additional OMET presses in the future – says Mr. Fatino – Looking forward of being a partner with OMET for a long long time".
---
Stati Uniti, cinque macchine OMET in tre anni per Phenix Label
Da oltre un secolo, Phenix Label è leader di settore grazie alla costante evoluzione delle soluzioni di stampa proposte ai suoi clienti. Tra la vasta offerta dei fornitori sul mercato, nel 2016 Phenix Label ha scelto OMET come partner per innovare il suo parco produttivo, dando vita ad una lunga e proficua collaborazione.
"La nostra missione è essere i migliori del settore – afferma Todd Fatino, Vice Presidente del comparto Innovazione Phenix Label – Abbiamo guadagnato una posizione di leadership puntando sul lavoro di squadra, sull'integrità, e sulla cultura orientata alla famiglia. Attraverso l'innovazione e il miglioramento continuo, forniamo ai nostril clienti una qualità superiore e un servizio senza pari". Fondata nel 1896, Phenix Label è oggi gestita dalla quarta generazione della famiglia dei fondatori, di proprietà di Hans M. Peter. "In un secolo siamo cresciuti e siamo arrivati ad offrire ai nostri clienti molto più di etichette e imballaggi – continua Fatino –. Garantiamo loro avanzati livelli di tecnologia e design per ogni tipo di packaging, mantenendo impegno costante per elevati livelli di qualità e il servizio. Nostri portabandiera sono la cultura della responsabilità e un team dedicato di professionisti orgogliosi di promuovere il brand e prodotti dei nostri clienti".
Non a caso il nome dell'azienda è Phenix, "fenice". "Come il mitico uccello che simboleggia forza, crescita, ringiovanimento e rinascita, ci adattiamo per soddisfare le mutevoli esigenze dei clienti – dichiara Fatino – Non abbiamo paura del cambiamento né dell'evoluzione, piuttosto li abbracciamo".
Prima di rimodernare gli impianti di produzione e di scegliere OMET, Phenix ha trascorso un anno e mezzo a studiare le tecnologie di stampa offerte dal mercato. "Abbiamo visitato tutti I produttori di macchine da stampa e converting – dice Fatino – abbiamo testato i vari modelli proposti. Decisive per la scelta finale sono state la tecnologia e la progettazione di OMET, la storia e la gestione familiare da oltre 50 anni, la diversificazione in diversi settori come tissue e cuscinetti a sfera".
Dopo la prima installazione di una OMET X6 530 nel 2015, Phenix Label ha installato due
OMET iFLEX 370 e due OMET X4 370: in totale 5 macchine da stampa OMET in 3 anni. L'ultima macchina acquistata è una OMET X4 a 10 colori dotata di tecnologia di polimerizzazione GEW LED, trattamento corona, pulizia del nastro, laminazione UV, stazione per l'uscita fogli e cold foil. Phenix continuerà a innovare il suo parco produttivo con nuove linee OMET e sta eliminando gradualmente la tecnologia Aquaflex-Instaflex esistente.
"Il nostro obiettivo di marketing è offrire il cosiddetto fattore WOW ai nostri clienti – spiega il Sig. Fatino – Non prendiamo semplicemente ordini, lavoriamo con il cliente dall'inizio alla fine per creare un packaging coerente e convincente. Le linee OMET sono fondamentali per la qualità e la rapidità di consegna. Nei nostri piani ci sono altre macchine OMET su cui investire in futuro spero che la partnership con OMET duri per molto tempo".