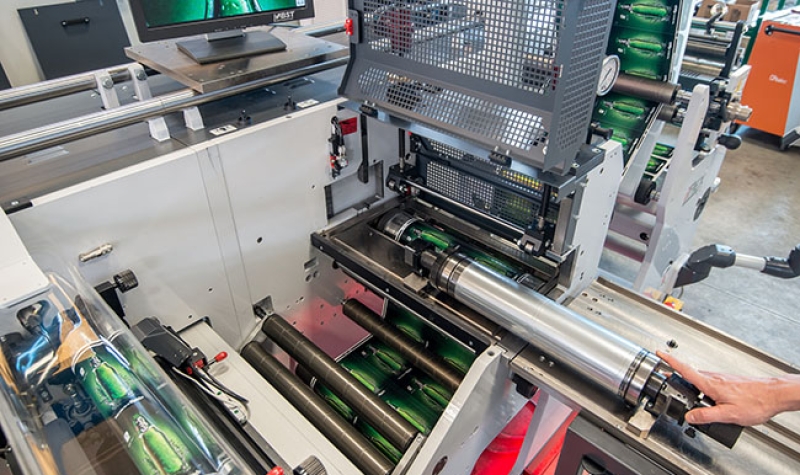 Unique solutions by OMET for a smart converting process
November 9, 2017
The converting process is a strategic part of label and packaging production which involves time, costs and risks. To cope with these criticalities and streamline the processes, OMET has developed exclusive, integrated in-line solutions creating a valuable option for current and future customers.
Every printing line of the OMET product portfolio can be configured with unique die-cutting systems conceived to make the die-cut changeover quicker, safer and easier compared to standard processes that usually require long machine downtime.
The OMET iFlex, the OMET X4 and the OMET X5 can be supplied with the patented Easy-Change Die Cut – ECDC, a compact and ergonomic die-cutting unit that allows a job changeover in less than one minute. It makes the entire workflow easier and safer eliminating the need for a lifting devices.
The OMET X6 line features an innovative and high-performing die-cutting module. OMET Twist is a smart unit with double cassette for smooth and effortless changeover operations. It simplifies the operator's life and minimizes set-up time thanks to the OMET Easy-Change Die Cut system, which enables the preparation of the die-cutting job off-line during production and the cylinder changeover with a simple push through the innovative OMET In&Out sliding device. After just a few seconds needed for the automatic pre-registration the machine is back in production. Numbers speak for themselves: with standard converting groups a full die cutting changeover may require 20 to 30 minutes, while with the OMET Twist the same is done within one minute.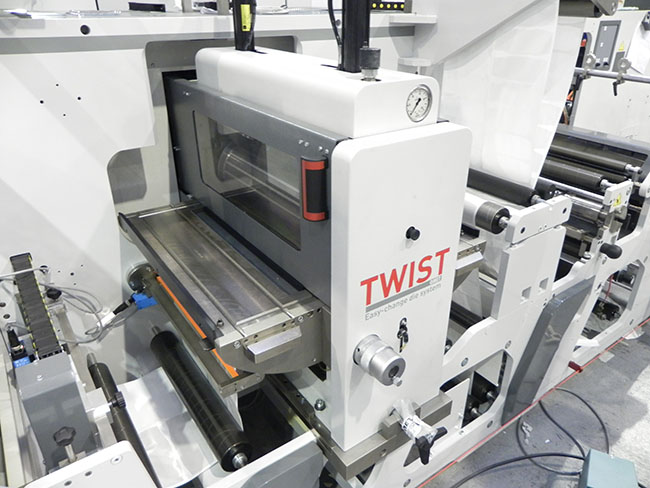 OMET MonoTWINCut is the unique format-free die-cutting unit available on the OMET X6, which works with one single magnetic cylinder for all label shapes or dimensions, minimizing operational costs and changeover downtime. With the OMET MonoTWINCut the only operation to be conducted is the change of the flexible die, while the magnetic cylinder remains in place. It includes also fully automatic pre-register and register control, which facilitates the from one die-cutting repeat the other, with no waste involved.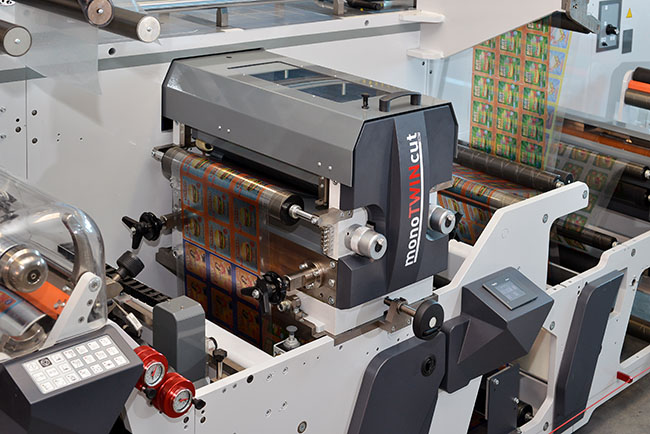 OMET is the only manufacturer to offer different, unique and patented solutions for the converting process. The OMET Varyflex line can be configured with different options dedicated to special applications, labels or cardboard production.
All OMET machines are designed to be flexible and provide customers with tailor-made die-cutting solutions for special applications. Modules for carton or paper window punching or for the production of dual-shape labels are available too.
OMET solutions provide added value and prove once again how OMET technology creates a real competitive advantage for its customers.
---
OMET presenta soluzioni uniche per un converting più semplice
Il processo di converting è una parte strategica e molto delicata della produzione di etichette e packaging: implica tempi, costi e rischi che ogni stampatore vorrebbe abbattere. Per affrontare queste criticità, OMET ha sviluppato soluzioni esclusive e personalizzabili da applicare in linea  alle proprie macchine, creando preziose opportunità per i propri clienti.
Per ogni linea del suo portfolio, OMET può proporre delle fustelle speciali che velocizzano il cambio lavoro, rendendolo più sicuro e più facile rispetto agli standard che richiedono lunghi tempi di fermo macchina. Le linee di stampa OMET iFlex, OMET X4 e OMET X5 prevedono la possibilità di integrare il sistema di fustellatura OMET Easy-Change Die Cut – ECDC, un modulo ergonomico e compatto con sistema a cambio facilitato che permette di effettuare un cambio lavoro in meno di un minuto grazie a uno speciale dispositivo di scorrimento veloce, facile e sicuro, senza necessità di sistemi di sollevamento.
Per la linea OMET X6 è stato studiato un sistema di fustellatura innovativo e altamente performante. OMET Twist è una fustella speciale con dispositivo OMET Easy-Change Die Cutting  dotata di doppio cassetto scorrevole dove appoggiare i cilindri magnetici e un sistema OMET In&Out che permette un cambio lavoro intuitivo e immediato: spingendo un cilindro nello slot di fustellatura, l'altro viene contemporaneamente espulso con tempi e sforzi ridotti al minimo. Pochi secondi per il pre-registro automatico e il cambio lavoro è completo. I numeri parlano chiaro: se con il gruppo di converting standard la sostituzione richiede 20-30 minuti, OMET Twist permette di limitare il tempo di fermo macchina a meno di 1 minuto per un cambio completo di formato e di sagoma.
OMET MonoTWIN Cut è un altro gruppo di fustellatura dedicato a OMET X6, che permette di eliminare il problema della sostituzione del cilindro: questo modulo utilizza un unico cilindro magnetico per qualunque formato di fustellatura. Lavora con un sistema che adatta automaticamente il cilindro ai parametri inseriti a pannello, limitando il lavoro dell'operatore alla mera sostituzione del lamierino magnetico. Il gruppo OMET MonoTWIN Cut, oltre a semplificare il cambio lavoro, abbatte i costi d'acquisto dei cilindri e il problema dello stoccaggio.
OMET è l'unico costruttore  ad offrire diverse opzioni, sviluppate ad hoc, per la fase del converting. La linea OMET Varyflex può essere configurata con diverse soluzioni dedicate ad applicazioni speciali, incluse le fustelle intercambiabili dedicate ad operazioni specifiche per la conversione di etichette e cartoncino pieghevole.
Le linee OMET hanno sviluppato una flessibilità di configurazione tale da poter garantire ai clienti anche gruppi di fustellatura personalizzati per applicazioni speciali. Sono state studiate soluzioni per la finestratura di carta e cartoncino, o addirittura per l'inserimento di fustella e sfridatore fra le stampe oltre che alla fine del processo, per poter realizzare etichette a due strati con forme, dimensioni e materiali diversi in un solo passaggio.
Le soluzioni OMET proposte per la fustellatura sono un altro esempio di come la tecnologia OMET possa incidere sul vantaggio competitivo dei propri clienti, risolvendo le criticità del processo di stampa e rendendolo più sicuro, veloce ed economico anche con prodotti complessi.