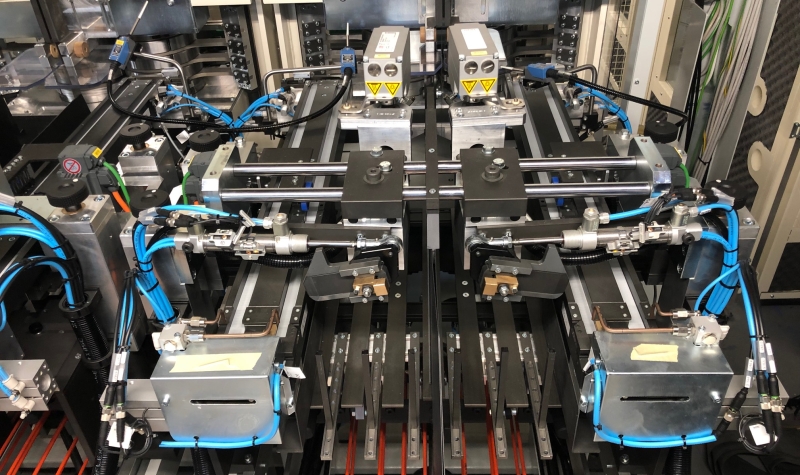 TV 840 Tronic: top level of automation and efficiency
June 7, 2019
Efficiency and profitability: here are the trends that today drive innovation in the tissue industry. Research and development are going beyond mechanics, as it becomes more and more difficult to overcome the existing levels of speed, productivity and technical perfection of the parts. OMET has therefore chosen to invest in enhancing the ease of use, the optimization of waste, and the rapidity of set-up operations: with the new TV 840 Tronic, standing at the top level of automation, OMET offers a cutting-edge machine able to anticipate the market needs.
TV 840 Tronic is a high-performance double-lane automatic napkins folding machine line including a wide range of high technology solutions: it is the ideal solution for profitable converting. Characterized by reliable and robust construction, it can reach a productivity up to 5600 napkins per minute and a speed of 900 meters per minute, and can be equipped, on request, with flexo printing units up to 9 colors.
The TV840 Tronic, already at the top level of the OMET portfolio, is completely digitalized, equipped with servo motors on each axis, and can be remote controlled by operators or tele-service. The operator panel becomes the control point from which, through the independent servo drives, all machine adjustments are performed in a simple and automatic way involving huge time and waste savings, plus ensuring a better register precision.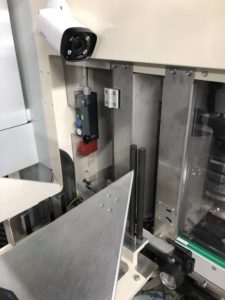 A set of cameras send images of the whole line to the operator's panel, avoiding the need for manual interventions (folding units, transfer unit, embossing station, printing units): all the adjustments, so far done by hand-wheels, now can count on motorized positioners. Furthermore, each group is equipped with a control console on each unit for the management of local settings: ease of use and intuition are the bases on which the entire management of the line is set.
This version of the TV 840 – already in production for several international customers that need an extreme level of automation beyond the maximum reliability and productivity of the line – is characterized by a very high ease of use. Remote control allows higher safety of the operator, higher quality of the work environment, and lower physical and mental stress originating from the management of the machine.
---
TV 840 Tronic: massima automazione ed efficienza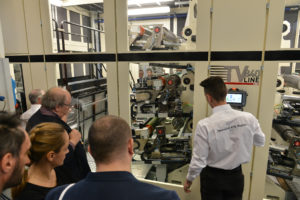 Efficienza e redditività: ecco i trend che guidano oggi l'innovazione delle linee tissue. La ricerca e lo sviluppo vanno oltre la meccanica, essendo ormai difficile il superamento dei livelli esistenti di velocità, produttività e perfezione tecnica delle parti. OMET ha scelto quindi di investire sulla semplicità d'uso, l'ottimizzazione degli scarti, la velocità di set-up: con la nuova TV 840 Tronic, elevata al massimo livello di automazione, OMET propone una linea all'avanguardia capace di anticipare le esigenze del mercato.
La TV 840 è una linea automatica a doppia pista, che garantisce elevate prestazioni per la produzione di tovaglioli: è la soluzione ideale per il converting ad alta redditività. Affidabile e robusta, ha una produttività fino a 900 metri al minuto e 5600 tovaglioli al minuto, con possibilità di inserire in linea gruppi stampa flexo fino a 9 colori.
La macchina, già top di gamma del portfolio prodotti OMET, nella sua versione TV840 Tronic è totalmente digitalizzata, dotata di servo motori su ogni asse e controllabile anche in remoto sia dagli operatori che dal servizio di tele assistenza. Il pannello di comando diventa il punto dal quale sono eseguite – in modo semplice e automatico – tutte le regolazioni della macchina con grande risparmio di tempo, riduzione degli scarti, e aumento della precisione di registro.
Una serie di videocamere catturano e inviano immagini dell'intera linea al pannello operatore, eliminando completamente la necessità di interventi manuali (gruppo piega, trasferitore, goffratori, gruppi stampa): tutte quelle che fino ad oggi erano regolazioni effettuate tramite volantini manuali, ora sono state dotate di posizionatori motorizzati. Ogni gruppo, inoltre, è dotato di un mini-pannello di controllo per la gestione delle impostazioni locali: semplicità ed intuizione sono le basi sui cui viene impostata l'intera gestione della linea.
Questa versione della TV 840, già in produzione per diversi clienti internazionali che oltre alla massima affidabilità e produttività necessitano di un estremo livello di automazione, è contraddistinta da un'altissima semplicità di utilizzo. Grazie ai controlli da remoto, aumentano anche la sicurezza per l'operatore, la qualità dell'ambiente di lavoro, e diminuisce lo stress fisico e mentale legato alla gestione della macchina.