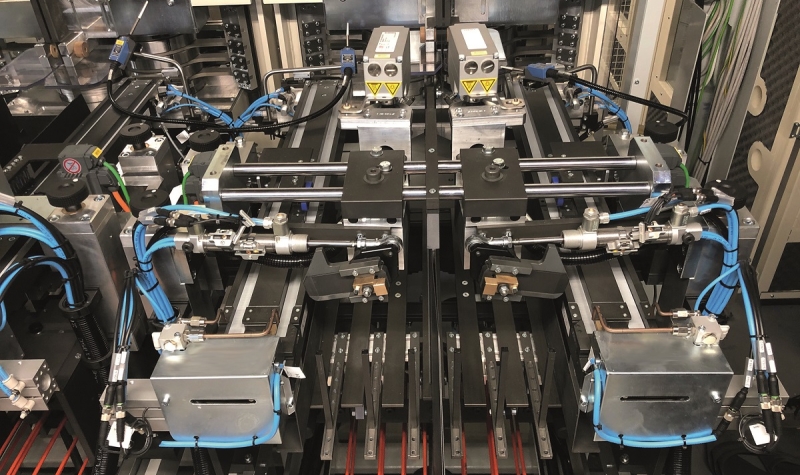 Towards Service 4.0 with automated equipment
November 26, 2019
Industry 4.0 demands cross-company collaboration. OMET shows how to make production lines fit for Service 4.0. The manufacturer of tissue machinery developed software for the remote operation and remote maintenance of its plants. The foundation for the regulation of individual systems via HMI was laid by the positioning system from Lenord + Bauer, which enhances user friendliness and supplies data for condition diagnostics.
Intelligent and digitally networked systems form the basis of Industry 4.0 concepts. The dovetailing of modern information and communication technology with proven control concepts opens up new possibilities for self-organised production, resulting in self-optimising systems. Whether these will ultimately act completely autonomously or serve as support systems suggesting optimisation measures to the human operator cannot yet be determined. Whatever the case, data and messages must be forwarded to the decision-making instance in real time. It must also be possible to execute the necessary technical interventions without manual action. That is how digitalisation is driving the automated operation of machines.
The future lies in digital added value
The market leader in tissue converting machines, OMET, is also putting its faith in modern and efficient operating concepts. Service 4.0 is the name given to the vision of the Italian tissue specialist implemented in its Intelligent Plant Software. The software from Italy is geared towards the support tools, because it identifies trends in the machine data and reports them to a service body. Statistical analysis of the data allows recurring critical conditions to be detected at an early stage, enhancing the efficiency of the converting line through targeted interventions. Using the data trends, the personnel can immediately identify the cause of an alarm or warning, track the operating behaviour of the machine and initiate countermeasures where necessary.
Oberhausen-based Lenord, Bauer & Co. GmbH takes a similar approach with its i³SAAC product concept. The specialist in motion sensors and integrated drive technology supplies products that support Industry 4.0 applications on three levels. At the bottom level is the hardware. As far as the Oberhausen company is concerned, autonomous actuators and controllers as well as integrated, intelligent and interactive sensors are essential if digitally networked subsystems are to be formed. Interfaces, communication services and tools for commissioning and function testing establish a link to the digital world at integration level. At system level, the company supplies software and digital services that make the life of machine manufacturers and operating companies easier. Both companies are receptive to sustainable technologies of the future that offer their customers digital added value.
Automation is key
What this looks like in practice is shown by the following example of OMET's tissue converting line. To ensure it could implement Service 4.0 in its TV840 converting line as well, the company equipped several machines with the fully automatic positioning system from Lenord + Bauer. The plant turns huge reels of hygiene paper into refined napkins, producing up to 5,000 units a minute in multiple steps. From unwinding, printing, embossing, rewinding, folding and cutting through to bundling, the line performs all operations along the process chain. The folding and pack-forming station at the end of the line had previously been controlled manually. To enable the Service 4.0 tasks, compact positioning drives delivering torques of 2.5 or 5 Nm now handle this task together with video cameras. A total of 12 SeGMos of type GEL 6109 are installed in each line. Four drives are connected to a decentral control unit, so each drive only needs one plug-&-play hybrid connection cable. The plug-&-play solution both ensures internal communication and delivers the power between the electronics box and the drive. Each positioning drive is a complete mechatronic unit comprising gear, micro-controller, motor and absolute position sensor. The positioning drives were installed directly on the relevant axis by means of a hollow shaft. A torque support prevents the drive from rotating in operation and acts as a moving bearing by compensating for any axial play in the axis. After installation, the assembly staff in Italy used the support tool provided by the German supplier to verify that the drives were working properly. This software works without being connected to the plant control. Every single axis was set up with the SeGMo-Box via an USB interface. Only then did the specialists connect the system to the Simatic S7-1516F from Siemens.
Saving time – not only during format changes
To integrate the system into the S7, the PLC experts in Lecco used the Step 7 function blocks of Lenord + Bauer. These templates generate the traversing tasks needed in order to control the drives and transfer status data such as motor current, absolute position, device temperature and thresholds to the PLC. A PROFINET interface allows each box to communicate with the control system and forward the destination data to the drives. Each drive uses the movement command to control the speed of the relevant axis independently. The positioning system forms a sub-network, relieving the network of the machine. The separation of the motor and logic supply lines in the connection cable of the drives means that both communication and the diagnostic functions are retained even if the power supply to the motor is switched off.
The tissue machines can now be set manually with the HMI terminal without having to open the safety cabin. The automation of the TV840 with the SeGMo-System turns the operator terminal into the control point, simplifying operation. Changes in speed or starting and stopping are triggered simply by pressing the button, as can changes to the product size and folding as well as their adjustments. In the past production had been interrupted by opening the safety devices every time a change was required. The new operating concept does away with this; the operating personnel store the settings in a recipe management system. That both prevents adjustment errors in operation and guarantees maximum repeat accuracy, which in turn boosts throughput rates and enhances the quality of the napkins produced. What is more, the SeGMos provide key data about the condition of the folding and pack-forming unit. Digitalisation of the TV840 line optimises the efficiency of the machine and ensures greater process reliability.
Industry 4.0 demands more than networked systems
The cross-border cooperation between the two companies is continuing, with OMET planning to upgrade its machine technology further towards Industry 4.0. Lenord + Bauer, too, will expand its product range in this segment, such as with software that enables remote access to the positioning drives. The possibilities of condition monitoring by remote maintenance are currently undergoing intensive testing in Oberhausen. The real-time-capable communication and exchange of data between sub-systems are just one step towards full digitalisation. Information on the condition of machines and their components plays a key role in the complete production process. Tests are currently ongoing to determine which additional data the positioning system can supply so that the maintenance intervals of the tissue line can be optimised, for instance. As the example shows, Industry 4.0 does not just mean the networking of components and systems, but also demands comprehensive cooperation between operating companies, machine manufacturers and system suppliers.
Article by Dr. Peter Velling, Head of Business Unit Machinery
About OMET:
OMET is an Italian group that manufactures machinery for printing labels and packaging as well as tissue converting machines. The group has brought more than 1700 projects to a successful conclusion since it was founded in 1963. The Tissue Converting Machines business unit is based in the Italian city of Lecco. The product portfolio includes 5 main machine lines for the automatic production of disposable table napkins, paper towels, non-woven products and place mats.
About Lenord, Bauer & Co. GmbH:
We are an international specialist in the field of motion sensors and integrated drive technology. We develop, produce and distribute technology-leading solutions for the mobility and machinery sectors. Our activities are focused on railway rolling stock, machine tools and packaging machines. Our customers have been benefiting from our considerable technical consultancy skills and expertise in customer applications for more than 50 years.
Lenord + Bauer is certified according to DIN EN ISO 9001 and 14001, as well as IRIS.
---
L'evoluzione verso il Service 4.0 non può prescindere dall'automazione delle strutture
L'industria 4.0 richiede collaborazioni interaziendali. OMET,produttore di macchine per il tissue converting, dimostra come rendere le linee di produzione adatte per il Service 4.0: ha sviluppato un software per il comando e la manutenzione a distanza dei suoi impianti. Prerequisito per la regolazione delle singole parti dell'impianto via HMI è il sistema di posizionamento di Lenord + Bauer, che aumenta la facilità d'uso e fornisce dati per la diagnosi dello stato.
Sistemi intelligenti e interconnessi digitalmente costituiscono la base dei concetti di Industria 4.0. L'interconnessione delle moderne tecnologie di informazione e comunicazione con concetti di controllo collaudati apre nuove possibilità per una produzione auto-organizzata. Si parla di sistemi auto-ottimizzanti. Non è ancora chiaro se alla fine agiranno in modo completamente autonomo o se, come sistemi di supporto, proporranno misure di ottimizzazione all'operatore. In ogni caso, dati e messaggi devono essere trasmessi in tempo reale all'organo decisionale. Devono inoltre poter essere eseguiti necessari interventi tecnici senza azioni manuali. La digitalizzazione spinge quindi l'uso automatizzato di macchine.
Il futuro sta nel valore aggiunto digitale
Anche OMET, leader di mercato delle macchine per il tissue converting, si affida a concetti di comando moderni ed efficienti. Service 4.0 è il nome della visione dello specialista italiano del tissue, che ha implementato nel suo Intelligent Plant Software. Il software italiano è orientato ai tool di supporto, in quanto rileva tendenze nei dati della macchina e le segnala a un punto di assistenza. L'analisi statistica dei dati consente di rilevare tempestivamente stati critici ripetitivi, aumentando così l'efficienza della linea di trasformazione grazie a interventi mirati. Sulla base delle tendenze dei dati il personale può identificare subito la causa di un allarme o di un avvertimento, tracciare il comportamento d'esercizio della macchina e, se necessario, adottare delle contromisure.
Con il concetto prodotto i³SAAC, Lenord, Bauer & Co. GmbH di Oberhausen segue un approccio analogo. Lo specialista di sensori di movimento e tecnologia di azionamento integrata fornisce prodotti che supportano applicazioni di Industria 4.0 a tre livelli. Il livello più basso è costituito dall'hardware. Dalla prospettiva della società di Oberhausen, attuatori e controller autonomi nonché sensori intelligenti e interattivi integrati sono necessari per realizzare sub-sistemi interconnessi digitalmente. Interfacce e servizi di comunicazione nonché tool per la messa in servizio e il controllo funzionale costituiscono a livello di integrazione il collegamento al mondo digitale. A livello di sistema, la società fornisce software e servizi digitali che facilitano l'attività di produttori di macchine e gestori. Entrambe le aziende sono aperte a tecnologie orientate al futuro che offrono ai loro clienti un valore aggiunto digitale.
Prerequisito: automazione!
Il funzionamento pratico è illustrato nell'esempio della linea di tissue converting di OMET, riportato di seguito. Per poter realizzare Service 4.0 anche nella linea di trasformazione TV840, la società ha dotato più macchine del sistema di posizionamento SeGMo completamente automatizzato di Lenord + Bauer. L'impianto trasforma giganteschi rotoli di carta per uso igienico in raffinati tovaglioli. In più fasi produce fino a 5.000 pezzi al minuto. La linea esegue tutte le fasi di lavorazione della catena di processo: a partire da srotolamento, stampa, impressione, arrotolamento, piegatura e taglio fino alla fardellatura. Finora l'unità di piegatura e formazione dei pacchetti a fine linea è stata comandata manualmente. Per consentire le attività di Service 4.0, attuatori compatti con coppie di 2,5 o 5 Nm unitamente a videocamere svolgono ora questo compito. In ogni linea sono installati in totale 12 SeGMo del tipo GEL 6109. A una unità di comando decentralizzata sono collegati rispettivamente quattro attuatori. Per il cablaggio ogni attuatore necessitava di un solo cavo ibrido pronto per il collegamento. La soluzione plug & play garantisce sia la comunicazione interna sia l'alimentazione di tensione tra scatola elettronica e attuatore. Ciascun attuatore è una unità meccatronica completa costituita da ingranaggio, micro controller, motore e sensore di posizione assoluto. Gli attuatori sono stati montati direttamente sul rispettivo asse tramite un albero cavo. Un supporto coppia impedisce all'attuatore di ruotare durante il funzionamento e funge da cuscinetto flottante compensando il gioco assiale dell'asse. Dopo l'installazione, il personale di montaggio in Italia ha controllato il funzionamento degli attuatori con il Support Tool del fornitore tedesco. Questo software lavora senza collegamento all'unità di controllo dell'impianto. Ogni singolo asse è stato impostato tramite il SeGMo-Box via interfaccia USB. Solo successivamente gli specialisti hanno collegato il sistema al Simatic S7-1516F di Siemens.
Risparmio di tempo non solo al riattrezzaggio
Gli esperti PLC di Lecco hanno utilizzato i blocchi funzionali Step 7 di Lenord + Bauer per integrare il sistema nell'S7. Questi template generano le autorizzazioni al movimento necessarie per comandare gli attuatori e trasmettere al PLC dati di stato quali corrente motore, posizione assoluta, temperatura apparecchio nonché valori di soglia. Ogni Box comunica con l'unità di controllo tramite interfaccia PROFINET, e inoltra i dati target agli attuatori. Ciascun attuatore regola in modo autonomo la velocità del rispettivo asse in base al comando di marcia. Il sistema di posizionamento forma una sottorete e alleggerisce la rete della macchina. Grazie alla gestione separata (alimentazione dedicata) di alimentazione motore e alimentazione dei circuiti logici nel cavo di collegamento degli attuatori, sia le funzioni di comunicazione che di diagnostica vengono mantenute anche quando l'alimentazione del motore è disinserita.
Le macchine per il tissue converting adesso possono essere impostate immettendo i parametri da terminale HMI, senza aprire la cabina di sicurezza. Grazie all'automazione della linea TV840 con il sistema SeGMo, il terminale di comando diventa un punto di controllo che consente facilita la gestione. La modifica della velocità o l'arresto e avvio si effettuano mediante la semplice pressione di un pulsante, così come la variazione delle dimensioni del prodotto, la piegatura nonché la relativa regolazione. In passato, ogni volta che veniva apportata una modifica, la produzione veniva interrotta dall'apertura dei dispositivi di sicurezza. Nel nuovo concetto di comando ciò non accade. Il personale operativo salva i valori d'impostazione in un sistema di gestione delle ricette. In questo modo si evitano errori di impostazione durante il funzionamento e si garantisce la massima precisione di ripetizione, che aumenta la produttività e la qualità dei tovaglioli prodotti. I SeGMo forniscono inoltre dati importanti sullo stato dell'unità di piegatura e formazione dei pacchetti. La digitalizzazione della linea TV840 ottimizza l'efficienza della macchina apportando una maggiore sicurezza di processo.
Non solo sistemi interconnessi per Industria 4.0
La collaborazione transnazionale tra le due aziende prosegue, in quanto OMET prevede di espandere ulteriormente la propria tecnologia macchine in direzione di Industria 4.0. Anche Lenord + Bauer amplierà la sua gamma prodotti in quest'area, ad esempio con un software che consenta l'accesso remoto agli attuatori. A Oberhausen al momento si stanno effettuando test intensivi sulle possibilità del Condition Monitoring attraverso la manutenzione a distanza. La comunicazione in tempo reale e lo scambio di dati tra sottosistemi è solo un passo verso la completa digitalizzazione. Informazioni sullo stato di macchine e relativi componenti giocano un ruolo importante per l'intero processo di produzione. I dati aggiuntivi che il sistema di posizionamento può fornire, ad esempio per ottimizzare gli intervalli di manutenzione della linea del tissue, sono attualmente in esame. L'esempio mostra che Industria 4.0 non significa solo interconnessione di componenti e sistemi, ma richiede anche la cooperazione inter-istituzionale tra gestori, produttori di macchine e fornitori di sistemi.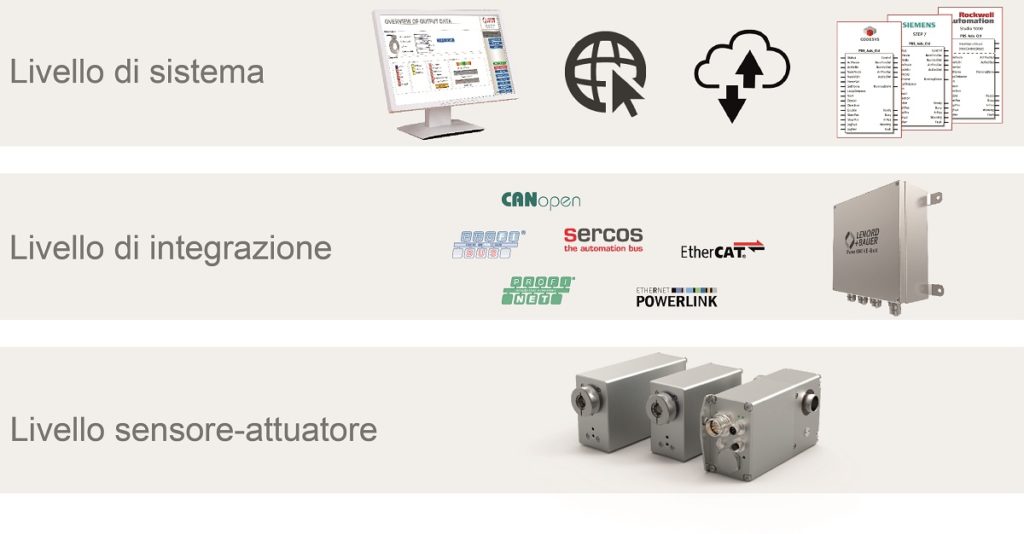 Autore: Dr. Peter Velling, Head of Business Unit Machinery
Chi è OMET
OMET è un gruppo di aziende italiano che produce macchine per la stampa di etichette e imballi nonché per il tissue converting. Dalla fondazione avvenuta nell'anno 1963, OMET ha realizzato con successo in tutto il mondo oltre 1700 progetti. L'unità operativa delle macchine per il tissue converting ha sede a Lecco, Italia. Il portafoglio prodotti comprende 5 linee di macchine principali per la produzione automatica di tovaglioli usa e getta, asciugamani di carta, articoli in tessuto non tessuto e tovagliette.
Chi è Lenord, Bauer & Co. GmbH
Lenord, Bauer & Co. GmbH è uno specialista attivo a livello internazionale nel campo dei sensori di movimento e tecnologia di azionamento integrata. Nei settori Mobility e Machinery sviluppa, produce e commercializza soluzioni tecnologicamente all'avanguardia. Trasporto ferroviario nonché macchine utensili e d'imballaggio costituiscono i punti focali. Da oltre 50 anni, i clienti si avvantaggiano dei servizi di consulenza tecnica d'alto livello e dell'expertise nell'ambito delle applicazioni specifiche. Lenord + Bauer è certificata DIN EN ISO 9001, 14001 nonché IRIS.