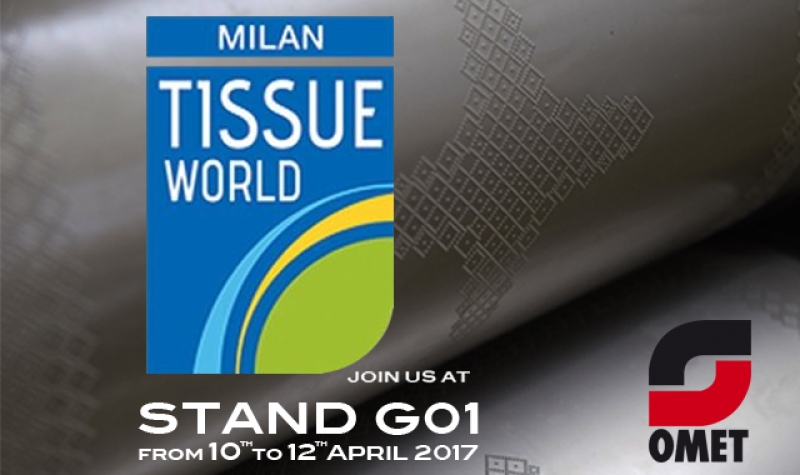 "Tissue World", OMET to display latest innovations at Open House
March 22, 2017
The world of tissue heads to Milan. From 10th to 12th April, the Italian metropolitan city will host the Tissue World trade fair, the international event dedicated to disposable paper products for divers end-use. OMET will take part to the Tissue World with a space inside the IT'S TISSUE area, the biggest stand in the entire exhibition gathering the 12 companies which represents the excellence of Italian technology in the tissue market.
Tissue World is a global platform involving around 90 countries from all over the world and the most relevant players of the sector: suppliers, customers and specialized media. A unique occasion to create connections and catch up on the latest market developments and innovations. The Senior Management Symposium opening the event on Monday 10th, will introduce the leading subject of this edition with the title: "Change is the only constant, but where is the tipping point?"
Yet, the exhibition itself does not give the opportunity to see operative machines in production. For this reason OMET is glad to open the doors of its headquarter based in Lecco (less than 1 hour by car or train from Milan), to show the entire range of products, as well as the technological innovations and future developments for the tissue converting sector.
The centerpiece of the Open House will be the digital printing group Chameleon by OMET, which has obtained a lot of interest from all around the world so far, thanks to the ability to print customized napkins with variable data and no limits on the subject, erasing pre-press costs and time, thus being very advantageous for short runs.
A few examples? Different napkins in the same pack, special napkins with serial codes, QR codes, Wi-Fi access credentials, daily menus or a family picture. With this module, it is possible to create something new every time you need it in order to lead the market and differentiate your production from the competition. Chameleon can be installed in-line on OMET TV503 and can print with a maximum speed of 200 m/min (656 ft/min). Those who need high-volume production have the possibility to attend the demonstration of the new TV503 HS for high-speed production of neutral and printed napkins.
IBT – Improved Bonding Technology is an absolute innovation to the market: a brand new solution for improved laminating capability on the embossing station, enabling the perfect adherence of the plies. This improvement offers new possibilities to the converters: the embossing unit equipped with IBT will be shown on the TV840.6 double line machine for high-production napkins.
The 4th machine under the spotlight at OMET Headquarter in Lecco will be the FV line, the innovative vacuum folding machine with fully automatic controls able to reach a productive capability of 4000 to 6000 napkins per minute.
The FV line produces any kind of napkin size, including dispenser napkins, with a fully automatic process without the operator to intervene directly on the machine: a real advantage in terms of time saving, waste reduction and safety improvement.
For further information and Open House registration, please contact:
OMET Srl
Marketing Dpt – Phone: +39 0341 282661
Elena.maggi@omet.it
Massimo.bellingardi@omet.it
---
"Tissue World", OMET presenta la sua tecnologia con un open house
Il mondo del "tissue" fa tappa a Milano. Tra il 10 e il 12 aprile, il capoluogo lombardo ospiterà Tissue World, evento mondiale dedicato al settore dei prodotti di carta usa e getta per uso igienico e sanitario. OMET sarà presente all'interno dell'area IT'S TISSUE, lo stand più grande di tutta la fiera che ospita le 12 aziende della rete Tissue Italy, eccellenza tecnologica italiana del settore.
Tissue World è una vera e propria piattaforma globale che coinvolge quasi 90 Paesi del mondo e i più importanti protagonisti del settore, dai produttori/fornitori alla stampa specializzata. Un'occasione irripetibile per fare rete e riflettere su innovazione e sviluppo del mercato. Il tema di Milano 2017 sarà il cambiamento e le linee guida trainanti del prossimo futuro: il Senior Management Symposium che aprirà l'evento il 10 aprile avrà come titolo: "Change is the only constant, but where is the tipping point?".
La fiera però non permette ai visitatori di vedere macchinari completi in produzione, per questo OMET aprirà le porte della propria sede a Lecco in via Caduti a Fossoli (meno di un'ora di auto o di treno da Milano) per mostrare a tutti gli operatori del mercato del tissue la propria gamma prodotti, le novità tecnologiche e le proposte per il futuro.
Sotto i riflettori ci sarà il gruppo stampa digitale inkjet Chameleon, che sta riscuotendo grande interesse in tutto il mondo perché consente di stampare tovaglioli personalizzati, con qualsiasi immagine digitale o con dati variabili, anche in piccole tirature e senza i costi e i tempi legati ai clichè. Qualche esempio? Tovaglioli diversi l'uno dall'altro nel medesimo pacchetto, con codici concorso, QR code, credenziali per accessi wi-fi in luoghi pubblici, oppure con il menù del giorno o foto di famiglia. Il gruppo può essere inserito in linea sulla OMET TV503 e lavora fino alla velocità massima di 200 metri al minuto.
Per chi ha esigenza di maggiori volumi sarà in dimostrazione anche la nuova TV503 HS per produzione di tovaglioli ad alta velocità, sia stampati in flexo che neutri.
Un'assoluta novità è rappresentata da IBT (Improved Bonding Technology), la nuova tecnologia di laminazione su goffratore che permette la perfetta affrancatura dei veli del tovagliolo. Si tratta di una assoluta novità per il mercato: il gruppo goffratore dotato di IBT sarà installato in linea su una TV840.6, macchina a doppia linea di produzione di tovaglioli.
La quarta macchina da vedere presso la sede OMET di Lecco è l'innovativa FV Line, macchina a piega aspirata completamente automatica che arriva ad una produzione di 4/6000 tovaglioli al minuto. La FV Line produce in modo automatico tovaglioli di qualsiasi dimensione e materiale, compresi i tovaglioli per dispenser, e il cambio di piega e formato è possibile direttamente da consolle senza l'intervento manuale dell'operatore. In questo modo aumenta il livello di sicurezza della macchina con enormi vantaggi in termini di risparmio di tempo e scarti.
Per maggiori informazioni e per partecipare all'Open House contattare:
OMET Srl
Marketing Dpt – Tel. +39 0341 282661
Elena.maggi@omet.it
Massimo.bellingardi@omet.it