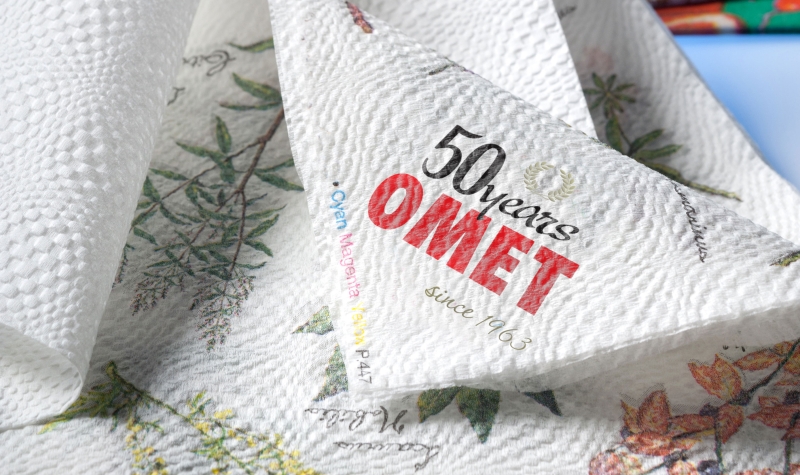 Tissue: a lively industry sector. Interview with Marco Calcagni
May 20, 2014
by Piera Graziani
Published under the permission of the magazine Italia Grafica, Tecniche Nuove, Italy
The tissue market in Italy, fortunately, is not "ROLLing downhill"… Forgive this easy irony, but in a time of contractions and suffering for many industries, it's good to talk about a sector in good health. To be honest, in our country are concentrated the biggest producers of tissue products in the world with Lucca in the vanguard with its manufacturing district with 20 companies and 1500 employees, surrounded by other many important companies in Emilia Romagna, Campania, Puglia, Veneto and Lombardy.
An active sector that has embraced networking, a rarity in Italy, to fight the economic downturn and the aggressiveness of the international competition. Tissue Italy was born at the end of 2012 with the support of Assindustria Lucca: 12 manufacturers of machinery for the production or converting of tissue of which 8 from Tuscany, 3 from Emilia Romagna and 1 from Lombardy, have joined forces to raise their voice. The aim of the network is to enhance and develop collectively a reputation for excellence of the Italian Tissue district for what concerns state of the art technologies, showing the world its know-how and innovation potential. The first important result of this agreement was the organization of the "IT's Tissue Technology Week", a very successful event held in Lucca in June 2013, which drew specialized staff from all over the world in the engineering workshops of these prominent companies.
Among the companies participating, there is OMET of Lecco, the only representative based in the north of Italy to have enthusiastically embraced this challenge. We met Marco Calcagni, Sales Director of the Lecco-based group to talk about the present and future of this sector.
It has been more than a year since the birth of Tissue Italy. Could you make a preliminary assessment of this experience?
The result was very positive, so that the initiative was taken as a model of network contract on a national and international level. A beautiful experience also was the "IT's Tissue Technology Week," organized last summer in Lucca, whose success went well beyond expectations. More than 700 participants from 70 countries, only half of Europe, representing 317 companies 'flocked' in the so-called "city of a hundred churches".
There will be other initiatives of this kind?
IT's Tissue World Tour started immediately after the Technology Week and touched 8 major cities, including Tokyo, Sao Paulo, Beijing and New Delhi. In Italy, we will for sure repeat the experience in 2015. We are confident we will expand our public considered that this brand is well known and appreciated internationally.
Networking in Italy does not seem to be so simple…
The technological excellence achieved by the Italian manufacturers of machines in the tissue industry is undiscussed. Obviously, the other countries are not watching and competition is getting fierce. Building such a hub gives us the strength to make ourselves known in distant countries that, sooner or later, will begin to use tissue products in their daily lives. Europe and North America are mature markets with stable growth rates asking for quality products, at the same time environmentally friendly. But there is a huge basin represented by countries such as China, India or Brazil that, for cultural reasons or poor economic power, do not normally use toilet paper, towels or napkins … but sooner or later they will and we must be ready.
What European and American consumers ask for?
As I said before, in these countries the use of tissue products is taken for granted, but consumers are very demanding, and the research has focused on the proposal for quality items. For example, the growth is recorded more than anything else in tablecloths and napkins that are increasingly more used at home instead of tablecloths and cloth napkins. We are looking for innovative and resistant materials and there is a great demand for high-quality effects and color shades for special events. Consumption grows also in the hospital sector where there is an ever increasing demand of disposable products and in the industry where fabric rags are being replaced with tissue.
After the personalized can of Coke, there will also be a customized tissue tablecloth?
It could be. Up to today, the work of customization is done mostly by small companies working exclusively for the catering and hotel industry. Almost all the bars and pizzerias have personalized placemats with the place name or logo or advertising of local businesses. We're talking about small runs (which are not that small…) of 200 thousand pieces against the millions of items of the standard products.
How does research innovate this type of product?
The innovation must necessarily concern various areas: the materials, first of all, which must have a higher performance from the point of view of absorbency but with weights always lower and greater pleasantness to the touch. Then the inks, especially those used for tablecloths, which must ensure prints effect due to pigments that can ennoble the product without unduly affecting the final price and safeguarding the health of the consumer. And finally, the machines that need to be fast but ensure quality products through the addition of modules (for example the embossing). They must achieve not only aesthetic results but be functional and anticipate market needs with solutions that solve criticalities.
How do you succeed in this?
By working closely with our customers. This is essential especially when it comes to leading companies that make diversified products. The synergies with the converters are indispensable in the process of research and development: on the one hand, we try to give concrete answers to their problems, on the other, their experience is invaluable to finalize the practical insights of our technicians. For example, in developing new types of folds, fundamental for this kind of products. In some cases, the intuition of a fold that did not exist made possible to obtain products that had a huge success.
What is the product that does not exist but we would like to have?
There are many… and we are working on it. I'll be happy to introduce them to you when they are ready…!
Credits: www.italiagrafica.com