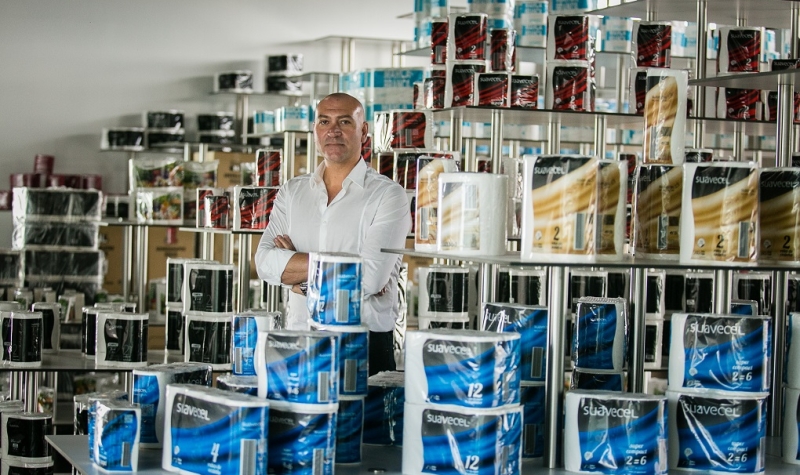 The technological challenge of Suavecel (Portugal)
May 7, 2019
Suavecel is one of the most important producers of tissue for domestic use in the Iberian peninsula. OMET's partner for over ten years, Suavecel has recently purchased two OMET TV 840 lines and one OMET ASV Line for interfolded products: a key investment that feeds the exponential growth of the company, based on technological innovation, know-how and attention to quality.
Suavecel started its business in 1996 by selling toilet paper in the area of Viana do Castelo, Northern Portugal. Today, beyond the production of tissue paper, Suavecel works as a converter with folded products (napkins, facial tissue, interfolded towels and toilet paper) and rolls (toilet paper, kitchen roll and industrial roll).
Over its 22 years of operation, Suavecel has undertaken a constant, strong and sustainable growth: it has always invested in new lines, technologies and equipment. Production has expanded and the company has changed several locations, up to the current facilities located in an area of 100,000 square meters. In 2013 they started a tissue converting project and today they have several converting lines for a total capacity of 150,000 tons/year of folded products and rolls.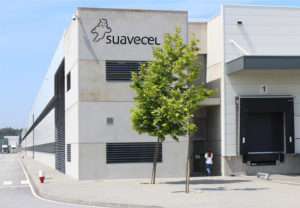 "To grow in this market it's necessary to count on the most sophisticated converting technologies and on reliable partners for technical assistance" says Arménio Leite, Suavecel Operations Director. "Our partnership with OMET was born and has developed on this basis. We purchased and installed the first OMET machine in 2005: the reliability and the precision of the folding heads led us to invest again on the OMET brand recently, buying two OMET TV 840 lines and one OMET ASV Line. In terms of service, OMET has always answered promptly and effectively to our requests for technical assistance. The experience gained over the years have led us to choose again OMET as a partner".
The company works with private label products branded Suavecel, which have driven its business growth. "Our product range is diverse and allows us to satisfy any market's request with high quality products and competitive prices – explains Leite -. Service level and control of the whole production process are fundamental to accomplish this aim: customers are more and more demanding, given the reduced deadlines and the restricted stocks. These factors require us to be flexible and to have efficient processes, especially from the logistics point of view: we have one of the largest automated warehouses of the Iberian Peninsula".
About 60% of our production is exported, with Spain as the main destination. Suavecel also operates in other geographical areas such as France, United Kingdom, PALOPs (Portuguese-speaking African countries) and is taking its first steps in Latin America. "We want to expand and consolidate our presence in these and other geographical areas – says Nuno Ribeiro, CEO of Suavecel – but we believe that there is still room to grow even in consolidated markets like Portugal and Spain, because tissue use, in our opinion, will increase".
"In the future, we want to guarantee market shares in the areas where we are already present, enter new markets and develop Suavecel brand – concludes Ribeiro -. The OMET lines, for their technological level and their flexibility, are fundamental for achieving our growth objectives. OMET has shown over time the ability to be in step with market needs and to make advanced technological proposals such as those for digital printing. This way OMET allow to meet customers' needs and to guarantee them the best value for money".
Suavecel is part of the Ghost group, which launched in 2014 Nunex, a company operating in the field of intimate hygiene (nappies, sanitary towels), with products widely recognized for their quality.
"Everyday we work to achieve the best value for money for all our products – says Nuno Ribeiro -. For us, quality is a daily challenge together with technological innovation, competitiveness, flexibility and matching market needs".
---
La sfida tecnologica di Suavecel (Portogallo)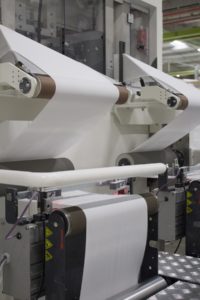 Suavecel è uno dei maggiori operatori del settore tissue per uso domestico nella penisola iberica. Cliente OMET da oltre dieci anni, ha recentemente acquistato due OMET TV 840 e una OMET ASV Line per prodotti interfogliati: un investimento importante che va ad alimentare l'esponenziale percorso di crescita dell'azienda, basato su innovazione tecnologica, competenza e attenzione alla qualità.
Suavecel ha iniziato la sua attività nel 1996 commercializzando carta igienica nell'area di Viana do Castelo, Nord del Portogallo. Oggi, oltre alla produzione di carta tissue, Suavecel opera nel converting con prodotti piegati (tovaglioli, fazzoletti, facial tissue, asciugamani interfogliati e carta igienica) e prodotti in rotolo (carta igienica, rotolo da cucina e rotolo industriale).
La crescita di Suavecel, in 22 anni di attività, è stata costante, forte e sostenibile: ha sempre investito in nuove linee, tecnologie e attrezzature. Ha ampliato la produzione e cambiato diverse sedi, fino alle attuali strutture che sorgono su un'area di 100.000 metri quadrati. Nel 2013 ha lanciato il progetto del tissue converting e oggi ha diverse linee che contano complessivamente una capacità di 150.000 tonnellate/anno tra prodotti piegati e rotoli.
"Per crescere sul mercato è essenziale disporre delle tecnologie di converting più sofisticate e di partner affidabili in termini di assistenza tecnica – racconta Arménio Leite, Operations Director di Suavecel –. Su queste basi è nata e si è sviluppata la nostra relazione con OMET. Abbiamo acquistato e installato la prima macchina OMET nel 2005. L'affidabilità e la precisione delle teste di piega meccaniche, ci ha portato ad investire di nuovo sul marchio OMET recentemente con due linee OMET TV 840 e una OMET ASV Line. A livello di servizio, OMET ha sempre risposto prontamente e in modo efficace alle nostre richieste di assistenza tecnica. Le soluzioni presentate e l'esperienza avuta nel corso degli anni ci hanno indotto a confermare la scelta di averla come partner".
L'azienda lavora con prodotti private label a marchio Suavecel, che hanno trainato la crescita aziendale. "La nostra offerta è segmentata e ci consente di soddisfare ogni mercato con prodotti di alta qualità e prezzi competitivi – spiega Leite -. Il servizio e la padronanza di tutte le fasi del processo di produzione sono fondamentali in questo senso: i clienti sono sempre più esigenti date le scadenze ridotte e gli stock sempre più limitati. Questi requisiti ci impongono di essere flessibili e di avere processi efficienti, soprattutto nella logistica: disponiamo di uno dei più grandi magazzini automatici nella penisola iberica".
Circa il 60% della produzione è destinato all'esportazione, con la Spagna come principale mercato. Ma Suavecel opera anche in altre aree geografiche come Francia, Regno Unito, PALOPs (Paesi africani di lingua ufficiale portoghese) e sta facendo i primi passi in America Latina. "Intendiamo ampliare e consolidare la nostra presenza in queste e in altre aree geografiche – afferma Nuno Ribeiro, CEO di Suavecel -, ma crediamo che ci sia ancora spazio per crescere anche in mercati dove abbiamo già una solida posizione (Portogallo e Spagna), perché riteniamo che il consumo di tissue tenderà ad aumentare".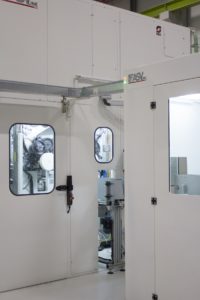 "In futuro, vogliamo garantire le quote di mercato nei mercati in cui siamo già presenti, entrare in nuovi mercati e sviluppare il marchio Suavecel – conclude Ribeiro -. Le linee OMET, per la raffinatezza tecnologica e la flessibilità che offrono, sono uno strumento importante per raggiungere i nostri obiettivi di crescita. OMET ha dimostrato nel tempo la capacità di presentare macchine al passo con le esigenze di mercato e le nuove proposte tecnologiche, come la stampa digitale, sono importanti perché consentono di rispondere in modo flessibile ai desideri dei nostri clienti e di garantire loro un ottimo rapporto qualità-prezzo".
Suavecel fa parte del gruppo Ghost, che ha lanciato nel 2014 Nunex, una società che opera nel settore dell'igiene intima (pannolini, assorbenti igienici), ampiamente riconosciuti per la loro qualità.
"Ogni giorno lavoriamo per raggiungere il miglior equilibrio tra qualità e prezzo in tutti i prodotti che offriamo – afferma Nuno Ribeiro-. La qualità per noi è una sfida quotidiana, insieme all'innovazione tecnologica, al sostenimento della competitività, alla flessibilità e alla risposta ai mercati".