The success of a product is (ALSO) a nice label
September 8, 2012
So reads one slogan used by Eticont, Italian manufacturer of labels that responds to the constant evolution of the packaging market and the contraction of circulation choosing OMET multi-process.
In 2006 Mr. Paolo Cattaneo, CEO of Cattaneo Paolo Grafiche, decided that time had come to internalize the production of labels, and created the new venture Eticont. Until then, labels were made in small quantities by outside suppliers, and Cattaneo Paolo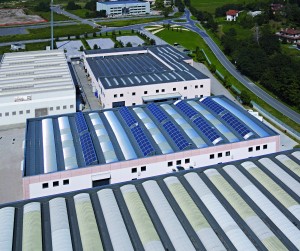 Grafiche bought and sold them.
The first  labels were made by simple machines such as Flexy; but production was soon boosted with a Flexy-s, a XFlex, and, finally, with the most advanced machines able to perform the complete in-line process in one pass (printing, cutting, removal of waste, finishing) at the same time maximizing the efficiency of internal logistics and minimizing the displacements of rolls from one machine to another.
In 2012 Eticont is ready to take the next step in technology: digital label printing. Why?
Eticont sees the role of digital technology in label printing as complementary to flexo: «The two technologies have to be conceived as interdependent and integrated. Digital printing is efficient and effective for printing short runs that require a high level of flexibility in order to keep pace with ever-changing promotional and packaging decisions of our customers», explains Mr. Cattaneo. Digital technology allows shorter time-to-market, respecting sales margins also for low volumes of printed labels.
The investment in the new OMET XFlex X6 with digital unit JetPlus, as seen at Drupa 2012, will allow Eticont to better satisfy customers' demands: «In many sectors the label is conceived at the end. When the product is ready to be launched on the market, someone says: And the label?», continues Mr. Cattaneo. Eticont can respond with a very quick production and delivery, also for a small run.
The multi-process solution OMET flexo + digital offers Eticont  the usual OMET's high quality printing combined with efficient flexibility, high productivity, fast time-to-market also for very small quantities. The label is ready in a very short time, is of guaranteed quality, is sold at competitive prices, and it is nice!
Eticont history
Eticont was founded in 2006 as a Label Division of  Cattaneo Paolo Grafiche, a company active since 1920 in the field of publishing, printing books, posters, cards, continuous forms. After the purchase of the first OMET Flexy, Eticont has continued to grow also upgrading its machines with Flexy-S, XFlex and now a brand new XFlex X6 with JetPlus, inkjet printing module. In July 2011, Eticont moved to a brand new warehouse very close to Paolo Cattaneo Grafiche in Annone Brianza (LC). Eticont is certified for printing labels for foods.