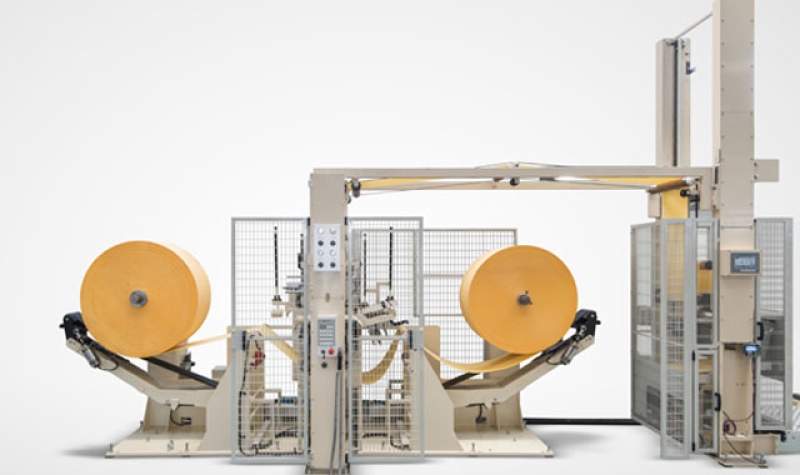 The No-Stop unwinder: the latest revolution from OMET
November 29, 2016
The No-Stop unwinder is OMET's new patented module which allows operators to change paper rolls without stopping the machine within a specific timeframe, increasing production and reducing waste levels.
This latest innovation from OMET was born from listening to numerous customers' requests to have more control over production planning, assuring more and more efficiency.
The No-Stop unwinder allows to automatically switch from one paper roll to another, even on double-ply, without stopping the press, allowing the operator to change the roll in a much quicker and certain manner.
When the roll currently being used by the machine comes to an end, a photoelectric cell detects this information and activates a buffer which begins to store the remaining paper. The paper reserves are then used as soon as the No-Stop unwinder connects the 2 roll, allowing the machine to continue to operate at a reduced speed, but sufficient enough to maintain the invariable machine settings, preventing the machine from stopping and notably reducing the amount of waste.
The new model can be integrated into all of OMET's tissue converting machines, even into existing machines, thereby offering a new opportunity for increased efficiency and production control.
---

Svolgitore No Stop: l'ultima rivoluzione OMET
Lo svolgitore No Stop è il nuovo modulo brevettato da OMET che permette di sostituire le bobine di carta senza fermi macchina, in tempi certi, con aumento della produzione e riduzione degli scarti.
L'ultima innovazione OMET nasce dall'ascolto delle esigenze di numerosi clienti che hanno espresso la necessità di avere un maggiore controllo sulla pianificazione della produzione, con sempre maggiore efficienza.
Lo svolgitore No Stop consente la giunzione in automatico della carta fra due bobine, anche sui due veli, permettendo così all'operatore di sostituire la bobina in un tempo molto ridotto e sempre certo.
Quando la bobina utilizzata dalla macchina si avvicina alla fine, una fotocellula rileva il dato ed attiva un buffer nel quale la carta viene immagazzinata. La riserva di carta così creata viene utilizzata nel momento in cui lo svolgitore No Stop esegue la giunzione tra la bobina che sta finendo e la nuova bobina che andrà a sostituirla, consentendo alla macchina di continuare ad operare ad una velocità ridotta, ma sufficiente a mantenere i settaggi macchina invariati, evitando in questo modo il fermo macchina e riducendo notevolmente gli scarti di materiale.
Il nuovo modulo è integrabile su tutte le macchine di tissue converting OMET, anche già operative presso i clienti, offrendo così una nuova opportunità di maggiore efficienza e controllo della produzione.