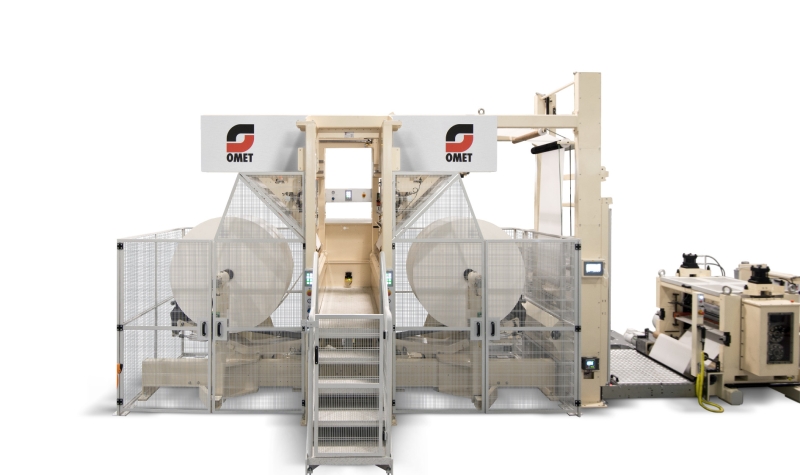 The NO-STOP UNWINDER: efficiency takes a step further
July 20, 2018
Even more versatile and precise. Thanks to the electric motorization, the OMET No-Stop unwinder offers today further advantages in terms of efficiency and production control. The module, which has revolutionized the paper roll changeover by introducing the automatic splicing, is now available for high-performance machines such as the TV 840 Line.
"When it was introduced to the market a few years ago, the No-Stop unwinder was a clutch innovation – explains Roberto Perego, OMET Tissue Division manager -. The new module allowed our customers to gain competitive advantages by reducing waste and machine downtime. Today, it's even more performing thanks to the electric motorization that has replaced the pneumatic version: the movements of the shafts are more precise and the job parameters can be easily scheduled".
The No-Stop unwinder can bond single-ply or double-ply paper rolls by overlapping and connecting them through adhesive tape. OMET technology allows the machine to continue operating during the switch, avoiding any downtime.
"The unit, previously available only for TV 503 Line, is now available for the TV 840 Line in a wider version – explains Perego -. It is composed by two unwinding stations, an access ladder in the central area where the splicer is located. It is equipped with automatic paper cutting system and accumulation buffer to allow the junction of the plies".
The No-Stop unwinder group can be integrated into all OMET tissue converting machines, even into existing ones. Its performance will be showed with live demonstrations on a TV 503 Line at OMET headquarters in Via Caduti a Fossoli (Lecco) during It's Tissue 2018 event.
---
NO-STOP UNWINDER: l'efficienza fa un passo oltre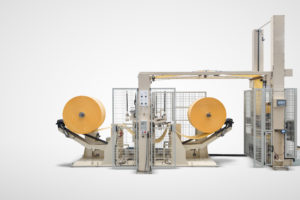 Ancora più versatile e preciso. Grazie alla motorizzazione elettrica, lo svolgitore No Stop brevettato da OMET, che ha rivoluzionato il cambio bobina introducendo la giunzione automatica della carta, offre oggi ulteriori vantaggi in termini di precisione ed efficienza. Ed è disponibile anche per linee ad elevata prestazione come la TV 840 Line.
"Quando è stato introdotto sul mercato qualche anno fa, lo svolgitore No-Stop è stato una vera rivoluzione – spiega Roberto Perego, manager Divisione Tissue OMET -. Riducendo gli scarti e i tempi produttivi, ha permesso agli operatori di ottenere vantaggi competitivi. Oggi, è ancor più performante grazie alla motorizzazione elettrica che ha sostituito quella pneumatica: gli spostamenti degli assi sono più precisi e l'attività è programmabile sulle distanze e sui tempi".
Lo svolgitore può unire anche bobine di carta monovelo o due veli giuntati indipendenti l'uno dall'altro, tramite incollaggio in sovrapposizione con biadesivo. La tecnologia OMET permette alla macchina di continuare ad operare durante il cambio bobina, evitando i fermi macchina.
"Il gruppo, precedentemente disponibile solo sulla TV 503, è ora disponibile per la TV 840 in versione ampliata – spiega Perego -. E' composto da una struttura portante con due stazioni di svolgitura, scala d'accesso in zona centrale dove viene posizionata la testa di giunta. E' dotato di taglio automatico carta in lavorazione e polmone accumulo per permettere la continua alimentazione carta anche durante la fase di giunta veli".
Il gruppo può essere integrato anche su macchine già operative presso i clienti.
Lo svolgitore No-Stop potrà essere osservato in funzione su una TV 503 Line nella sede OMET di Via Caduti a Fossoli (Lecco) in occasione della manifestazione It's Tissue 2018.