The new OMET XJet powered by Durst at Labelexpo Americas
July 30, 2018
The new OMET XJET powered by Durst, the hybrid printing machine that is winning over the label and packaging market with its exceptional performance and flexibility, will appear for the first time in the Americas next September. It will be showed together with an OMET iFlex at the Labelexpo Americas in Chicago (OMET stand n.3123).
The new OMET XJet powered by Durst, unveiled last February, is a hybrid printing machine that integrates in-line the Durst Tau RSC digital inkjet group with the OMET X6's flexo printing, finishing and converting units, providing limitless flexibility, wide range of final application and consistent cost saving. This machine can assure reliability and excellent results with all kind of run lengths, with the advantage of getting to the final product always in a single passage.
The OMET iFlex features a range of smart solutions, designed specifically to make the entire printing process even easier and more intuitive: iLight, an innovative pre-registration system with laser pointer on every flexo unit; iVision, a register adjustment system allowing real-time setting through a set of smart cameras; iDrive, new direct driven transmission on the impression cylinder, which allows better performance and higher stability; Easy Change Die-Cut (ECDC) which eliminates long changeover time through a special sliding device.
At the OMET stand n. 3123, there will be live demonstrations on these two lines, and visitors will have the occasion to appreciate the exceptional performances and the high potential of OMET's technology.
Labelexpo Americas – a real crossroads of innovation and excellence for the printing market over the entire American continent – will be held at the Donald E. Stephens Convention Center in Rosemont, Illinois, in Chicago. The goal is to exceed the 2016 record of visitors and exhibitors, proving to be the reference point for technology, print quality and design across the continent.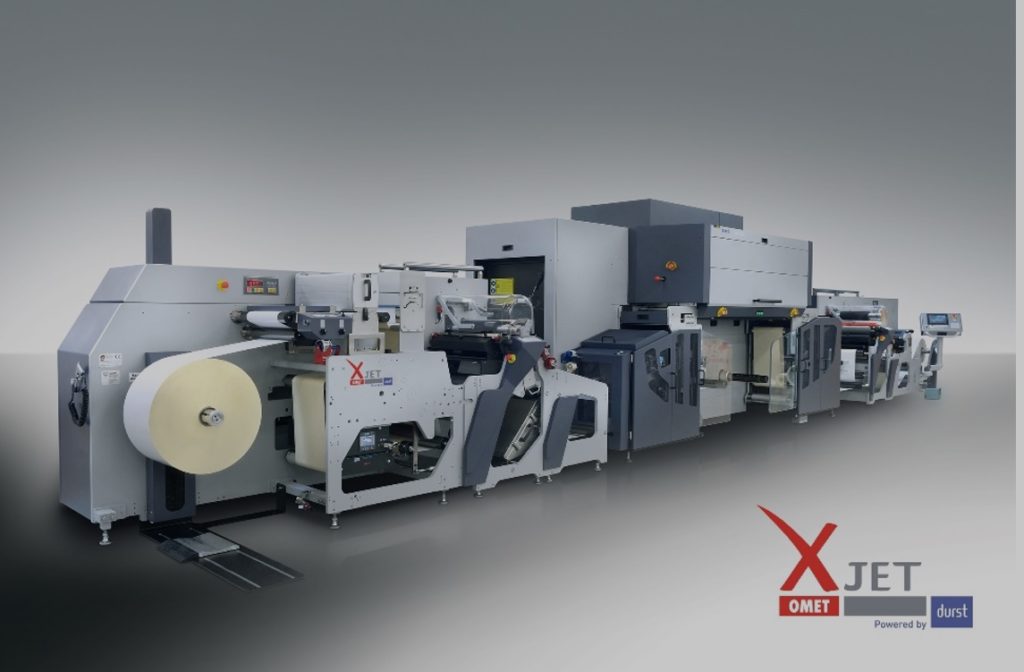 ---
La nuova OMET XJet powered by Durst a Labelexpo Americas
Debutto americano per la nuova OMET XJET powered by Durst, la macchina da stampa ibrida che per le sue eccezionali prestazioni e la sua flessibilità sta conquistando il mercato della stampa per etichette e packaging flessibile. La macchina sarà esposta alla Labelexpo Americas di Chicago (25-27 Settembre) sullo stand OMET n.3123, insieme ad una OMET iFlex.
La nuova OMET XJet powered by Durst, presentata a febbraio 2018, è una macchina da stampa ibrida che integra perfettamente in linea il gruppo di stampa digitale inkjet Durst Tau RSC con le unità flexo e i moduli di finishing e converting della OMET X6, offrendo illimitata flessibilità, una vasta gamma di applicazioni finali e un notevole risparmio di costi grazie alla configurazione multi-processo in linea. La macchina assicura affidabilità e risultati impareggiabili per ogni genere di tiratura con il vantaggio di ottenere il prodotto finito in un unico passaggio.
La OMET iFlex, presenta una serie di soluzioni smart, studiate appositamente per rendere tutto il processo di stampa facile e intuitivo. Tra gli altri citiamo iLight, sistema di pre-registro con puntatore laser su ogni gruppo stampa; iVision, sistema di regolazione del registro di stampa in tempo reale tramite telecamere; iDrive, sistema ad un solo ingranaggio per gruppo stampa, che permette migliori performance e migliore stabilità; Easy Change Die-Cut (ECDC) che elimina i lunghi tempi di cambio del cilindro di fustellatura.
Presso lo stand OMET n. 3123 sarà possibile assistere a dimostrazioni di stampa sulle macchine esposte, che permetteranno ai visitatori di rendersi conto dal vivo delle eccezionali capacità e potenzialità della tecnologia OMET.
Labelexpo Americas, crocevia di innovazione ed eccellenza per il mercato della stampa nel continente americano, si terrà presso il Donald E. Stephens Convention Center di Rosemont, Illinois, vicino Chicago. L'obiettivo è superare il record di visitatori ed espositori del 2016, confermandosi come punto di riferimento per livello tecnologico, qualità di stampa e design in tutto il continente.