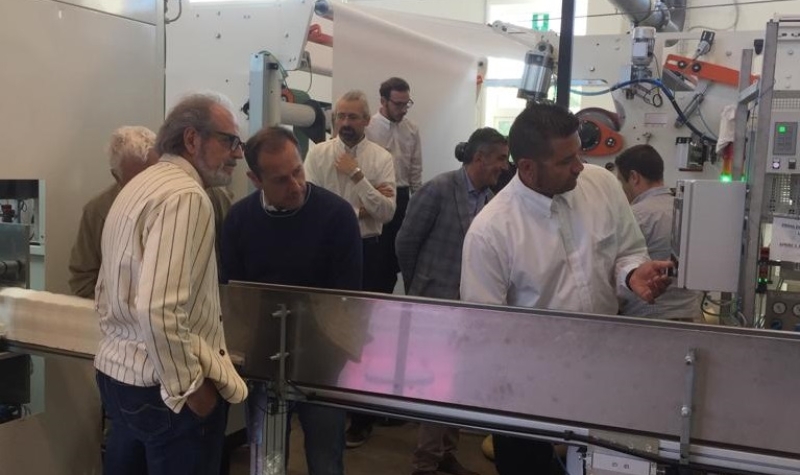 The new OMET ASV Line Tornado successfully presented during the MIAC
October 18, 2019
Great success in Lucca for OMET, with several sales finalized at Miac 2019 and an extraordinary turnout at the open house "OMET Interfolding Experience" organized at the OT Lucca headquarters, where the new ASV Line Tornado interfolded line was on show: it's the first machine for interfolded products on the market to reach a production speed of 270 m/min.
ASV Line Tornado is the new automatic interfolding machine by OMET: an easy-to-use and extremely modular line, with a patented folding system by OMET that allows a perfect vacuum distribution along the entire roll, allowing the use of a folding head of 1500 mm up to 3300 mm.
The ASV Line Tornado showed its extraordinary performances during the demos organized at the open house "OMET interfolding experience", hosted at the OT Lucca plant during the days of the Miac 2019.
OMET, always attentive to the green aspects in manufacturing its machines, has engineered the new ASV Line Tornado with an energy consumption lower than the all the other similar machines on the market. The fair and the open house were therefore an important opportunity to underline the company's commitment on environmental sustainability as well as on technological research to guarantee increasingly high productivity and profitability to customers.
---
La nuova OMET ASV Line Tornado presentata con successo durante il MIAC
Grande successo a Lucca per OMET, che raccoglie diverse vendite presso lo stand del Miac 2019 e registra una straordinaria affluenza all'open house "OMET Interfolding Experience" organizzato presso la propria sede OT Lucca, con la nuova linea per interfogliati ASV Line Tornado: la prima macchina per prodotti interfogliati sul mercato a raggiungere una velocità di produzione di 270 m/min.
ASV Line Tornado è la nuova macchina interfogliatrice automatica firmata OMET: una linea di facile utilizzo ed estrema modularità, dotata di sistema di piega brevettato da OMET che permette la distribuzione del vuoto lungo tutta la lunghezza dei rulli, consentendo di utilizzare una testa da 1500 mm fino a 3300 mm.
La ASV Line Tornado ha mostrato le sue eccezionali performance durante le demo organizzate all'open house "OMET interfolding experience" organizzato presso il plant OT Lucca durante i giorni del Miac 2019.
OMET, sempre attenta all'aspetto green nella creazione delle sue macchine, ha ingegnerizzato la nuova ASV Line Tornado con un consumo energetico inferiore a tutte le macchine similari sul mercato. Fiera e open house sono stati quindi un'importante occasione per rilanciare l'impegno dell'azienda verso la sostenibilità ambientale oltre che verso una ricerca tecnologica che garantisca sempre più elevata produttività e la redditività per i clienti.