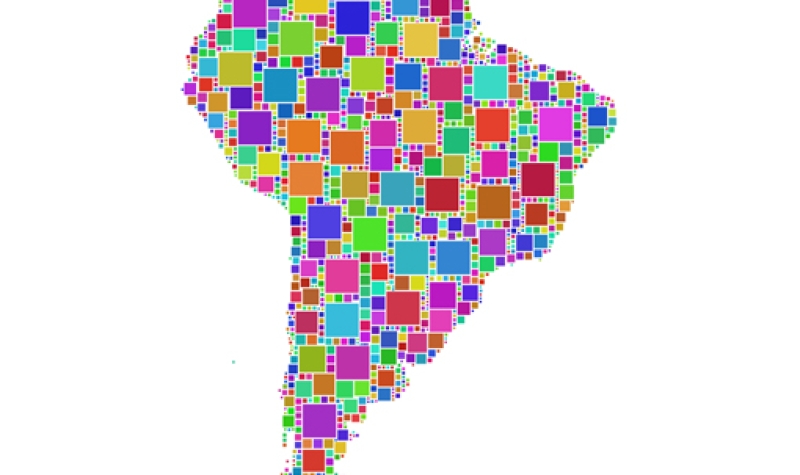 The Latin American converting industry
September 14, 2012
Latin America is experiencing a solid growth in the demand for flexible packaging and labels. Three main factors are responsible for this advance: globalization, the clear intention of leading brands to relocate production to regions other than those where they usually operate, including Latin America, and the various trade agreements signed by many countries in the region with large markets like the US, Europe and Asia, which have the role to support quality, costs and competitiveness but also define a protocol for safety and sustainability.
The flexible packaging industry of Latin America, despite persistent problems of costs (mainly of raw materials and inks), reduction of profit margins and competition from multinational companies producing for various customers located in the different countries of the region, has increased and consolidated its share considerably in recent years. This was possible thanks to the continued investments, improved attention to customer needs and constant concern to adapt their production to requirements of high quality, service and protection.
The whole region lived a climate of economic dynamism in 2011, which brought a growth rate of 4.6% for the flexible packaging sector keeping levels similar to those of 2010 for what concerns the consumption of raw materials, prices of products, productivity and exports. 2012 is expected to be less performing with a 4.2% of general growth characterized by higher specialization and general technological advancement.
Increase profitability is the present challenge of the Latina American flexible packaging industry, for which converters insist on a set of measures focused mainly on the modernization of technology and the improvement  of the quality of their products, which are associated with marketing strategies and incomes in niche markets where their products offer more added value.
The investment in technology continues to guide the expansion of the printers capability, especially with conventional flexo, currently the predominant process. Printers appreciate the high productivity of flexography when dealing with increasingly shorter print runs and the process inner flexibility, which quickly adapt to fast-changing trends and the introduction of new materials. Parallel to the growing popularity of flexography, converter companies in the region show a strong interest in multi-process systems, which house on the same press flexo, screen, gravure and digital printing. This latter is increasingly more predominant not only for small to medium runs but every time the need is to accelerate the launch of products to the market, reduce inventory, deliver just-in-time and print variable data or costly commercial samples.
***
Technology has made a strong impact also in the Latin American label industry although the number of companies owning presses that integrate premium offset, flexo, hot stamping or cold is still not very large but where added value and differentiation are nonetheless the keys to success.
Due to the size of their markets, Brazil and Mexico are now the biggest growth drivers for the label industry in the region. In Brazil, particularly, a high proportion of the population (200 million of inhabitants) is accessing a new spending power and new habits for what concerns packaged and labeled goods. In countries like Chile and Argentina, on the other hand, the wine industry, with its high quality requirements on the labels, is also an important engine of growth for the industry and so are Peru and Colombia.
The largest market share is represented by self-adhesive labels produced in flexo printing, which have exceeded 50% of the labeled consumer products and maintain a clear lead of growth. The market for shrink sleeve labels is an opportunity that, although still low in volumes and confined within a small group of large converters, offers interesting perspectives of growth. Labels with security properties, including RFID, also arise much attention as a way to respond to persistent problems in the region of adulteration, counterfeiting and tampering  especially  of costly products such as medicines and cosmetics. The potential of RFID technology, though, will not be seen for a few years more.
Overall, the main growth niches for label converters in Latin America are closely related to two distinct areas:  internal consumption, directly related to each country GDP growth, and export. Exportations include Chile and Argentina wines and fruits, Central America and Caribbean rums, tequilas and fruits, Ecuador, Colombia and Peru coffee , fruit and pulp, Brazil in almost all of them. Markets of destination are the US for Mexico, Japan, Taiwan and Korea for Chile and Peru, the Caribbean for Colombia and Venezuela, and Europe for Brazil.
Special mention must be reserved to private labels, which are becoming increasingly booming in Latin America, driven by the need of consumers to adjust their budgets in times of economic recession. The demand is driven  not only by the cost factor, but also by the quality and variety of products offered, mainly represented in categories like milk, eggs, oil, vinegar and sugar, among other necessities. With a smaller share are products where there is high support from leading manufacturers, such as confectionery, beer, detergents, deodorants and cosmetics, among others. Private labels positioning is more oriented to popular and economical products but there will come a time when private label is particularly intended for audiences with greater purchasing power, also opening up opportunities to add value through the ennoblement in print, the application of tactile varnishes, as well as the application of different foil films.
American converters have access to a number of major challenges and opportunities. Innovation, specialization and aggressive marketing actions will drive the growth of both the flexible packaging and label sectors and increase exports. It is very important though that these major changes affect the domestic markets, offering brand owners the ability to add value and provide a full service package, facilitating their marketing, security and traceability in the food sector and in the non-food market niches.

Sources:
–    Informe especial  Industria latinoamericana de etiquetas. Grandes oportunidades de crecimiento e inversión – Conversión magazine, October 2010
–    La industria latinoamericana de conversión de empaques flexibles. Abierta a nuevos escenarios de desarrollo – Conversión magazine, Germán González, July 2012