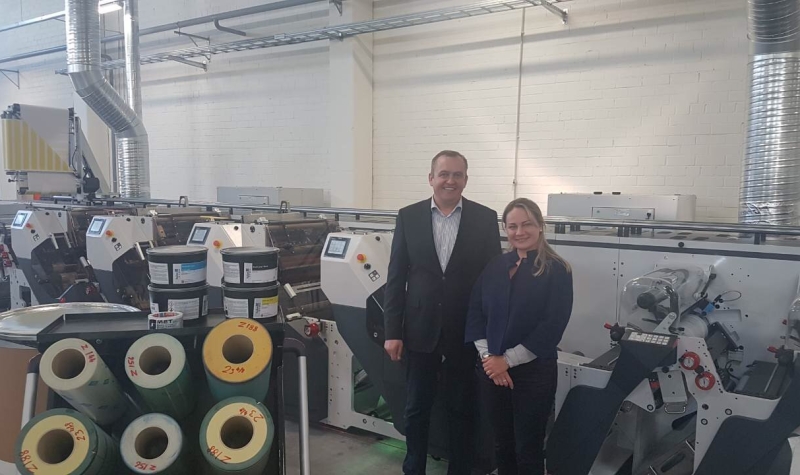 The first hybrid offset machine ОМЕТ XFlex X6 in Lithuania
June 14, 2019
In March 2019 the printing machine ОМЕТ XFlex X6 offset was launched into operation in the company "Ardekas". The main feature of this machine is that it is equipped with offset and flexo printing units. Additional equipment such as cutting units and longitudinal cutting module allows the machine to be used for printing both unsupported films and self-adhesive labels and thermal labels.
The main task when choosing a machine was to achieve high quality products with minimal production time and waste. Ardekas had the need to be able to print products with a high lineature of the image, using offset units and to produce finishing by applying a large layer of specialized inks, as well as white and primer using flexo units. Thus, the OMET XFlex X6 printing machine, equipped with offset and flexo units, has become a unique solution to achieve the objectives.
The ideology of application of sleeve technology in the offset units of the XFlex X6 machine, using sleeves for the printing plates and blankets, allows the printer to make the most efficient use of production time and minimize the loss of time when switching to print a new job. When changing the print report, the machine operator has the opportunity, during the printing of the previous print run, on a special assembly table, to set the printing plates and offset rubber on the corresponding sleeves and then in a few seconds to change them in the printing machine. Subsequently the servo-drive technology and the automatic register system, setting the "zero" position of the plate sleeves, minimizes waste paper. This increases the efficiency of using the working time of the machine.
Ardekas also has a modern web line for the production of self-adhesive paper. This is the only equipment in the Baltic countries, in the production process of which the patented technology of applying glue and silicone coating is used. The company is also a manufacturer of self-adhesive products in a wide range, made from various combinations of materials with partial adhesive coating. In addition, Ardekas is engaged in the manufacture of blanks for self-adhesive labels for food and industrial goods, packaging, bar coding, descriptions of goods, labels for scales. Available equipment can produce such products as: paper, PE, BOPP, PET label, thermo eco, termo top, vellum.
Ardekas is the only producer in the Baltic States that manufactures Linerless – self-adhesive labels without substrate. The new hybrid press OMET XFlex X6 has enabled Ardekas to reach a new, higher level in the production of the above mentioned products.
---
ОМЕТ XFlex X6, la prima ibrida offset installata in Lituania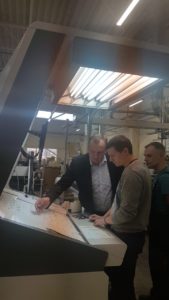 Nel marzo 2019 presso l'azienda Ardekas, è stata avviata una linea ОМЕТ XFlex X6 offset. La caratteristica principale di questa macchina è la dotazione di unità di stampa offset e flexo. Gruppi aggiuntivi come fustelle e unità di taglio longitudinale consentono alla macchina di essere utilizzata per la stampa di etichette autoadesive, film non supportati ed etichette termiche.
L'obiettivo principale quando si sceglie una macchina è ottenere prodotti di alta qualità con tempi di produzione e sprechi minimi. Ardekas aveva la necessità di poter stampare i prodotti con alta lineatura delle immagini, utilizzando unità di stampa offset, procedere alla finitura applicando un ampio spettro di inchiostri speciali, e stampare bianco e primer utilizzando unità flexo. La OMET XFlex X6, con unità offset e flexo, è stata la soluzione per raggiungere tutti questi obiettivi.
L'applicazione della tecnologia sleeve alle unità offset della XFlex X6, utilizzando le sleeve per i cliché di stampa flexo e offset, consente di sfruttare meglio i tempi di produzione e minimizzare i tempi di cambio lavoro. Quando si modifica il rapporto di stampa, l'operatore della macchina ha l'opportunità, durante la precedente tiratura, di impostare già gli impianti di stampa flexo e offset sulle sleeve corrispondenti tramite una tabella speciale di assemblaggio e poi cambiarle in pochi secondi sulla macchina. La tecnologia servo-drive e il sistema di registro automatico permettono di settare la posizione "zero" sulle sleeve, minimizzando lo spreco di carta. Ciò aumenta l'efficienza della macchina.
Ardekas possiede anche una moderna linea per la produzione di carta autoadesiva. E' l'unica nei paesi baltici che utilizza la tecnologia brevettata di applicazione di colla e rivestimento in silicone nel processo di produzione. L'azienda fornisce anche una vasta gamma di prodotti autoadesivi realizzati con varie combinazioni di materiali e rivestimento adesivo anche parziale. Inoltre, Ardekas è impegnata nella produzione di lastre di stampa per etichette autoadesive destinate al mercato alimentare e industriale, imballaggi, codici a barre, descrizioni di merci, etichette per bilance. Con la sua attrezzatura può fornire carta, PE, BOPP, etichette PET, termo eco, termo top, pergamene.
Ardekas è l'unica negli stati baltici a produrre Linerless – etichette autoadesive prive di supporto.
La nuova linea ibrida OMET XFlex X6 ha consentito ad Ardekas di raggiungere un livello superiore nella fornitura dei prodotti sopra citati.