Tedim, tissue and cleansing: story of an excellence from South Italy
March 18, 2020
Born in 2006 as a producer of single-ply napkins and toilet paper, in a few years Tedim succeded in the market, first in Campania and then in the whole South of Italy, supplanting national brands thanks to the excellent value for money of their products. The exponential growth of the business and the product range allowed the company to enter the detergency, home care and personal care sector in 2016. Tedim, who last year invested in three OMET TV 840 lines, has grown with an ambitious vision and an effective and forward-looking management: their story is told in this interview by Nunzio Moccia, Product Marketing Manager of the company.
Mr. Moccia, tell us about Tedim's grow path and its most important results.
Tedim was born in 2006 with the paper production and converting. At the beginning we had few machines, and we produced only single-ply napkins and toilet paper under the Corona brand. Gradually we expanded the range by introducing new brands: Inpiù, Expert, Volè for the paper unit; Dinamo, Lusso, Biancofà, Elle for the cleansing sector we entered in 2016.
What did allow such a rapid growth in rather difficult years for the general economy?
Good products and private labels. In 2006-2007 the market was dominated by a few national brands. We launched our own brand in Campania, and we were the first. People liked it because we offered high quality and affordable prices compared to the national brands: our exponential growth was starting. This allowed big profit margins and we could increase production and create new brands.
From a commercial point of view, what's your positioning on the market?
We only sell in Italy and in particular in the South: Campania, Sicily, Puglia, Basilicata and Lazio. We have not yet reached other regions or countries: these are our next objectives.
How is your production organized today? What are your main product lines?
In recent years, the strong increase in production led us to purchase new machines and we had to move to a new plant of 20 thousand square meters in 2016. Now we are working with three OMET lines for single ply napkins (purchased last year), an OMET line for two-ply napkins, one industrial line and two lines of toilet paper/kitchen towels, one for rolls and another machine to make a particular napkin of half a meter size, with different packaging.
What reasons did led you to invest in several OMET lines?
We purchased 4 OMET lines in the last 3 years to satisfy our increase in production. Our older machines had limited performance. OMET lines have an excellent daily productivity, at high speed.
What do you appreciate most about OMET brand?
Certainly the productivity, and the strong structure of the machines. Thanks to their features, we have been able to satisfy the growing market demand. With the two-ply napkins line we had to contact OMET service and they have always been effective and available, promptly solving any kind of problem. This is very important for a converter: we often talk about the product, but sometimes it is thanks to the service if we decide to continue a collaboration.
What growing prospects do you see for your company?
We certainly expect an increase of our presence on a national level. The goal is to develop our brands, by avoiding outsourcing and investing in communication and marketing to establish our most important brand, Corona, in other regions. In Campania and in the southern regions the market is quite saturated so we are expanding in other areas, first with the sales network and then with the production.
How do you face market changes and innovation?
We rely heavily on innovation. Corona has undergone a restyling of brand, packaging and quality of the product. Today some of our products have a more delicate texture, they are more resistant and softer, and we have also focused on aesthetics to improve the visual impact. It is always a private label product, but we have invested heavily in quality.
How do you see the tissue sector at the moment and in the future?
I think that paper market hasn't any risk of crisis and instead is registering a growth that offers important opportunities to operators. The work is continuous and the market is solid, there are no swings that can prelude a crisis. But I see development opportunities outside our traditional territory.
---
Tedim, carta e detergenza: storia di un'eccellenza del Sud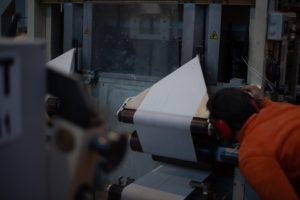 Nati nel 2006 come produttori di tovaglioli monovelo e carta igienica, in pochi anni si sono affermati prima in Campania e poi nelle maggiori regioni del Sud soppiantando i marchi nazionali grazie all'ottimo rapporto qualità prezzo dei propri prodotti. La crescita esponenziale della gamma e dei volumi ha permesso all'azienda nel 2016 di espandere il business al settore della detergenza, dell'home care e del personal care. La storia di Tedim, che lo scorso anno ha investito in tre linee OMET TV 840, è quella di una vision ambiziosa e di una gestione efficace e lungimirante, che vengono raccontate in quest'intervista da Nunzio Moccia, Product Marketing Manager dell'azienda.
Sig. Moccia, ci racconti il cammino di sviluppo e i risultati più importanti di Tedim.
Tedim nasce nel 2006 con la produzione e trasformazione della carta. All'inizio avevamo pochi macchinari e facevamo soltanto tovaglioli monovelo e carta igienica col marchio Corona. Piano piano ci siamo allargati con la gamma e introdotto nuovi brand: Inpiù, Expert, Volè per la carta e dal 2016 abbiamo aperto il settore della Detergenza con i marchi Dinamo, Lusso, Biancofà, Elle.
Cosa ha permesso una crescita così veloce in anni piuttosto duri per l'economia generale?
Il buon prodotto a marchio proprio. Nel 2006-2007 il mercato era dominato da pochi marchi nazionali. Noi abbiamo voluto lanciare un marchio proprio e commercializzarlo in Campania per primi. E' piaciuto e c'è stata una crescita esponenziale perché era un prodotto di qualità a un prezzo accessibile, quindi concorrenziale rispetto al marchio nazionale. Questo ha portato margini importanti permettendoci di accrescere la nostra produzione e di creare nuovi brand.
Sotto il profilo commerciale, come vi posizionate sul mercato?
Noi vendiamo solo in Italia e al Sud: Campania, Sicilia, Puglia, Basilicata e Lazio. Non siamo ancora arrivati nelle altre regioni e all'estero: sono i nostri prossimi obiettivi.
Oggi come siete organizzati sotto il profilo produttivo? Quali sono le vostre principali linee di prodotto?
Negli ultimi anni il forte incremento della produzione ha portato all'acquisto di nuove macchine e al trasferimento in un nuovo plant di 20mila metri quadrati nel 2016. Ora lavoriamo con tre linee di monovelo OMET acquistate l'anno scorso, una linea OMET doppiovelo, una linea industriale e due linee di carta igienica/asciugatutto, una di rotoloni e un altro macchinario per fare il tovagliolo mezzo metro, in confezione diversa.
Quali sono le ragioni che vi hanno spinto a scegliere di investire più volte nelle linee OMET?
Abbiamo acquistato 4 linee OMET negli ultimi 3 anni per soddisfare l'aumento della produzione. Avevamo macchine datate con rendimento limitato. Le linee OMET hanno un'ottima produttività giornaliera, a velocità sostenuta.
Cosa apprezzate maggiormente del marchio OMET?
Sicuramente la produttività e la struttura delle macchine. Grazie alle loro caratteristiche abbiamo potuto soddisfare la domanda crescente del mercato. Con la linea doppiovelo ci è capitato di usufruire del servizio assistenza e devo dire che sono sempre stati efficaci e disponibili, risolvendo tempestivamente qualsiasi tipo di problema. Questo è molto importante per un'azienda come la nostra: spesso si fa riferimento solo al prodotto, ma a volte è merito del servizio se si decide di continuare una collaborazione.
Quali prospettive di sviluppo vedete per la vostra azienda?
Sicuramente prevediamo un incremento della nostra presenza a livello nazionale. L'obiettivo è sviluppare i nostri marchi evitando il conto terzi e investire in comunicazione e marketing per affermare il nostro marchio più importante, Corona, in altre regioni. In Campania e nelle regioni del Sud il mercato è piuttosto saturo quindi stiamo ampliando la rete vendita in altre zone e poi amplieremo la produzione.
Come vi ponete rispetto ai cambiamenti del mercato e all'innovazione?
Puntiamo moltissimo sull'innovazione. Corona ha subito un restyling di brand, di packaging e della qualità del prodotto stesso. Oggi alcuni nostri prodotti hanno trama più delicata, carta più resistente e più morbida, e ci siamo concentrati anche sull'estetica per migliorare l'impatto visivo. Resta sempre un prodotto conveniente, ma abbiamo investito molto sulla qualità.
Come vede il settore dei prodotti tissue al momento e in futuro?
Penso che il nostro settore, quello della carta, non corra rischi di crisi e anzi registri comunque una crescita che offre margini importanti per gli operatori. Il lavoro è continuo e il mercato è solido, non ci sono oscillazioni che possano far pensare ad una crisi. Ma vedo margini di sviluppo localizzati fuori dal nostro territorio tradizionale, quello campano.