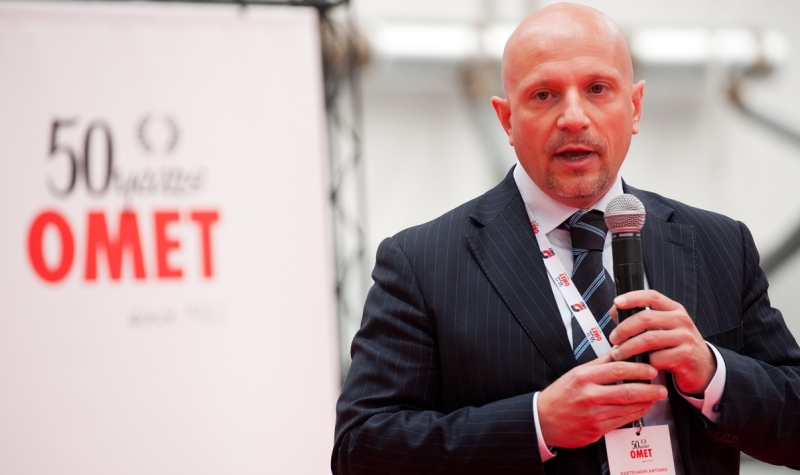 Technology, product and people: this way OMET invests in the future
January 27, 2020
At the beginning of 2020, Antonio Bartesaghi, OMET's CEO, makes a wide-ranging thought about the future of the company and the market.
The OMET's growth path in terms of turnover and number of installations, ever-increasing in recent years, had a new confirmation in 2019 despite an unfavorable international economic situation. We are proud of this result, that demonstrates once again that our company and our products are more and more appreciated by the market. Anyway, in the meantime we continue to work for anticipating the needs of our customers, looking for greater efficiency in processes and more ease of use in machines: these trends drive OMET's innovation, always mindful to the needs of the market.
We invest both internally and in collaboration with our partners to carry out testing projects on machines and equipment to raise printing quality on all kinds of support, improving setup times and reducing waste. We have been the forerunners in enhancing the production process, having developed almost 10 years ago some technological innovations decisive for increasing production efficiency and reducing waste, in terms of materials and time.
OMET has created a trend, followed then by all the competitors, and has defined the actual quality standards of the labels and packaging printing market.
Today we continue the optimization and implementation of the production process paying a special attention to the environment – as we highlighted at Labelexpo Europe – that has always represented a fundamental value for OMET. Supports to be used in the future will be increasingly complex to print because the market is going towards new, less resistant materials with reduced thickness. The decline of plastic materials, driven by the global campaign for the protection of the planet endorsed by governments and institutions, will inevitably lead to the diffusion of recycled and eco-sustainable supports, more difficult to manage and print. OMET is already testing compostable packaging materials, made by bio-resins. OMET is at the forefront of change, and focuses on technology and research to guarantee the excellence of product and service that has always distinguished its brand.
But OMET's growth is not only market driven: our continuous evolution is possible because the company never forgets its staff and its social responsibility. OMET has always invested on young people and qualified personnel, paying great attention to training. This attitude comes from the conviction that the products we offer are the result of the work done in our offices and plants: it's therefore essential to enhance our collaborators, their work and their professional career.
We are proud of being a point of reference on matters like welfare, training and support to schools, especially for technical education. We invest in particular on professional training provided by technical and scientific institutes, with the aim to bring more technology into their laboratories and move the teaching quality closer to the needs of the companies. Every company owes its success to the opportunity of finding qualified staff to ensure future growth.
We work for keeping alive, in our company, the commitment to improve constantly and to go beyond our limits, in order to generate value. In our offices the key word is always "aim high".
---
Tecnologia, prodotto e persone: così OMET investe sul futuro
All'inizio del 2020, Antonio Bartesaghi, CEO di OMET, fa una riflessione ad ampio raggio sul futuro dell'azienda e del mercato.
Il percorso di crescita OMET in termini di fatturato e numero di macchine installate, che continua in modo incessante da alcuni anni, ha avuto nuove conferme nel 2019, nonostante una congiuntura economica internazionale poco favorevole. Questo ci rende orgogliosi e dimostra ancora una volta l'apprezzamento crescente del mercato verso la nostra azienda e i nostri prodotti.
OMET investe per innalzare continuamente gli standard della qualità di stampa e per anticipare le necessità dei clienti, ricercando per loro maggior efficienza nei processi e maggior semplicità d'uso nei macchinari: ecco i trend che guidano l'innovazione OMET, sempre attenta ai bisogno del mercato.
Investiamo sia al nostro interno sia insieme al mondo della fornitura per portare avanti progetti di sperimentazione su macchine e accessori che innalzino i livelli qualitativi della stampa su ogni tipo di supporto, migliorino i tempi di setup e riducano gli scarti. Siamo stati i precursori nell'efficientamento del processo di produzione, sviluppando oltre dieci anni fa innovazioni tecnologiche decisive per l'incremento dell'efficienza produttiva e la riduzione degli sprechi, in termini di materiali e di tempo. OMET ha creato una tendenza seguita poi da tutte le aziende del settore, e ha definito quelli che oggi sono gli standard qualitativi di mercato.
Oggi continuiamo quell'opera di ottimizzazione ed evoluzione del processo produttivo con particolare attenzione ai problemi ambientali, in un'ottica green che abbiamo evidenziato a Labelexpo Europe ma che in realtà da sempre rappresenta un valore fondamentale per OMET. I materiali utilizzati nel futuro saranno sempre più complessi da stampare perché il trend va verso la riduzione degli spessori e l'utilizzo di nuovi materiali meno resistenti. La diminuzione dei materiali plastici spinta dalla campagna mondiale per la protezione del pianeta sostenuta da governi e istituzioni porterà inevitabilmente alla diffusione di materiali riciclati o eco-sostenibili più difficili da gestire e stampare. In OMET già si stanno testando materiali per imballaggio compostabili, prodotti con bio resine. OMET è in prima linea sul fronte del cambiamento, e punta sulla tecnologia e sulla ricerca per garantire al mercato l'eccellenza di prodotto e servizio che l'ha sempre contraddistinta.
OMET non è solo un'azienda orientata al mercato: la crescita continua che sta sostenendo è possibile perché l'azienda non dimentica mai il ruolo che ricopre nel contesto sociale in cui opera. Siamo un punto di riferimento sul territorio per quanto riguarda l'attenzione all'ambiente, al welfare, alle famiglie e alla qualità dell'istruzione scolastica. Siamo a fianco delle strutture che si occupano di formazione professionale, tecnica e scientifica, per portare maggiore tecnologia all'interno dei laboratori e per avvicinare le competenze degli studenti a quelle necessarie nel mondo del lavoro: ogni azienda deve il suo successo all'opportunità di trovare personale qualificato che assicuri la crescita futura.
Siamo orgogliosi di lavorare per mantenere sempre viva, al nostro interno, la tensione al miglioramento continuo e ad oltrepassare i limiti, per generare il valore che il mercato ci riconosce. Nei nostri corridoi la parola chiave è "aim high", "puntare in alto".