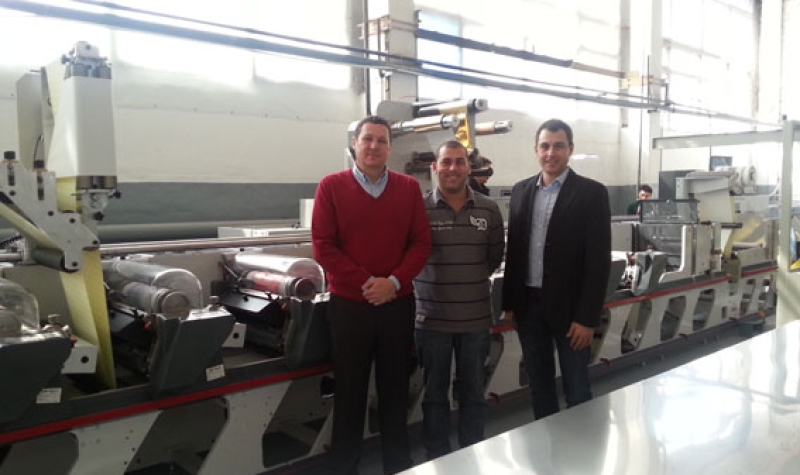 Tatyana Gaponova, Sales Manager of OMET reports on the sale of XFlex X4 to customer Glloss Label of Moscow
April 23, 2013
OMET and its partner in  Russia VIP-Systems have successfully installed XFlex X4 press in Russia at company Glloss Label, located in Moscow.
So states the General Director of the company: "The choice of OMET machinery was made during Drupa 2012 after a detailed analysis of the solutions offered by the top manufacturers of narrow web printing presses. The main reason why we finally decided to pick an OMET press was the quality/price ratio and the possibility to take advantage of Vision-1 technology. Automatic register system Vision-1 by OMET brings major savings in waste and time at start-up and at each job change. As we work in the segment of premium labels, multi-process XFlex X4  helps us meet our market demand and opens for us monofoil applications. What is also important to say is that our printers got used to the press quite quickly thanks to its simple management and intelligent interface."
OMET вместе с партнерской компанией ВИП-Cистемы, Россия, успешно инсталлировали  XFlex X4 в компании Glloss Label, Москва.
По словам  Генерального директора Glloss Label : "Выбор оборудования OMET был сделан на выставке Drupa 2012  после детального изучения возможноcтей машин ведущих  производителей  узкорулонного оборудования. Основным критерием выбора техники  ОМЕТ  стал баланс цена – качество и преимущества работы с системой  Vision-1.  Автоматическая система двухосевой приводки  Vision-1 является собственным изобретением компании OMET. Система Vision-1 позволяет значительно сократить отходы во время приладки и при каждой смене тиража .  Так как мы работаем в сегменте этикетки  премиум класса,  мультифункциональная машина OMET XFlex X4 отвечает требованиям  заказчиков  и дополнительно открывает для нас новый сегмент рынка монопленок. Еще важно отметить , что наши печатники  освоили  функции машины в короткий период времени  за счет простого управления и умного интерфейса."