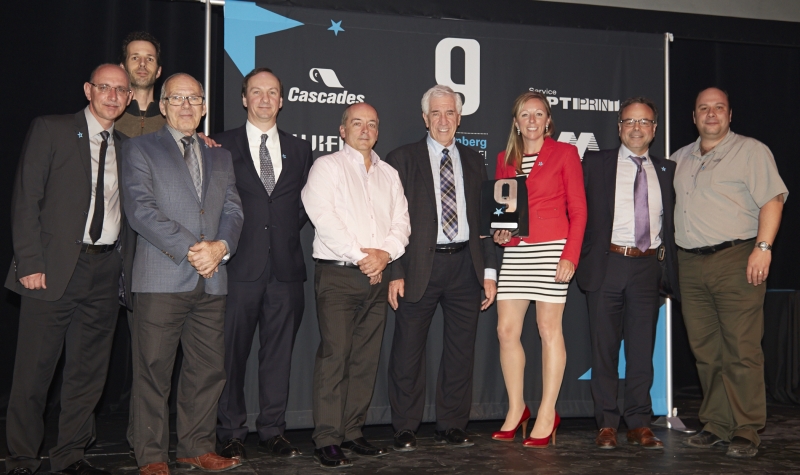 Supremex wins technical challenge award in packaging at Canadian 2014 Gutenberg Gala
May 26, 2014
Supremex Inc., Canada's largest provider of stock and custom-manufactured envelopes, is proud to announce that, after participating for the first time, they won the technical challenge award in the packaging category at the 2014 Gutenberg Gala held recently in Montreal.
Supremex earned this distinction for its printed envelope "My New 2014 Beauty Guide" produced for Yves Rocher on its OMET Variflex V2 520 press, which features high definition flexographic printing (see related video).
The Gutenberg Gala awards are presented annually by the Print and Graphic Communications Institute which recognizes excellence in the graphics and printing industry. For 32 years, the Gutenberg Gala has proved to be the event of excellence in the printing industry. It highlights the talent, creativity and know-how of its artisans. The Gala covers the following categories: display, packaging, corporate communications, publishing, label and marketing. In all, 14 awards were presented at the Gutenberg Gala.
The printing challenge on this particular series of envelopes was significant, given that a 20 micron stochastic screening was used for high speed printing. The UV ink used for this process has enabled Supremex to achieve a gloss varnish effect. Few printers in Quebec would dare to achieve such a high level of precision within a flexographic process. The smoothness of the skin tones, the vibrant colors and perfect register made the production of this envelope an exciting challenge.
"This reward is yet another example of Supremex's commitment to address the high quality standards of its customers. Supremex is consistently seeking to attain enhanced levels of excellence. This custom envelope is an excellent example underlining the dedication of our talented employees and their continuous innovative spirit," commented Dany Paradis, Chairman of the Board.
Supremex Inc. is Canada's largest manufacturer and marketer of a broad range of stock and custom envelopes and related products. Supremex is the only national envelope manufacturer in Canada, with facilities across six provinces and employs approximately 525 people. This nationwide presence enables it to manufacture products tailored to the specifications of major national customers such as leading Canadian corporations, national resellers and governmental entities, paper merchants, as well as process and solutions providers.
Credits: www.supremex.com