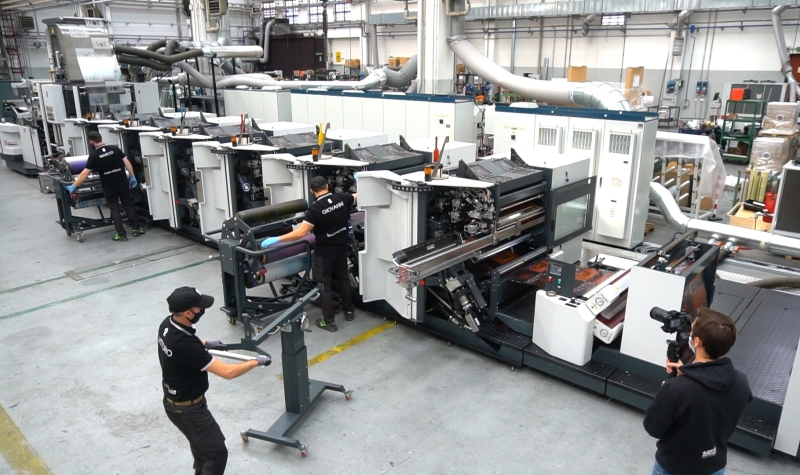 Success for the first OMET streaming event
December 11, 2020
Over 300 participants from all over the world attended the virtual event organized by OMET on 3 December 2020: the demo aroused very much interest, showing excellent printing and quick job change on the new VaryFlex V4 Offset.
On December, 3rd 2020 OMET presented the new VaryFlex V4 during the "Packaging Revolution" open house in live streaming: the new machine is dedicated to flexible packaging printing and converting, and allows significant cost savings thanks to innovative solutions that enhance quality, sustainability and flexibility, and combining different kinds of printing and drying: offset, rotogravure and flexo, UV or EB.
The event took place in two sessions, one in the morning and one in the afternoon, to allow the connection of participants from all over the world, respecting the different time zones. In the morning there was a strong turnout from Southeast Asia, Australia, the Middle East and Europe, while in the afternoon the participants mainly came from the United States and South America. The registered accesses were over 300, well above forecasts.
The central moment of the event was the printing demonstration of the VaryFlex V4, configured with 6 offset printing units and 2 in-line gravure units for printing on PET material. The quick job change to a completely different image took less than five minutes, including the transformation of an offset printing unit into a flexo printing unit.
«For several years – said the President Antonio Bartesaghi – OMET has been offering high-tech printing solutions for the packaging sector, with excellent results both in terms of machines sold and installed, and of collaborations with international customers. The market is constantly evolving and looking for adequate and efficient solutions as regards flexibility, quality and safety. The machine we are presenting today guarantees massive advantages for its ease of printing and for the speed in job change".
To watch the complete video of the event, send an e-mail request to mkt@omet.it.
---
Successo per il primo evento streaming OMET
Oltre 300 partecipanti da ogni parte del mondo per l'evento virtuale organizzato da OMET il 3 dicembre 2020: la dimostrazione di stampa e cambio rapido del lavoro sulla nuova VaryFlex V4 Offset ha suscitato molto interesse.
Il 3 dicembre 2020 OMET ha presentato la nuova VaryFlex V4 durante l'open house in live streaming "Packaging Revolution ": una macchina dedicata alla stampa e il converting di flexible packaging che consente un notevole risparmio sui costi grazie a soluzioni innovative che esaltano qualità, sostenibilità e flessibilità, combinando diverse tipologie di stampa e asciugamento: offset, rotocalco e flexo, UV o EB.
L'evento si è svolto in due sessioni, una al mattino e una al pomeriggio, per consentire il collegamento di partecipanti interessati da tutto il mondo, in rispetto dei diversi fusi orari. Al mattino si è registrata una forte affluenza dal Sud-est Asiatico, dall'Australia, dal Medio Oriente e dall'Europa, mentre al pomeriggio i partecipanti sono stati principalmente dagli Stati Uniti e dal Sudamerica. Gli accessi registrati sono stati oltre 300, ben superiori alle previsioni.
Il momento centrale dell'evento è stato la dimostrazione di stampa della VaryFlex V4, configurata con 6 gruppi stampa offset e 2 unità rotocalco in linea per la stampa su materiale PET ed il cambio rapido del lavoro ad un secondo soggetto completamente differente in meno di cinque minuti, compresa la trasformazione di un gruppo stampa offset in gruppo stampa flexo.
«Da alcuni anni – ha evidenziato il Presidente Antonio Bartesaghi – OMET offre delle soluzioni di stampa ad alta tecnologia per il settore del packaging, con ottimi riscontri sia in termini di numero di macchinari venduti ed installati, sia in termini di collaborazioni con clienti internazionali. Il mercato è in continua evoluzione e in cerca di soluzioni adeguate ed efficienti in termini di flessibilità, qualità e sicurezza. La macchina che presentiamo oggi garantisce enormi vantaggi per la sua facilità di stampa e per la velocità nel cambio del soggetto da stampare".
Per vedere la registrazione completa dell'evento, mandare una richiesta via e-mail all'indirizzo mkt@omet.it.