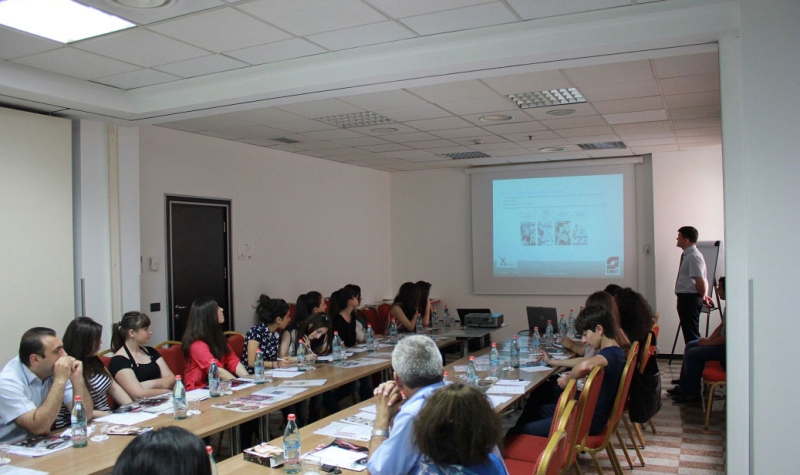 Succesful seminar organised by OMET in Armenia
August 21, 2014
OMET recently held a seminar on "Print and converting solutions in packaging and labels", with the support of the  Armenian Union of Manufacturers and printing products "Armenpak." This seminar was the first of a series of planned activities of OMET Technology Center held in the territory of Russia and CIS countries.
The seminar was hosted by the director of OMET in Russia and the CIS, Sergey Bondarenko, and the area manager of OMET for these territories, Tatyana Gaponova. The list of participants included: leading publishing houses of  Armenia,  the holdings of non-alcoholic beverages, food products, packaging products, manufacturers of plastic packaging, as well as academic staff and students of the Faculty of Polytechnic Printing Institute.
Particular attention was drawn to the construction of machines using different types of printing and processing, allowing manufacturing of products in one pass. Particular emphasis was placed on the unique capabilities of OMET Machines to print on the same press thin film materials, heavy cardboard and polymer materials, answering to the needs of the different segments of the packaging market.
Sergey Bondarenko also raised the topic of aluminum foil applications and polylaminate products, talked about the different ways in the production of multi-layer laminates, giving examples of products and technologies.
The seminar illustrated examples of configurations for the production of  in-mold labels, shrink sleeve labels as well as 'scratch & win' lottery tickets.
During the seminar, a lively discussion took place between the participants and the speakers on the different technologies and applications, making such activity very useful in terms of exchange of experience and information on market trends.
***
ОМЕТ , ведущий производитель флексографского печатного оборудования  при  поддержке Союза производителей и потребителей тароупаковочной и полиграфической продукции  "Арменпак"   в конце мая  провел семинар на тему " Печатные и конвертинговые решения в  упаковке и этикетке".   Этот семинар был первым  из серии  запланированных мероприятий технологического центра компании  ОМЕТ, проводимых на территории РФ и стран СНГ  .
На семинаре выступали  директор представительства ОМЕТ в РФ и странах СНГ  Сергей Бондаренко и  Региональный менеджер ОМЕТ , Италия , Татьяна Гапонова.
Среди участников  семинара были  представлены ведущие типографии Армении, крупные холдинги по производству  безалкогольных напитков,пищевой продукции, изделий для упаковки, производители пластиковой тары и упаковки , а также научные сотрудники  и студенты полиграфического факультета политехнического института .
Особое внимание привлекло построение машины с использованием различных видов печати и обработки , позволяющее изготовить  продукцию в один прогон .  Особый акцент был сделан на уникальных  возможностях машин ОМЕТ печатать на одном оборудовании как тонкие пленочные материалы , так и тяжелые полимерные и картонные материалы , что позволяет удовлетворять потребности в разных сегментах  упаковочной продукции .
Сергей Бондаренко  подробно  освятил тему областей применения алюминиевой фольги  и полиламинатной продукции  , рассказал о различных  способах  ламинации  при производстве  многослойных ламинатов, приведя примеры  продукции и технологии ее изготовления.
На семинаре приводились  в пример конфигурации машин по проихводству  инмолд и термоусадочной этикетки а также  лотерейного билета.
Во время семинара  происходило живое обсуждение  между участниками и спикерами  по технологиям  и сферам применения , что делает такие мероприятия максимально  полезными  с точки зрения обмена опытом  и получения информации о тенденциях на рынке .