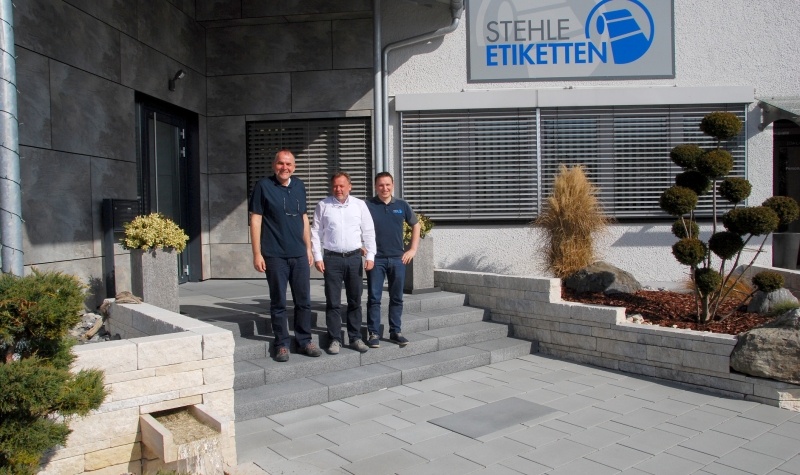 Stehle Etiketten: many years of company development accompanied as a supply partner
November 20, 2019
OMET's iFlex eight-colour flexographic printing machine is the latest installation in the long Chromos era of the Stehle Etiketten print shop in Ravensburg.
If you want to understand the current DNA of a company, you should also know its history. At the Gebr. Stehle & Co. GmbH from Ravensburg, the start was a curiosity that was followed by long phases of continuous development. The current phase was mainly characterized by managing director Hans-Peter Jerg, who took over the company from its founders Klaus and Huber Stehle in 2003. In this article, together with the lawyer René Miedl, he provides an insight regarding the influence that Chromos GmbH, as a long-standing supply partner, had on the printing technology development of the label printing plant during this period.
The Gebr. Stehle & Co. GmbH is specialized in the production of self-adhesive labels and uses the usual printing processes for this purpose. Digital printing has been in production since 2015, and in 2018 OMET installed the iFlex 370, a new eight-color web press for flexographic printing. For the company from Ravensburg-Schmalegg, however, letterpress printing was, as for many other label printers, the process that laid the foundation stone and subsequently ensured many successful business years.
Success story after a low-risk start
The two company founders Klaus and Hubert Stehle had however a very special relationship with this printing technology. Their connection to label printing began when the two brothers, who had completed an apprenticeship as mechanics in the 1950s, joined Gallus in Switzerland in the early 1960s. For a good ten years they were in the service of the St. Gallen machine manufacturer and in the end, as assembly managers or heads of internal assembly, they took care of the worldwide installation of the machines. In 1973 they decided to start label printing themselves and install their own printing line.
For the brothers the decision was comparatively risk-free for two reasons. On the one hand, the production of self-adhesive labels showed a high growth potential at that time and on the other hand, they had the promise from the Gallus boss Ferd Rüesch (sen.), who was the owner at that time, to be able to return to the printing press manufacturer in Switzerland should their project fail.
By 1984, the company had developed so successfully that, in addition to the first five-color printing press, three other printing lines were produced in the press room. In 1985, the Stehle company moved to a new building as its current location. This time has been vividly remembered by the current managing director Hans-Peter Jerg. As a trained carpenter, he was involved in the interior design of the new hall. He had manual dexterity and so Klaus Stehle offered Hans-Peter Jerg to start in the company as a label printer. This is how he started his career in the label industry in 1985 in the new hall on a new Gallus V330.
Change of ownership gives fresh impetus
The next milestone in Hans-Peter Jerg's business life followed in 2003, when the Stehle brothers sold their company to him for reasons of age. The established company had a dedicated team, so the new management brought fresh impetus to the business. From 2004 he was supported by René Miedl. As a trained flexographer who had already gone through all areas from prepress to printing in an offset printing company, both formed a team that complemented each other in many ways. In this favorable constellation, they were able to constantly advance the company in its development.
Since 2005, the company has invested every year either in technology or in buildings. In all cases, however, the Swabian principle applied that money had to be earned before it could be spent. At the same time, the number of employees has increased from five to almost 20. When the share of small orders predestined for digital printing began to grow a few years ago, they were first outsourced. "Meanwhile, we've been watching the market closely to find the right time to get into digital printing,"; recalls René Miedl. The decision to install their own digital printing system was made after sufficient potential had accumulated in 2015.
Trustworthy partnership establishes Chromos era
With the addition of digital printing, a new situation arose at Stehle Etiketten. Since the commissioning of a Viva 340 from Codimag in 2000, the print shop had gradually installed four more models from the French manufacturer. With this focus on mechanical engineering, a special market as a lucrative niche could be opened up in the course of time. Due to declining print runs, however, more and more jobs have recently shifted to digital printing. Although letterpress printing was still the method of choice for medium-sized orders, it was rather an uneconomical emergency solution for larger runs.
"We have discussed this situation of our company in detail with Chromos GmbH. After all, our successful development in recent years is closely linked to this supply partner,"; explains Hans-Peter Jerg. The Augsburg trading company represents the company Codimag in the German-speaking market. It has accompanied Stehle Etiketten since the turn of the millennium with the installation of almost all printing machines. Hans-Peter Jerg particularly appreciates the fact that Chromos GmbH has always proven to be a trustworthy partner who places the customer's interests first and foremost when providing advice. This made it easier for him to decide to introduce another printing process in the company and to invest in a flexo printing machine from OMET. The machine manufacturer from Lecco, Italy, is also one of the companies that Chromos GmbH looks after as a sales partner. In October 2018, an iFlex with eight flexographic printing units and extensive additional equipment such as 'Peel and Seal'; and 'Delam-Relam'; was put into operation in Ravensburg.
Meticulous preparation
This installation was a particular challenge for the company. There was no practical experience with flexographic printing, and up to this point all the printing machines installed were translative systems. In addition to the new printing process, the task was therefore to integrate the first rotary press and all the associated peripherals, from the process-specific prepress stage to the clichés and printing inks, into the running operation.
Klaus Sedlmayr was involved in the planning and installation process as managing director of Chromos GmbH. He still remembers exactly how meticulously the commissioning was prepared down to the last detail. René Miedl even relied on high-quality technology from the outset for the entire peripheral equipment, including plate mounting equipment, plate cleaning system, parts washing system, etc. "We wanted the start-up phase to be as short as possible, because several flexographic printing projects were already in the planning stage. In the end, it actually worked. After assembly and acceptance of the machine, we started production without any significant familiarization phase".
Valuable network of partners
The start of production went so smoothly because Stehle Etiketten was accompanied by a network of selected partners. For example, COE supplies the printing plates. It also provides support wherever prepress tasks require special know-how for flexo printing. When it comes to printing inks, the print shop continues to rely on Zeller+Gmelin. The ink supplier has been a competent supply partner since 2010 – initially for the inks used in letterpress printing.
"It is our company philosophy to use partner networks. In retrospect, it has once again proved to be the right way to put together a complete package with machine, printing forms and printing inks that is coordinated with each other,"; says René Miedl.
Details decide about the investment
Logically, the focus of the investment was on the printing press. In various tests, Hans-Peter Jerg was impressed by the iFlex 370 model due to its user-friendliness and stable running characteristics. Since his experience has shown that the differences in technology and performance of most machines on the market are becoming smaller and smaller, he has paid particular attention to details. With the trained eye of a skilled craftsman for the intricacies of mechanical engineering, he discovered some things on the iFlex that make life easier for the operating personnel in practice.
The opportunity to exchange practical experience with iFlex users also played an important role in the investment decision. "In some cases, our expectations were even exceeded. The press proofs showed a print quality, e. g. with almost zero run-off, which we had not expected,"; recalls Hans-Peter Jerg. Now that he has been able to gather his own experience, he particularly appreciates the additional equipment options. Both the production of multilayer labels using the Peel-and-Seal device and the printing of the reverse side of the glue layer using the Delam-Relam module are used regularly. In retrospect, even more extensive additional equipment would be conceivable for him.
A good addition to the product range
The new iFlex fits into Stehle Etiketten's existing production capacity as hoped. "What is particularly helpful for us is that we can shift jobs in particular from semi-rotary letterpress to flexo printing, which can be produced more economically with the new machine. Since our customers purchase their labels in part throughout Europe, we are often in competition with foreign suppliers. In these cases, we can now offer more competitive prices,"; explains René Miedl.
On the one hand, the postponement of orders ensured that the new machine had a certain basic capacity from the outset. On the other hand, the shifting contributed to the relief in letterpress printing. As new projects were added during the start-up phase, the targeted single-shift capacity utilization quickly moved within reach. The company benefits from the fact that new orders can be implemented without lengthy decision-making processes. Many customers appreciate these short reaction times. In addition to companies from the regional environment, the Ravensburger label printing company's clientele also includes global players. It is estimated that half of the orders received throughout Europe come from the food sector, and almost a third are industrial customers. The remaining labels are supplied to the pharmaceutical and veterinary sectors, among others.
Printing inks 100 percent low migration
As the majority of the customers are located in the food segment, the company decided, in response to the ITX discussion at the time, to switch completely to low-migration variants for printing inks and coatings. Stehle Etiketten was thus one of the first printers to use LM ink systems in letterpress printing. Since then, continuous low-migration production has been a basic prerequisite for installation with every new investment.
Another principle of the company is consistent inline production. Like all other printing lines, the iFlex is therefore also equipped with a Turret rewinder, so that small rolls ready for dispatch are already produced on the press. This eliminates the need for an assembly department. This shifts the task of quality control to the press. The printing staff has been coping well with this responsibility for years. In any case, each machine is operated by an employee who is responsible for 'his' production line. As the experience in Ravensburg shows, all sides benefit from this concept. The company achieves a higher added value and the employees gain satisfaction and self-confidence through the trust placed in them.
Sharpen your image on the market
In the early days, the company usually did well to keep its feet on the ground. Recently, however, it has experienced great technical progress and constant growth. The successful development can be seen particularly well in the production buildings at the location in the tranquil Ravensburg Schmalegg. They were repeatedly extended by extensions or, as most recently in 2018, by the expansion of storage capacities. In the future, Hans-Peter Jerg and René Miedl want to communicate the company's importance, which has grown considerably in the meantime, with a self-confident external image. They have therefore made targeted investments in marketing measures. This ranges from the revision of the company logo and the website to the creation of a new image brochure and the representative design of the outdoor area.
To tackle challenges with both pragmatism and optimism is part of the DNA of Stehle Etiketten. An illustrative example of this is the introduction of flexo printing with the installation of the iFlex 370 described in this article. According to Hans-Peter Jerg, this investment decision was the right step to gain the necessary experience when entering the new process technology. Since the press was already well utilized after only a few months, he believes that an expansion of the flexo printing capacities in the foreseeable future is quite possible.
Article by Klemens Ehrlitzer
---
Una lunga storia di crescita grazie al giusto partner
La macchina da stampa flessografica a otto colori OMET iFlex è l'ultima installazione della lunga storia che unisce Chromos alla tipografia Stehle Etiketten di Ravensburg.
Per capire l'attuale DNA di un'azienda, devi conoscerne la storia. Quella di Stehle & Co. GmbH di Ravensburg è iniziata per semplice curiosità ed è proseguita attraverso lunghe fasi di crescita. Attualmente, lo sviluppo porta l'impronta dell'amministratore delegato Hans-Peter Jerg, che ha rilevato la società dai suoi fondatori Klaus e Huber Stehle nel 2003. In questo articolo Jerg, insieme a René Miedl, fornisce una panoramica sull'influenza che Chromos GmbH, partner e fornitore di lunga data, ha avuto sullo sviluppo delle tecnologie di stampa adottate dalla tipografia in questo periodo.
Gebr. Stehle & Co. GmbH è specializzata nella produzione di etichette autoadesive e utilizza i tradizionali processi di stampa. La stampa digitale è in produzione dal 2015 e nel 2018 è stata installata una OMET iFlex 370, nuova macchina da stampa a otto colori per la stampa flessografica. Per l'azienda di Ravensburg-Schmalegg, tuttavia, la stampa tipografica è stata, come per molti altri stampatori, il processo che ha gettato le basi dell'azienda e poi assicurato molti anni di successo.
Storia di successo dopo un inizio a basso rischio
I due fondatori dell'azienda, Klaus e Hubert Stehle, avevano un rapporto molto speciale con la tecnologia tipografica. La loro storia nel settore della stampa di etichette ebbe inizio quando i due fratelli, che avevano completato un apprendistato come meccanici negli anni '50, iniziarono a lavorare alla Gallus in Svizzera all'inizio degli anni '60. Per ben dieci anni furono al servizio del produttore di macchine di San Gallo e alla fine, in qualità di responsabili dell'assemblaggio interno, sono arrivati a curare l'installazione delle sue macchine in tutto il mondo. Nel 1973 decisero di iniziare a stampare etichette e installare la propria linea di stampa. Per i fratelli Stehle la decisione è stata relativamente priva di rischi per due motivi. Da un lato, la produzione di etichette autoadesive mostrava un elevato potenziale di crescita in quel momento e, dall'altro, il boss della Gallus Ferd Rüesch (sen.), proprietario a quel tempo, promise di riassumerli qualora il loro progetto fosse fallito.
Nel 1984, la società si era sviluppata così tanto che, oltre alla prima macchina da stampa a cinque colori, erano state avviate altre tre linee di stampa. Nel 1985, la società Stehle si trasferì in un nuovo edificio, quello dell'attuale sede: il ricordo dell'attuale amministratore delegato Hans-Peter Jerg è ancora vivido. Come falegname specializzato, fu stato coinvolto nella progettazione degli interni e della nuova hall. Per la sua abilità manuale, Klaus Stehle offrì a Hans-Peter Jerg di iniziare l'attività come tecnico stampatore. Così ha iniziato la sua carriera nel settore delle etichette: era il 1985 su una nuova Gallus V330.
Il cambio di proprietà dà nuovo slancio
Il traguardo successivo per Hans-Peter Jerg è arrivato nel 2003, quando i fratelli Stehle gli hanno venduto la loro azienda, lasciando per motivi di età. La società aveva un team dedicato, e il nuovo management diede nuovo slancio al business. Dal 2004, Jerg è stato supportato da René Miedl. Esperto operatore flexo, conosceva tutte le aree e le fasi di lavoro dalla prestampa alla stampa, avendo lavorato presso uno stampatore offset. Insieme formavano una squadra che si completava a vicenda. Grazie a questa combinazione favorevole, hanno permesso all'azienda di avanzare su un costante cammino di sviluppo.
Dal 2005, l'azienda ha sempre investito in tecnologia o nell'immobiliare. In tutti i casi, tuttavia, ha sempre applicato il principio svevo di guadagnare il denaro prima di spenderlo. Allo stesso tempo, il numero di dipendenti è aumentato da cinque a quasi 20. Quando la piccola quota di ordini di stampa digitale ha iniziato a crescere alcuni anni fa, inizialmente hanno esternalizzato. "Nel frattempo, abbiamo osservato attentamente il mercato per trovare il momento giusto per entrare nella stampa digitale" ricorda René Miedl. La decisione di installare il proprio sistema di stampa digitale è stata presa nel 2015, una volta accumulato sufficiente potenziale.
Una partnership affidabile avvia l'era di Chromos
Con l'introduzione della stampa digitale Stehle Etiketten è entrata in una nuova era. Dall'installazione di una Viva 340 di Codimag nel 2000, l'azienda ha gradualmente inserito altri quattro modelli del produttore francese. Focalizzandosi sull'ingegneria meccanica, ha aperto opportunità in un mercato speciale, una nicchia redditizia. A causa del calo delle tirature di stampa, sempre più lavori si sono spostati verso la stampa digitale. Sebbene la stampa tipografica fosse ancora la scelta principale per ordini di medie dimensioni, era una soluzione piuttosto antieconomica per tirature più ampie.
"Abbiamo discusso in dettaglio questa situazione con Chromos GmbH. Dopotutto, il nostro successo negli ultimi anni è stato strettamente legato a questo partner" spiega Hans-Peter Jerg. La società di Augsburg rappresenta la Codimag nel mercato di lingua tedesca e ha accompagnato Stehle Etiketten dall'inizio del millennio con l'installazione di quasi tutte le sue macchine da stampa. Hans-Peter Jerg apprezza in particolare il fatto che Chromos GmbH ha sempre dimostrato di essere un partner affidabile, ponendo al primo posto gli interessi del cliente in ogni consulenza. Questo rapporto ha facilitato l'introduzione di un altro processo di stampa nell'azienda e l'investimento in una macchina flexo firmata OMET. Il produttore di Lecco, Italia, è una delle società di cui Chromos GmbH è partner commerciale. Nell'ottobre 2018, a Ravensburg è stata messa in funzione la OMET iFlex con otto unità di stampa flexo e diversi optional come il "Peel and Seal" e il "Delam-Relam".
Preparazione meticolosa
Questa installazione è stata una sfida particolare per l'azienda. Non avendo esperienza con la stampa flexo, fino a questo punto tutte le macchine da stampa installate utilizzavano sistemi di stampa differenti. Oltre al nuovo processo di stampa, bisognava integrare nel processo la prima macchina da stampa rotativa e tutto quello che comportava, dalla fase di prestampa specifica ai cliché e agli inchiostri da stampa.
Klaus Sedlmayr è stato coinvolto nel processo di pianificazione e installazione come amministratore delegato di Chromos GmbH. Sedlmayr ricorda ancora con quanta precisione e meticolosità è stato preparato l'avvio della macchina, fino all'ultimo dettaglio. René Miedl ha fatto affidamento fin dall'inizio sulla tecnologia di alta qualità per l'intera apparecchiatura accessoria, tra cui monta-cliché, sistema di pulizia dei cliché, ecc. "Volevamo che la fase di avviamento fosse il più breve possibile, perché diversi progetti flexo erano già in fase di pianificazione. Alla fine, ha funzionato. Dopo il montaggio e l'accettazione della macchina, abbiamo iniziato la produzione senza particolari tempi di adattamento".
Una preziosa rete di partner
L'avvio della produzione è andato così bene anche perché Stehle Etiketten era sostenuta da una valida rete di partner selezionati. Ad esempio, COE che oltre a fornire i clichè di stampa offre un valido supporto ovunque le attività di prestampa richiedano un know-how speciale per la stampa flessografica. Per quanto riguarda gli inchiostri da stampa, la tipografia continua a fare affidamento su Zeller+Gmelin. Il fornitore di inchiostri è partner dal 2010, inizialmente per gli inchiostri utilizzati nella stampa tipografica.
"La nostra filosofia è quella di appoggiarci a reti di partner. Con il senno di poi, posso dire che si è dimostrato il modo giusto per mettere insieme un pacchetto completo di macchine, attrezzature e inchiostri coordinati tra loro" afferma René Miedl.
I dettagli decisivi per l'investimento
Logicamente, il focus dell'investimento era sulla macchina da stampa. Durante vari test, Hans-Peter Jerg è stato colpito dalla OMET iFlex 370 per la sua facilità d'uso e la stabilità. Poiché per esperienza sa che le differenze tecnologiche e prestazionali della maggior parte delle macchine sul mercato stanno diventando sempre minori, ha prestato particolare attenzione ai dettagli. Con l'occhio addestrato di un abile artigiano abituato alla complessità dell'ingegneria meccanica, ha scoperto alcune caratteristiche della iFlex che rendono la vita più facile agli operatori.
Anche l'opportunità di scambiare esperienze pratiche con altri utilizzatori iFlex ha avuto un ruolo importante nella decisione di investimento. "In alcuni casi, le nostre aspettative sono state addirittura superate. Le prove di stampa hanno mostrato una qualità di stampa, con uno scarto qualitativo pari quasi a zero, che non ci aspettavamo" ricorda Hans-Peter Jerg. Grazie alla sua esperienza, apprezza in particolare gli accessori. Vengono utilizzate regolarmente sia la produzione di etichette multistrato con il Peel -and-Seal sia la stampa su adesivo con il modulo Delam-Relam. A posteriori, dice che aggiungerebbe ulteriori optional.
Un'ottima novità in produzione
La nuova iFlex si è inserita perfettamente nella produzione di Stehle Etiketten, come sperato. "E' particolarmente utile per noi poter spostare lavori dalla stampa tipografica alla stampa flessografica, più economica con la nuova macchina. Poiché i nostri clienti acquistano etichette da tutta Europa, spesso siamo in concorrenza con fornitori stranieri. In questi casi, ora possiamo offrire prezzi più competitivi" spiega René Miedl.
Da un lato, lo spostamento degli ordini ha garantito che la nuova macchina avesse una certa capacità fin dall'inizio. D'altra parte, lo spostamento ha contribuito al "sollievo" della stampa tipografica. Con l'aggiunta di nuovi progetti durante la fase di avvio, l'utilizzo mirato della capacità a turno singolo si è rapidamente spostato al doppio turno per un pieno utilizzo della macchina. L'azienda beneficia del fatto che i nuovi ordini possono essere implementati senza lunghi processi decisionali. Molti clienti apprezzano questi brevi tempi di reazione. Oltre alle aziende locali, la clientela della società di Ravensburger comprende anche aziende globali. Si stima che la metà degli ordini ricevuti da tutta Europa provenga dal settore alimentare e quasi un terzo siano clienti industriali. Le restanti etichette sono soprattutto per i settori farmaceutico e veterinario, tra gli altri.
Inchiostri stampa: bassa migrazione al 100%
Poiché la maggior parte dei clienti si trova nel settore alimentare, la società ha deciso, in risposta alle discussioni sull'ITX dell'epoca, di passare completamente agli inchiostri a bassa migrazione. Stehle Etiketten è stata quindi una delle prime aziende a utilizzare i sistemi di inchiostro a bassa migrazione nella stampa tipografica. Da allora, la produzione continua a bassa migrazione è stata un requisito di base per ogni nuovo investimento.
Un altro principio applicato dall'azienda è la costante produzione in linea. Come tutte le altre linee di stampa, anche la OMET iFlex è dotata di un ribobinatore a torretta, in modo che la macchina produca già piccoli rotoli pronti per la spedizione. Questo elimina la necessità di un reparto di assemblaggio e sposta il compito del controllo di qualità sulla macchina da stampa. Il personale addetto alla stampa ha gestito bene questa responsabilità per anni. Ogni macchina è gestita da un operatore responsabile della "sua" singola linea di produzione. Come dimostra l'esperienza di Ravensburg, tutti traggono vantaggio da questa impostazione. L'azienda arriva a un valore aggiunto più elevato e i dipendenti ottengono soddisfazione e fiducia in sé stessi attraverso grazie alla fiducia riposta in loro.
Migliorare l'immagine sul mercato
All'inizio, l'azienda teneva i piedi per terra. Di recente, tuttavia, ha registrato grandi progressi tecnologici e una crescita costante. Il successo può essere osservato guardando la sede produttiva di Ravensburg Schmalegg. Le strutture sono state ripetutamente ampliate o, come più recentemente avvenuto nel 2018, con investimenti nelle capacità logistiche. Nel prossimo futuro, Hans-Peter Jerg e René Miedl vogliono investire sulla comunicazione aziendale, puntando sulla crescita considerevole e su un'immagine esterna più forte. Hanno effettuato investimenti mirati nel marketing, dalla revisione del logo aziendale e del sito Web alla creazione di una nuova brochure e il design dell'area esterna.
Affrontare le sfide con pragmatismo e ottimismo fa parte del DNA di Stehle Etiketten. Un esempio è l'introduzione della stampa flexo con l'installazione della OMET iFlex 370 descritta in questo articolo. Secondo Hans-Peter Jerg, questa decisione di investimento è stata il passo giusto per acquisire l'esperienza necessaria ad entrare nel mercato con questa nuova tecnologia. Dato che la linea era utilizzata a pieno dopo pochi mesi, Jerg ritiene che ulteriori investimenti nella stampa flexo nel prossimo futuro siano assolutamente possibili.
Articolo di Klemens Ehrlitzer