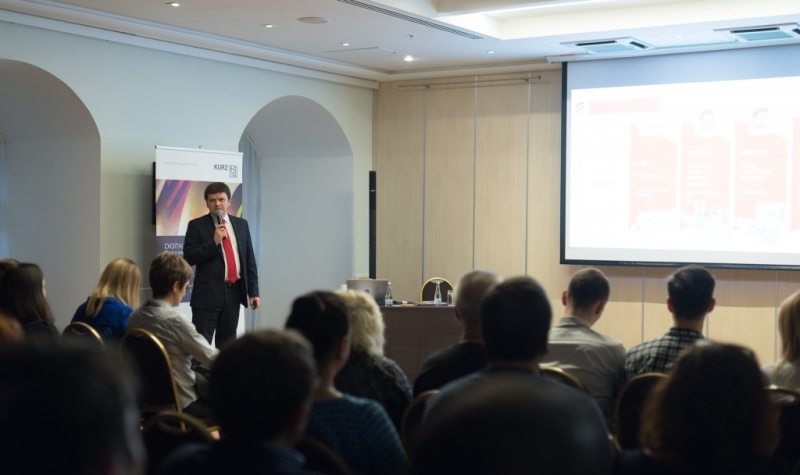 St. Petersburg, great success for the "Focusing on Labels" conference
November 28, 2018
On 14th November 2018 in St. Petersburg OMET was among the speakers of the "Focusing on labels" conference, the latest in a series of events organized by Double V about the narrow web printing, more and more popular in Russia. Double V, specialized company in printing solutions, has held events also in Novosibirsk, Krasnodar and Kazakhstan.
"Double V" has been successfully working in St. Petersburg since 1999. In 2000, the company started a production site for foil cutting and rewinding. Considering the amount of substrate processed since then, we would have a tape 1 m wide that could wrap 5 times the Earth around the Equator, or 431 times San Peter's Square in Vatican City. In 2017, the production site in St. Petersburg was equipped with machines for cutting and rewinding self-adhesive materials. During the first year, they have cut an amount of material comparable to the Moscow-St. Petersburg highway!
The speakers of the conference were representatives of "Double V" strategic suppliers of materials for the narrow web printing: Kurz, Ritrama, Bilcare, Eukalin spoke about the portfolio, the new products and the new technologies. OMET introduced the audience with the features of OMET machines range. An important strategic component is the multi-process concept, that combine printing, drying, refinishing and finishing processes. Multi-process printing is the in-line integration of all the printing processes: digital, offset, gravure, flexo, rotary screen. In combination with the "Double V" range, which includes materials for any kind of printing and finishing, this concept turned out to cover the whole production process!
The conference rised a lively debate on the issues of materials and their compatibility, with innovative proposals from suppliers about equipment capabilities and eventualities that typographs has to face day by day.
All the speakers received a bottle of sparkling wine with a label printed on Ritrama substrate and decorated with Kurz foil.
At the end of the business part of the program Rolf Schmidt (Leonhard Kurz) and Elena Lisichenko ("Double V") awarded the company "Nevsky Service" for their participation in the competition "ART of FOIL" and the company "Alaska Polygraph" for its 2nd place in the category "Label".
On behalf of the company "Double V", we thank the partners of the event – Leonhard Kurz, Ritrama, Eukalin, OMET – for their participation and interesting and actual reports.
Full photo report of the event can be viewed on the Facebook page of the company "Double V".
---
San Pietroburgo, grande successo per l'evento "Focusing on Labels"
Il 14 novembre 2018 a San Pietroburgo OMET è stata fra i protagonisti della conferenza "Focusing on labels", ultimo di una serie di eventi che Double V – azienda specializzata in soluzioni per la stampa – ha organizzato quest'anno sul tema della stampa a nastro stretto, sempre più popolare e richiesta in Russia. Altri eventi sono stati tenuti a Novosibirsk, Krasnodar e Kazakhstan.
"Double V" opera con successo a San Pietroburgo dal 1999. Nel 2000 è stato aperto un centro di produzione per il taglio e riavvolgimento dei materiali plastici. Calcolando il materiale lavorato da allora, si otterrebbe una bobina larga 1 metro lunga abbastanza da avvolgere tutta la Terra a livello dell'Equatore o 431 volte la Piazza del Vaticano. Nel 2017, il centro di produzione di San Pietroburgo è stato dotato di attrezzature per il taglio e riavvolgimento di materiali autoadesivi. Durante l'anno è già stata tagliata la quantità di materiale pari alla lunghezza dell'autostrada che collega Mosca a San Pietroburgo
Gli ospiti dell'evento erano fornitori strategici di "Double V" nel settore della stampa a nastro stretto: Kurz, Ritrama, Bilcare, Eukalin hanno parlato di caratteristiche della gamma, nuovi prodotti e nuove tecnologie. I rappresentanti OMET hanno presentato al pubblico le caratteristiche delle proprie macchine. Un componente strategico importante è il concetto di multi-processo che combina processi di stampa, asciugatura, rifinitura e finitura. La stampa multi-processo è l'integrazione "in-line" di tutti i processi di stampa: digitale, offset, rotocalco, flexo, serigrafica rotativa. In combinazione con la gamma "Double V", che lavora materiali per qualsiasi tipo di stampa e finitura, questo componente si è rivelato fondamentale per coprire completamente tutti gli aspetti del processo produttivo.
Il programma delle attività ha suscitato una vivace discussione sia sulla questione dei materiali e della loro compatibilità, con innovative proposte da parte dei fornitori di materiali, sulla capacità delle attrezzature e sui casi che lo stampatore deve affrontare a livello di attività quotidiana.
Ogni ospite ha ricevuto una bottiglia di spumante con un'etichetta stampata su materiale della collezione Ritrama e decorata con lamina Kurz.
Alla fine della parte commerciale del programma, Rolf Schmidt (Leonhard Kurz) ed Elena Lisichenko ("Double V") hanno premiato la società "Nevsky Service" per la partecipazione al concorso "ART of FOIL" e la società "Alaska Polygraph" per il 2 ° posto nella categoria "Label".
A nome del gruppo aziendale "Double V" si ringraziano i partner dell'evento, le società Leonhard Kurz, Ritrama, Eukalin e OMET per la partecipazione e i loro report interessanti ed attuali.
Il report fotografico completo dell'evento può essere visualizzato sulla pagina Facebook del gruppo aziendale "Double V".