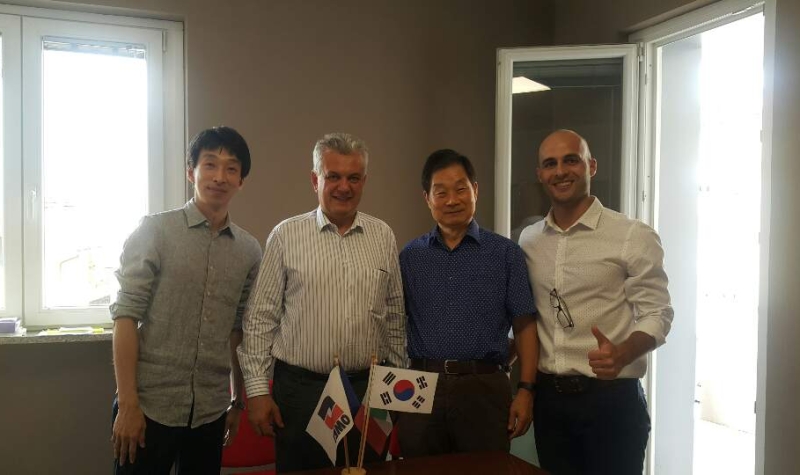 South Korea, the partnership with KMT-Adams Corporation has kicked off
September 11, 2019
OMET's collaboration with the Korean agents of the KMT-Adams Corporation has just been signed. The agents will represent OMET in South Korea for the tissue division, dealing with sales and local after-sales services and maintenance.
Technology and machinery are increasingly important factors driving the Italian presence in South Korea: it's a dynamic and expanding area where OMET aims to grow in terms of presence and market share.
"Many tissue converting companies from South Korea are entering the international market – says Marco Gallo, OMET Tissue Sales Area Manager – and they are showing high appreciation for OMET technology".
B.C. Chung and Michael Heejae Chung, agents of KMT – Adams Corporation, are professionals with proven experience who have been successfully operating in the paper and tissue market for over 12 years. For OMET, they will locally manage sales, import and after-sales maintenance, offering a complete and reliable service to local converters.
---
Corea del Sud, operativo l'accordo tra OMET e KMT-Adams Corporation
E' fresca di firma la collaborazione con gli agenti coreani della società KMT-Adams Corporation, che si occuperanno di rappresentare OMET in Corea del Sud per il settore del tissue e di fornire localmente servizi di manutenzione e assistenza after-sales.
Il settore tecnologico e dei macchinari è sempre più importante come traino della presenza italiana in Corea del Sud, mercato dinamico in espansione dove OMET punta a crescere in termini di presenza e quote di mercato.
"Molte aziende trasformatrici del settore tissue si stanno affacciando sul mercato internazionale – afferma Marco Gallo, OMET Sales Area Manager divisione Tissue – e stanno mostrando elevato apprezzamento per la tecnologia OMET".
La KMT – Adams Corporation fa capo a B.C. Chung e Michael Heejae Chung, professionisti di comprovata esperienza che da oltre 12 anni operano con successo nel mercato della carta e del tissue. Per OMET gestiranno localmente la fase di vendita, importazione del prodotto e la manutenzione post vendita, offrendo ai converter locali un servizio completo e affidabile.