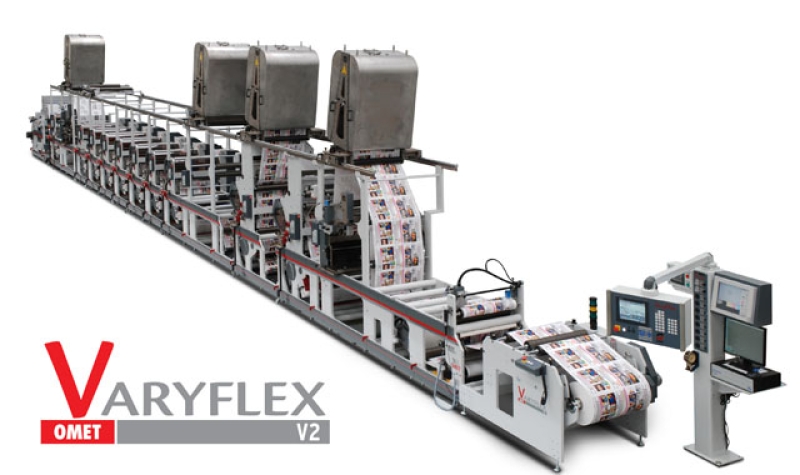 Solvent-base flexo provides flexibility to OMET Varyflex V2
November 25, 2017
The OMET Varyflex V2 is the most flexible narrow- and mid-web press for packaging printing and converting on the market. Thanks to its unique platform design, it is able to combine a wide range of printing and finishing technologies in-line and satisfy the requests of the market. One of its most successful configurations, in terms of customer satisfaction, is integrates in-line both UV and solvent-base flexo printing units.
Solvent-base flexo printing is mainly used in food packaging printing, in particular on plastic films, laminates or aluminum material for yogurt lids. Slovent-base flexo inks are much cheaper than UV inks, but they need to be cured through specific hot air drying systems, which can also be produced on demand thanks to the unique expertise of OMET R&D in this field.
OMET is able to satisfy every printers' specific need thanks to a wide range of hot air drying modules, including high-performing blowers, with different dimensions to better fit into the machine. It is also possible to combine UV curing and hot air drying systems on the same flexo unit.

Rotogravure is another printing technology using solvent-base inks that can improve the performance of the OMET Varyflex V2, thanks to interchangeable groups that can be moved everywhere in-between the flexo stations according to the job to be printed. Rotogravure is the ideal cost-effective solution especially for solid printing, metallic inks and special varnish applications.
Several successful installations all around the world prove the reliability and the high performance of OMET technology. Alfonso Melesi, OMET technical manager explains: "We designed also a few machines entirely prepared for solvent-base printing, other machines with one solvent-base flexo or rotogravure unit in-line for special color application, or exclusive projects featuring standard UV configuration with the addition of 2 rotogravure units, one in front and one at the end of the line. In this case, rotogravure technology is used to make compliant food packaging through solvent lamination, which doesn't allow for ink migration".
The OMET Varyflex V2  is available with web width 430 mm (16"7/8), 530 mm (20"7/8), 670 mm (26"3/8), 850 mm (33"4/8) and confers the possibility to print with solvent-base flexo or rotogravure technology in the full compliance with international standards and Atex regulations in terms of explosion-proof equipment, which guarantees a safe working environment.
---
OMET Varyflex V2 con stampa flexo a solvente
La OMET Varyflex V2 è da anni la più flessibile macchina per la stampa a nastro stretto e medio di imballaggi flessibili, grazie alla sua capacità di combinare in linea una vasta gamma di tecnologie di stampa e finitura, soddisfacendo le richieste di un mercato sempre più esigente. Una delle configurazioni di maggior successo della OMET Varyflex V2, sia per quantità di richieste che per la totale soddisfazione da parte dei clienti stampatori, riguarda l'integrazione in linea di gruppi stampa flexo a solvente e flexo UV.
La stampa flexo a solvente è richiesta da stampatori con esigenze ben chiare e particolari, come la stampa di film plastici per l'imballo alimentare, o la stampa di prodotti con materiali accoppiati, oppure la stampa di prodotti come i tappini per lo yogurt in plastica o in alluminio. Gli inchiostri flexo a solvente sono decisamente più economici degli inchiostri flexo UV, ma necessitano di asciugamento ad aria calda con cappe di dimensioni specifiche, per le quali OMET è senza dubbio il produttore più attrezzato e con maggiore esperienza in materia. E' disponibile infatti una vasta gamma di sistemi di asciugatura ad aria calda in modo da soddisfare in maniera personalizzata le esigenze dello stampatore, incluse cappe per alte prestazioni, cappe verticali e di svariate dimensioni. E' possibile installare anche sistemi combinati UV+Aria calda sullo stesso gruppo flexo.
OMET offre anche dei gruppi rotocalco come tecnologia di stampa aggiuntiva per chi lavora con il solvente: si tratta di gruppi intercambiabili che possono essere spostati dal cliente in qualsiasi posizione fra i gruppi flexo a seconda del tipo di lavoro svolto, richiesti specialmente quando c'è esigenza di colori pieni, colori metallici e vernici speciali.
Numerose installazioni di successo presso clienti in tutto il mondo dimostrano l'affidabilità e le elevate prestazioni della tecnologia OMET. "Abbiamo predisposto anche macchine interamente a solvente per clienti già attrezzati per questo tipo di stampa – spiega Alfonso Melesi, responsabile tecnico OMET -. Macchine con un gruppo flexo a solvente o rotocalco in linea per la stampa di un colore particolare, o progetti del tutto speciali, interamente UV con gruppi rotocalco all'inizio e alla fine della linea, per rendere il prodotto accettabile all'industria alimentare grazie alla laminazione solvente che non permette la migrazione degli inchiostri".
La OMET Varyflex V2 è disponibile nelle larghezze stampa 430 mm, 530 mm, 670 mm e 850 mm e garantisce la possibilità di stampare flexo a solvente e rotocalco in maniera conforme a tutti gli standard internazionali e nel pieno rispetto delle normative Atex per gli ambienti a rischio di esplosione e in tema di deflagranza, garantendo agli operatori un ambiente lavorativo completamente sicuro.