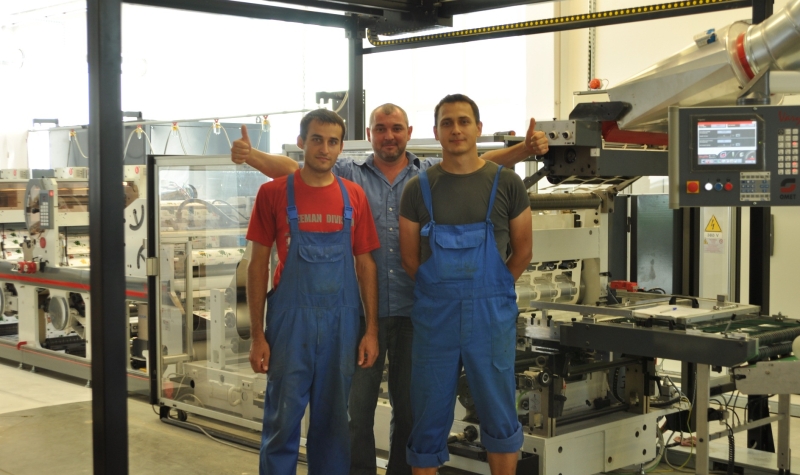 Sistema Invest company: Varyflex press for the in-line production of folding carton for the competitive pharmaceutical sector in Ukraine
January 8, 2013
The challenge of pharmaceutical packaging.
Packaging for the pharmaceutical industry is particularly complex because of the strict regulations related to packaging techniques, shelf-life of the package and hygiene. Respecting the above said, any printing company must carry out 100% quality control over all processes starting from the choice of the cardboard material and its proper atmospheric storage with respect to temperature and humidity. It is absolutely not acceptable that cardboard changes its physical properties passing through the technological stages of printing, die-cutting, folding, gluing as far as the packaging process. Any pharmaceutical factory will never accept geometrical deviations or wrong flip top since they may cause dangerous and harmful effects on human life, not to say of legal sanctions and penalties that may follow up from control authorities. In brief, the package should be rigid, with correct authentication, microbial, mechanical and atmospheric resistance and should provide 100% guarantee for color match, repeatability and aesthetic look.
The Ukrainian company " Sistema Invest ", based in Kiev, manages well all these quality issues and successfully meets the requirements of the biggest pharmaceutical plant in Ukraine. The company was founded in 2005 with the aim to play a leading role in the Ukrainian pharmaceutical market and in other industry branches like commercial and food and beverages for the production of self-adhesive labels, folding carton and instruction booklets. The company's strengths are quality, short delivery times and cost efficiency.
Sistema Invest chooses OMET Varyflex V2.
The boost to growth has come in 2011 with the installation of the first OMET machine: one Varyflex V2 530 mm configured for the production of folding carton packaging. The machine is composed of six UV flexographic printing units, one cold foil movable in any position along the press, two die-cutting units  to perform both cutting and creasing as well as Braille embossing with further shingling delivery. The machine is equipped with the automatic register control system Vision-1 by OMET. The only operation left offline is the gluing of the boxes.
From the installation of the Varyflex V2, and thanks to the company's technological expertise in carton packaging, Sistema Invest could widen its product portfolio and respond to specific requests such as high productivity, flexibility, quality, reduction of human resources (one operator on the whole line), all typical performances delivered by OMET machines. In a big  market like pharmaceuticals characterized by strong competition in packaging printing and a high product quality level, Sistema Invest is today a respectable and reliable supplier who has built a solid foundation for the future.
Sistema Invest is continuously growing, so that their production volumes register a 20% increase per year. Nevertheless, at present, the company sells on the local market only in direct competition with Ukrainian offset printing  factories thanks to the OMET concept "printing and converting in-line", that is to say the ability to print and convert in one pass with enormous savings of time and waste and of costly offline work.
(Author:  Tatyana Gaponova  – Export manager fo CIS and Baltic sea countries, email: tatyana.gaponova@omet.it)