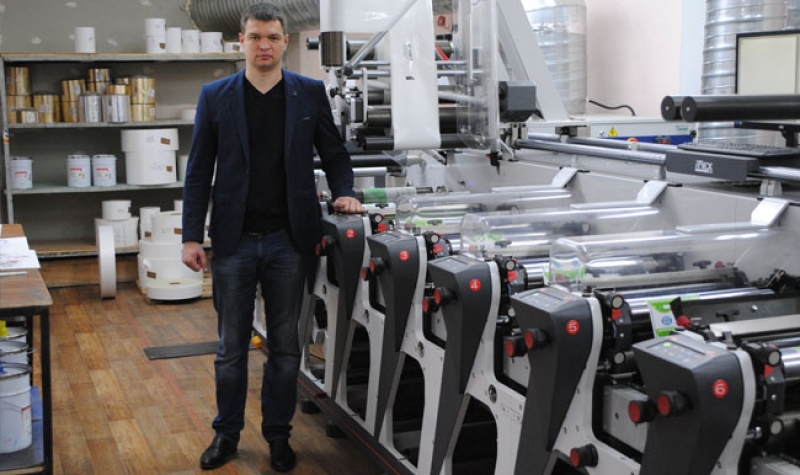 Siberia, new OMET machine for Delta-Center: the first iFlex in Russia
July 5, 2017
Less than a year after the installation of an OMET XFlex X4 370, Delta Center typography in Omsk decided to buy a second machine. The new investment is an iFlex 370, the unique flexo press dedicated to label printing and converting, featuring several smart technologies such as iLight pre-registration system through laser pointer and iVision printing register adjustment.
Thanks to XFlex X4, Delta Center has become one of the top players in the production of high quality self-adhesive products and plastic films. Due to the increasing demand for labels, the Siberian Company chose OMET iFlex among all the competition, since it guarantees high quality results and a unique precision in the production of all kind of labels, thanks to the innovative Direct-Drive printing transmission (iDrive).
Delta Center managing Director Dmitry Permyakov shows huge enthusiasm: "We are proud to be the first owners of an iFlex in Russia. The partnership with OMET gives us the opportunity to achieve our main purpose: satisfying all customers' needs by offering a complete range of products and guaranteeing high quality, quick logistic service and constant innovation".
---
Siberia, nuova macchina OMET per Delta Center: è la prima iFlex in Russia
Meno di un anno dopo l'installazione di una OMET XFlex X4 370, la tipografia Delta Center di Omsk raddoppia. Stavolta l'investimento è su una OMET iFlex 370, macchina a tecnologia flexo per la stampa di etichette con il sistema di pre-registro laser iLight ed il dispositivo di regolazione del registro di stampa iVision.
Grazie alla XFlex X4 l'azienda siberiana si è distinta sul mercato con prodotti di alta qualità sia nel campo dei materiali autoadesivi sia in quello dei film plastici. La scelta di installare una OMET iFlex è stata dettata da un'elevata richiesta di etichette, che questa macchina permette di affrontare con una precisione unica, grazie all'innovativa trasmissione direct-drive.
"Siamo orgogliosi di essere i primi proprietari di una iFlex in Russia – ha dichiarato il direttore della tipografia -. La partnership con OMET ci permette di realizzare la missione principale della nostra azienda, ossia soddisfare le esigenze dei clienti fornendo una gamma completa e garantendo alta qualità, logistica veloce e continua innovazione di prodotto".