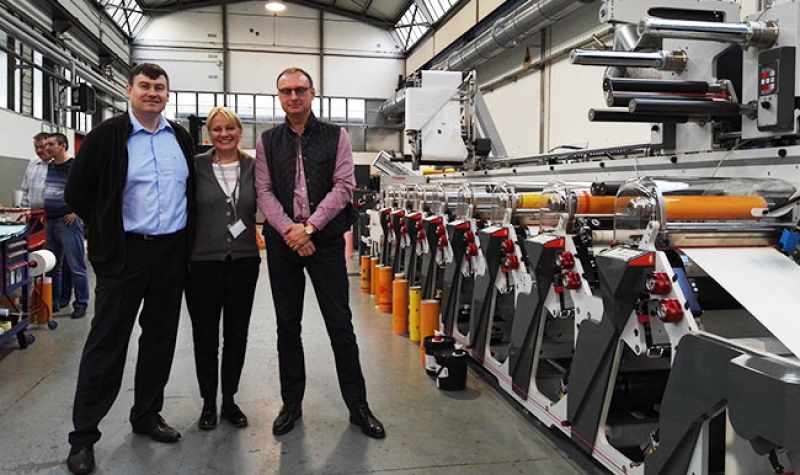 Safin chose OMET XFlex X6 to start business in Russia
June 19, 2017
Quality, reliability, flexibility and design. These are the main reasons why Safin decided to purchase a new 8-color OMET XFlex X6 in 2016. With this fully automatic line, Safin was able to enter a growing market, where they aim at consolidating their position and creating new market niches where they can excel with high margins.
In Russia, the significant growing trend of the label and packaging market registered in the last years has pushed many printers and converters to renovate their installations and many new players to enter the market with new products and offers.
The young printing company located in Ryazan (western Russia), part of the Holding with headquarters in Wien, started a new printing business at the beginning of 2017 in the existing operative division dedicated to the metal trade business. The production started with an OMET XFlex X6 equipped with AB Graphic Omega SRI rewinder and Schober 430 IML / MX rotary die-cutting module featuring 5th generation robot.
Valery Tereshin, Safin general manager claims: "The Company keeps developing very fast and has already been able to diversify the activities. After a careful market analysis, we chose to specialize our production in IML (In-Mold Labels) and Lamitubes, in addition to self-adhesive label printing with foil application. We selected very carefully the best equipment to start this new business: we made a benchmark of all the technologies on the market, evaluating the reliability of the manufacturers, their know-how and the number of installations worldwide. After several printing tests, in the spring of 2016 we finally decided to commission the machine to OMET with a specific tailor-made configuration".
Technical director Alexander Klimushkin explains: "We chose OMET XFlex X6 because of its wide technical capabilities and the consistent number of installations around the world. We were impressed by the high level of automation, the extreme flexibility in switching from a substrate to another and the perfect stability in acceleration and deceleration. We had the Fleye Vision quality control installed by AB Graphic in addition to OMET automatic register adjustment and control, able to detect any imperfection on the images printed and then communicate it to the press. Moreover, the machine is connected to the internet and is prepared for remote diagnosis and immediate support. Safin's operators received specific technical training both at OMET's and at Ryazan site after the installation of the press".
Valery Tereshin continues: "Thanks to this machine we have been able to respond to different type of requests. In the meantime, we have been working on the identification of the most promising and fruitful market segments to choice the direction of our development. Our approach is based on excellence, quality, technology and customer satisfaction. Our premises are located in a functional area in terms of logistics, so that we can reach any corner of Russia".
Tatyana Gaponova, OMET Area Manager says: "OMET purpose is to provide the printer with high-performance solutions that can make the difference on the market and start a new business safely and in short time. Safin chose very carefully this investment looking at the niche products of the Russian market, such as lamitubes, shrink sleeves and In-Mold Labels. I truly wish Safin many years of success during which they can consolidate and strengthen their market share, developing their own business in new directions with new printing technologies".
We warmly thank "Flexo Plus" magazine for letting us publish this article (http://www.flexoplus.ru)
---
Russia, Safin sceglie una OMET XFlex X6 per continuare a crescere
Qualità, affidabilità, flessibilità e design. Questi gli elementi che hanno portato Safin, giovane stamperia di Ryazan, nella Russia occidentale, ad acquistare una Omet XFlex X6 a 8 colori nel 2016. Con questa linea di ultima generazione e completamente automatizzata, Safin è entrata in un settore in crescita, dove punta a consolidare la sua posizione e ritagliarsi nicchie di mercato dove eccellere con margini elevati.
In Russia, il mercato delle etichette e dell'imballaggio mostra evidenti segnali di crescita che hanno portato, negli ultimi anni, molti produttori esistenti a rinnovare gli impianti e molti nuovi player ad entrare nel mercato con nuovi prodotti e nuove offerte.
L'azienda Safin, che fa capo all'omonima holding industriale di Vienna, ha avviato la propria attività di stampa all'inizio del 2017 a Ryazan, dove già esisteva una divisione del gruppo Safin operativa nel commercio di metalli. La produzione è iniziata con una OMET XFlex X6 equipaggiata con fustella rotativa Schober 430 IML / MX con robot di quinta generazione e riavvolgitore AB Graphic Omega SRI 430
"L'azienda è in forte sviluppo e sta già diversificando l'attività – dice Valery Tereshin, amministratore delegato -. Dopo uno studio di mercato, abbiamo scelto di specializzarci sull'IML (In-Mold Labeling) e Lamitube oltre ad occuparci di etichette autoadesive con l'applicazione di foil. La scelta delle attrezzature con cui avviare l'attività è avvenuta in più fasi e con molto scrupolo: sono state verificate le tecnologie sul mercato, le specifiche e l'affidabilità delle macchine e dei loro produttori, il loro know-how e il numero di installazioni nel mondo. Dopo diverse prove di stampa, nella primavera del 2016 abbiamo commissionato la macchina alla OMET personalizzando la configurazione con richieste molto specifiche".
"Abbiamo scelto la OMET XFlex X6 per le ampie possibilità tecniche e l'elevato numero di installazioni nel mondo – spiega il direttore tecnico Alexander Klimushkin –. Ci hanno colpito l'elevato livello di automazione e la flessibilità nel passare da un materiale all'altro e l'ottima stabilità alle variazioni di velocità. Abbiamo fatto installare un sistema di controllo di registro automatico e sistema di controllo di qualità AB Graphic Fleye Vision, che rileva qualsiasi difetto nelle stampe a colori e segnala alla macchina quando intervenire. Tutte le macchine sono collegate a Internet e sono capaci di diagnosi a distanza. Gli operatori Safin hanno ricevuto una formazione specifica sia in OMET sia a Ryazan dopo l'installazione della macchina".
"Grazie a questa macchina stiamo riuscendo a soddisfare ordini di tipologie diverse – riprende l'AD Valery Tereshin -, nel frattempo lavoriamo per identificare i segmenti più promettenti e redditizi del mercato e capire come orientare lo sviluppo. Il nostro approccio si basa su eccellenza, qualità, tecnologia e personalizzazione sulle esigenze dei clienti. La zona dove ci troviamo è ottimamente posizionata dal punto di vista logistico e possiamo fornire in qualsiasi parte della Russia.".
"L'obiettivo della OMET è quello di fornire allo stampatore soluzioni che permettano di ottenere successo sul mercato e avviare l'impianto in tempi brevi in modo sicuro – afferma Tatyana Gaponova, Area Manager OMET -. Safin ha scelto con attenzione il suo investimento guardando ai prodotti di nicchia del mercato russo, in particolare prodotti lamitube, shrink sleeve ed etichette "in-mold". Auguro sinceramente a Safin anni di successo, durante i quali possa consolidare e aumentare la sua posizione di mercato, sviluppando il proprio business verso nuove direzioni e tecnologie di stampa".
Si ringrazia la rivista "Flexo Plus" per l'autorizzazione alla pubblicazione (http://www.flexoplus.ru)