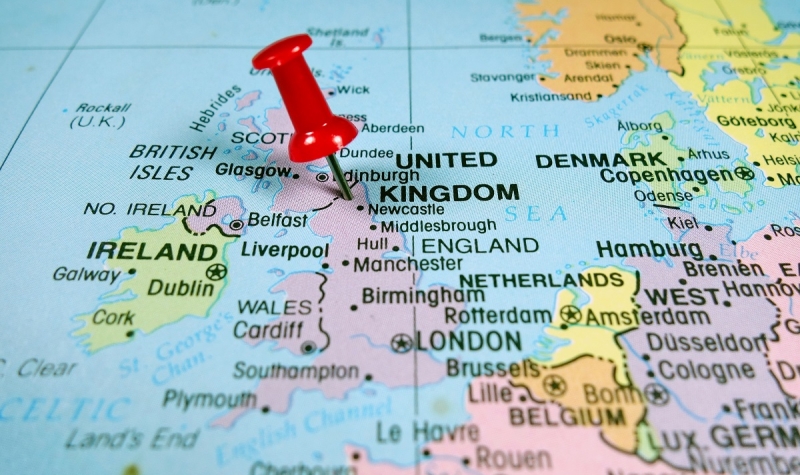 Responding to a changed global market
September 8, 2020
Nick Coombes speaks with longtime narrow web specialist Paul Briggs, formerly with Mark Andy and Xeikon, and now with OMET, about the effect of the coronavirus pandemic on manufacturers and converters.
NC: What has been the immediate effect of Covid-19 and lockdown?
PB: Very mixed – there have been winners and losers. Some have seen an overnight leap in demand for food, pharmaceutical and sanitising product labels as the health scare kicked in, and all restaurants, canteens, and other places to eat-out closed down, which created an instant spike in demand from the supermarkets and other food retailers. The industrial sector appears to have been worse hit with demand from a number of traditional customers falling away – though there has been some new business growth too.
NC: How are converters reacting to the changing situation?
PB: It depends on their customer base, but in general we've seen companies furloughing staff and operating with reduced numbers in their plants to accommodate social distancing requirements, while some workers have been shielding for health reasons. It will be interesting to see, when the health risk declines, how many of these people will be re-engaged. Will the pandemic have shown company managers how lean an operation they can run and still survive – will it prove to have kickstarted a permanent new way of working? It's difficult to predict how, but it will change for sure.
NC: How has OMET reacted and adapted to the new situation?
PB: First of all, it never closed, even at the height of the pandemic in Italy. Designated as an essential supplier to the food and pharma industries, it adopted a 'work at home' policy for all who could do so, and split the shop floor workforce in half to allow for social distancing with all the necessary safety devices. Press production carried on as usual, with the exception that some components were subject to delays in delivery, but otherwise the lines kept rolling and machines were tested and shipped as normal. In fact, the surge in demand from brand owners for increased volumes of labels and printed packaging put pressure on OMET to supply more technology, and faster. We did our best, but you can't ramp up production of capital goods that quickly!
NC: How did OMET cope with installations while there were travel restrictions?
PB: We did it remotely with the aid of a very clever installation kit tool called 'NOVA', which stands for New OMET Virtual Access, and allows for presses to be installed and commissioned by the customer's own technicians under remote guidance from OMET specialist engineers in Italy. It proved a great success with a number of machine installs, and also has the benefit of being a useful tool for fault diagnosis and after sales support. The pandemic has really put modern communication technology in sharp focus, which will be a plus point going forward.
NC: Looking ahead, how will this year's unusual trading conditions affect the market – is it a short-term blip or will it make fundamental changes to the way the narrow web sector functions?
PB: If the demand for delivery of printed packaging wasn't fast enough before, it just got faster! But that's been a trend for some time – 'just enough' and 'just in time' are not new concepts, and I'd say the narrow web sector has reacted better than most to market changes over the years – in fact OMET prides itself on its pioneering R&D and the number of innovative techniques it has brought to the market in response to changes in demand. For example, we were the first to include chilled impression drums with UV lamps mounted directly onto them to handle heat sensitive substrates, which responds closely to a market trend for more filmic work. We were the first to offer fully automated register control both across and along the web, which has a significant effect on make-ready time and waste. Then there's the work we're doing on developing ways of re-using the liner as a laminate as part of our 'green technology programme' – all these are market driven but need a creative mindset to innovate and develop the technology.
NC: So, more flexibility is the key?
PB: Yes it is. One thing the pandemic has done is make converters review their product portfolio and see how they can use their existing capacity to take advantage of the changed market conditions. Once again, the flexible production capability of OMET presses is a real benefit in this situation. I know of a number of label converters who have adapted production on their presses to fulfil the surging demand for face masks and items of PPE – it just takes some lateral thinking and the right technology. This is why our collaboration with Durst to produce a hybrid press has been so important. It has the ability to delam/relam, reverse print, turn the web and cross it over for multi-page labels, as well as offer all the variable print advantages of digital inkjet.
NC: How will this affect investment going forward?
PB: I think converters will focus on a broad spread of production capability with increased automation and an overall reduction in manual tasks. The entire supply chain is under pressure and that's not likely to alter, so for most suppliers it has to be 'right first time'. The more that can be entrusted to technology to improve accuracy and reduce waste and energy consumption, the better. That's what we notice at OMET in the way customers now specify their presses – it's all about producing high quality at high speed with minimal downtime. In general terms, it probably means fewer simple presses for the developed markets which look for more added value. That's where OMET's innovative technology gives it a strong hand.
NC: What do you think the market trends will be when normality returns?
PB: Well, you first have to define what the new normality will be, because I don't see the world and business going back to where it was pre-lockdown – too much has already changed. We may be past the first wave of the virus, but it hasn't gone away, so life will continue to be affected for a long time yet. Home cooking and entertainment will remain at the expense of the event industry and both sport and the arts will continue to suffer with little or no public attendance. Online retailing, which was already growing, has seen a major boost to the detriment of the High Street shops, and while this growth will slow, I think the retail trade will see a fundamental and permanent shift in shopping habits and all that goes with it.
NC: Looking inwards at the graphic arts industry, what long lasting effects will the global pandemic have on how we do business?
PB: We are already seeing a massive shift in emphasis away from trade shows. Just look at what is happening to the rescheduled Drupa – fewer days, some major manufacturers pulling out, and no real certainty that travel restrictions will allow or encourage visitors to attend. With so many companies having their own dedicated showroom/demo facilities now, to which they can invite existing and potential customers on an exclusive basis at a fraction of the cost of exhibiting at a trade fair, it's hard to see how all of the planned events for next year will go ahead. And, once they are gone from the calendar, the will and need for them to return may be gone too. OMET has recently opened new facilities in Lecco, with a purpose-built demo centre called the 'OMET Drome', and these provide a richly enhanced experience for converters looking to test their work on the wide variety of press technology available. Why do they need to go to a trade show and put their health at risk, when it's so much more difficult to create and maintain a 'safe' environment there?
NC: How do you see technology responding to the changing market demands?
PB: I think the next five years will see major changes – the younger generation coming through is looking for a cleaner, greener society and this will need to be reflected in the way that all goods are packaged, irrespective of how shopping habits change. Waste will continue to be the hot topic so it will be incumbent on all companies to operate a lean manufacturing process using the latest techniques. In the case of machinery suppliers, we have noticed at OMET that while digital print will continue to grow in volume, flexo and offset techniques will change and improve. Our new XJet hybrid line, developed in partnership with Durst, is very much cutting edge in this market sector, and combined with OMET's expertise in online converting and embellishment processes, makes single pass production of labels and flexible packaging a highly profitable commercial proposition.
NC: So, are you optimistic or pessimistic about the future overall?
PB: Very optimistic for our sector of the market! I've always thought that narrow web was particularly agile in its response to changes in demand, and although web widths have increased and presses have become more sophisticated, I believe it's lost none of its ability to respond. What I see in OMET's case is a continuation of its unique ability to broaden its market appeal. It has the most comprehensive range of technology of any manufacturer in the sector, and expertise in markets from self-adhesive to filmic labels, a variety of flexible packaging, folding cartons, and special materials. Best of all, OMET truly engages with its customers and will build to their individual requirements, so it's difficult to see anything other than continuous growth here.
---
Rispondere a un mercato globale completamente diverso
In questa intervista di Nick Coombes, Paul Briggs, agente ufficiale OMET per il Regno Unito e l'Irlanda, parla dell'effetto della pandemia di Coronavirus su produttori e converter. Briggs vanta lunga esperienza nel comparto narrow web, avendo lavorato in passato anche con Mark Andy e Xeikon.
NC: Qual è stato l'effetto del Covid-19 e del lockdown, nell'immediato, sul mercato?
PB: Molto contrastante: ci sono stati vincitori e vinti. Alcuni hanno assistito a un balzo improvviso della domanda di etichette di prodotti alimentari, farmaceutici e igienizzanti quando è esplosa la paura per la propria salute e sono stati chiusi tutti i ristoranti, le mense e gli altri posti dove mangiare fuori: la domanda da parte dei supermercati e altri rivenditori di prodotti alimentari ha avuto un picco. Il settore industriale sembra invece essere stato maggiormente colpito dalla diminuzione della domanda da parte di molti clienti tradizionali, sebbene vi sia stata anche una crescita di nuove attività.
NC: Come reagiscono i converter alla situazione in evoluzione?
PB: Dipende dal loro parco clienti, ma in generale abbiamo visto aziende licenziare personale e operare a numero ridotto nei loro stabilimenti per soddisfare le esigenze di distanziamento sociale, mentre alcuni lavoratori sono stati isolati per motivi di salute. Sarà interessante vedere, quando il rischio per la salute diminuirà, quante di queste persone saranno nuovamente coinvolte nel processo produttivo. La pandemia avrà mostrato ai manager dell'azienda quanto snelle possano essere alcune operazioni e come si possa sopravvivere lavorando in modo più lean: ci sarà un nuovo modo di lavorare permanente? È difficile prevedere come, ma cambierà sicuramente.
NC: Come ha reagito OMET e come si è adattata alla nuova situazione?
PB: Innanzitutto non ha mai interrotto l'attività, nemmeno al picco della pandemia in Italia. Rientrando nelle categorie essenziali per le industrie alimentari e farmaceutiche, ha adottato una modalità di lavoro "smart" per tutti coloro che potevano farlo e ha dimezzato il personale di produzione per consentire il distanziamento sociale, adottando tutti i dispositivi di sicurezza necessari. La produzione delle macchine da stampa è proseguita come di consueto, con l'eccezione di qualche ritardo nella fornitura di alcuni componenti, ma per il resto le linee hanno continuato a girare e le macchine sono state collaudate e spedite normalmente. L'aumento della domanda di etichette e packaging stampati da parte dei brand owners ha spinto OMET a fornire più tecnologia e più velocemente. Abbiamo fatto del nostro meglio, ma non è possibile aumentare la produzione di beni capitali così rapidamente!
NC: Come ha fatto OMET a gestire le installazioni quando c'erano restrizioni di viaggio?
PB: E' stato fatto da remoto con l'aiuto di un kit di installazione intelligente chiamato "NOVA", che sta per New OMET Virtual Access, e consente alle macchine da stampa di essere installate e avviate dai tecnici del cliente sotto la guida remota degli ingegneri specializzati OMET in Italia. Si è rivelato un grande successo in diverse installazioni, e ha il vantaggio di essere uno strumento utile anche per la diagnosi dei guasti e il supporto post-vendita. La pandemia ha permesso di mettere a fuoco la moderna tecnologia di comunicazione, che sarà un vantaggio determinante in futuro.
NC: Guardando al futuro, pensa che le condizioni di quest'anno rappresentino un cambiamento a breve termine o una modifica fondamentale al modo in cui funziona il settore del narrow web?
PB: Se la consegna di packaging stampati non era abbastanza veloce, ora lo è molto di più! Ma questa è una tendenza esistente da tempo: "just enough" e "just in time" non sono concetti nuovi, e direi che il settore del narrow web ha reagito meglio di molti altri ai cambiamenti del mercato nel corso degli anni – infatti OMET è orgogliosa di sé stessa per la ricerca e sviluppo davvero pionieristica e per le tecnologie innovative introdotte sul mercato in risposta ai cambiamenti della domanda. Ad esempio, siamo stati i primi a includere la stampa a tamburi riscaldati con le lampade UV montate direttamente sul cilindro di stampa per gestire direttamente materiali sensibili al calore, tecnologia che risponde ad una tendenza del mercato che spinge sui film. Siamo stati i primi a offrire un controllo del registro completamente automatizzato longitudinale e trasversale, il che ha un effetto significativo sui tempi di setup e sugli sprechi. Poi c'è il lavoro che stiamo svolgendo sul riutilizzo del liner come laminato, nell'ambito del nostro progetto di "green technology": tutti queste innovazioni sono "market driven" ma richiedono una mentalità creativa per innovare e sviluppare la tecnologia.
NC: Quindi, una maggiore flessibilità è la chiave di tutto?
PB: Sì, lo è. Una cosa che la pandemia ha fatto è stata costringere i converter a rivedere il loro portafoglio prodotti utilizzando la loro capacità esistente e traendo vantaggio dalle mutate condizioni di mercato. Ancora una volta, la flessibilità delle macchine OMET è un vero vantaggio in questa situazione. Conosco un certo numero di label converter che hanno adattato la produzione delle loro macchine da stampa per soddisfare la crescente domanda di mascherine e articoli DPI: ci vuole solo pensiero laterale e la tecnologia giusta. Questo è il motivo per cui la nostra collaborazione con Durst per la macchina da stampa ibrida è stata così importante. Ha capacità di delam/relam, di stampare in senso inverso, di girare il nastro e incrociarlo per creare etichette multipagina, oltre che di offrire tutti i vantaggi per la stampa variabile con il digitale.
NC: In che modo questo influenzerà gli investimenti futuri?
PB: Penso che i converter si concentreranno su un'ampia gamma di produzione con una maggiore automazione e una riduzione complessiva delle attività manuali. L'intera catena di fornitura è sotto pressione e non è probabile che questo cambi, quindi per la maggior parte dei fornitori deve essere "giusta la prima volta". Più si può affidare alla tecnologia per migliorare la precisione e ridurre gli sprechi e il consumo di energia, meglio è. Questo è ciò che notiamo in OMET quando i clienti scelgono le specifiche delle loro macchine da stampa: si tratta di produrre alta qualità ad alta velocità con tempi di fermo minimi. In termini generali, probabilmente significa meno macchine semplici per i mercati sviluppati che cercano più valore aggiunto. È qui che la tecnologia innovativa di OMET dà il meglio.
NC: Quali saranno le tendenze del mercato quando tornerà la normalità?
PB: Beh, prima si dovrà definire quale sarà la nuova normalità, perché non vedo il mondo e gli affari tornare a dov'erano pre-lockdown: troppo è già cambiato. Possiamo aver superato la prima ondata del virus, ma non è andata via, quindi la vita continuerà a esserne influenzata ancora per molto tempo. La cucina casalinga e l'entertainment resteranno, a scapito del settore eventi, e sia lo sport che le arti continueranno a soffrire, con poca o nessuna presenza di pubblico. La vendita al dettaglio online, che era già in crescita, ha visto un forte impulso a scapito dei negozi del centro e, sebbene questa crescita rallenterà, penso che il commercio al dettaglio vedrà un cambiamento fondamentale e permanente nelle abitudini di acquisto e tutto ciò che ne consegue.
NC: Guardando al settore delle arti grafiche, quali effetti duraturi avrà la pandemia globale sul modo di fare business?
PB: Stiamo già assistendo a un massiccio spostamento di enfasi lontano dalle fiere. Basta guardare cosa sta succedendo alla Drupa riprogrammata: meno giorni, alcuni dei principali produttori che si ritirano e nessuna certezza reale che le restrizioni di viaggio consentiranno o incoraggeranno i visitatori a partecipare. Tante aziende hanno il proprio showroom o demo center dedicato, dove possono invitare i clienti su base esclusiva a una frazione del costo di esposizione a una fiera, ed è difficile prevedere come tutti gli eventi pianificati per il prossimo anno potranno svolgersi. Una volta usciti dal calendario, anche la volontà e la necessità di farli tornare potrebbero sparire. OMET ha recentemente aperto un nuovo demo center a Lecco appositamente costruito e chiamato "OMET Drome", che fornisce un'esperienza ampia e migliore ai converter che desiderano testare il loro lavoro su un'ampia varietà di tecnologie di stampa. Perché hanno bisogno di andare a una fiera e mettere a rischio la loro salute, quando è molto più facile creare e mantenere un ambiente "sicuro" lì?
NC: Come vede la tecnologia rispondere alle mutevoli richieste del mercato?
PB: Penso che i prossimi cinque anni vedranno grandi cambiamenti: la generazione più giovane in arrivo è alla ricerca di una società più pulita e più verde e questo finirà per riflettersi nel modo in cui tutte le merci sono imballate, indipendentemente da come cambiano le abitudini di acquisto. I rifiuti continueranno ad essere l'argomento caldo, e spetterà alle aziende adottare processi produttivi snelli utilizzando le tecnologie più recenti. Per quanto concerne i fornitori di macchinari, in OMET notiamo che mentre la stampa digitale continua a crescere in volume, le tecniche flexo e offset stanno cambiando e miglioreranno. La nostra nuova linea ibrida XJet, sviluppata in collaborazione con Durst, è decisamente all'avanguardia in questo settore di mercato e, combinata con l'esperienza di OMET nei processi di conversione e finitura, rende la produzione in un unico passaggio di etichette e imballaggi flessibili una proposta commerciale altamente redditizia.
NC: Quindi, sei ottimista o pessimista riguardo al futuro in generale?
PB: Molto ottimista per il nostro settore di mercato! Ho sempre pensato che il narrow web fosse particolarmente agile nella risposta ai cambiamenti della domanda e, sebbene le larghezze del nastro siano aumentate e le macchine da stampa siano diventate più sofisticate, credo che non abbia perso nulla della sua capacità. OMET proseguirà con la capacità unica di ampliare il proprio appeal sul mercato. Dispone della gamma di tecnologia più completa rispetto a qualsiasi altro produttore del settore e di esperienza nei diversi mercati, dalle etichette autoadesive a quelle in pellicola, imballaggi flessibili, cartoni pieghevoli e materiali speciali. Soprattutto, OMET si impegna davvero con i propri clienti e si adatterà alle loro esigenze individuali, quindi è difficile vedere qualcosa di diverso dalla crescita continua.