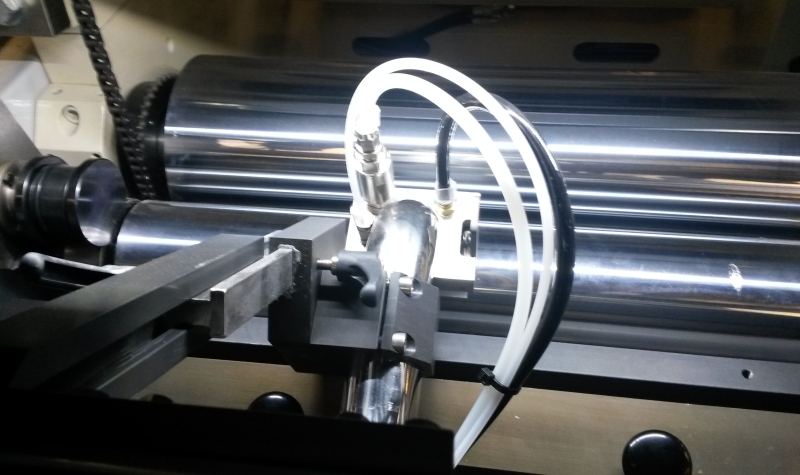 RACCOON by OMET: the groundbreaking automatic plate cleaning system for tissue converting machines
April 17, 2018
The growing number of installations, 10 in the last six months, proves the success of the Raccoon plate cleaning system patented by OMET, which works by cleaning the flexo plate directly inside the machine.
In the last 2 years after the official launch, the Raccoon by OMET has collected unanimous positive opinion: extreme satisfaction of all the customers who have installed this system. The plate cleaning process in tissue converting machines is no more the same: Raccoon by OMET assures a constant and high print quality without machine downtime.
Roberto Perego, Technical Manager for OMET Tissue division explains: "Two main reasons are behind the success of this system: no need to stop the machine and the constant high quality of the image. With the tissue paper, usually very dusty, it is common for the printing plate to be contaminated by dust residuals with bad consequences on the print quality. Thanks to the automatic cleaning system, the flexo plate is kept perfectly clean, guaranteeing the same output quality for the entire job".
Raccoon by OMET was presented during iT's Tissue 2015 and thank to its ease of use and excellent performance, it has been able to break through the market. The Multifunctional head releases a jet of air and water and simultaneously sucks in all the impurities laying on the sleeve, for an excellent printing result.
---
RACCOON by OMET: il sistema che ha rivoluzionato la pulizia dei cliché di stampa su macchine per tovaglioli
Un crescente numero di installazioni, 10 negli ultimi sei mesi, testimonia il successo del sistema di pulizia dei cliché Raccoon brevettato da OMET, che prevede il lavaggio dei cliché flexo direttamente in macchina.
A due anni dal lancio, i pareri sono unanimi: tutti i clienti si dichiarano estremamente soddisfatti del sistema Raccoon by OMET. La sua ideazione ha rivoluzionato il lavaggio della sezione stampa delle macchine per il tissue converting, permettendo ai clienti di mantenere una costante ed elevata qualità di stampa senza tempi morti.
"Due sono i motivi principali per cui viene installato questo sistema – spiega Roberto Perego, Technical Manager Divisione Tissue – evitare fermi macchina per la pulizia cliché e mantenere una qualità di stampa costante. Con la carta tissue, generalmente molto polverosa, è frequente la contaminazione del cliché con residui di polveri, con conseguenze sulla qualità di stampa. Grazie al sistema di lavaggio automatico Raccoon, il cliché è costantemente pulito ad ogni giro di stampa, mantenendo inalterata la definizione dell'immagine trasferita alla carta".
Raccoon by OMET è stato presentato a iT's Tissue 2015 e grazie alla semplicità di utilizzo e alle prestazioni superiori, ha subito conquistato il mercato. Il sistema di pompaggio dell'acqua nei tubi è progettato in modo da eliminare completamente i residui di lavorazione, per una stampa qualitativamente eccellente.