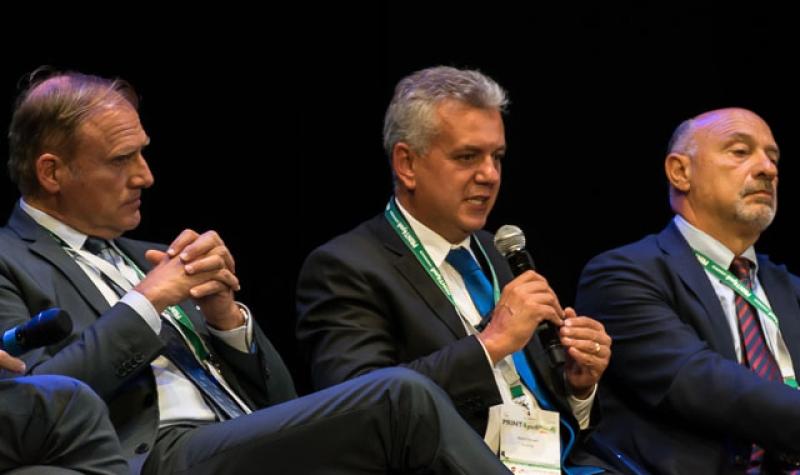 Print4Pack, the future of packaging take off from Italy
October 21, 2016
Huge success and high-level guests for "Print4Pack", the meeting held on the 20th and 21st September that gathered in the city of Palermo the most important Italian and international players of the packaging sector.
Attendance went beyond expectance – more than 230 companies and 50 buyers from USA and North Africa – achieving unanimous approval for the new style of the meeting: a convention on the packaging of the future, aiming at collecting the knowledge of various representatives of the entire value chain such as designers,  buyers, analysts, technicians and creatives.
The convention was promoted by ACIMGA (Italian Manufacturers Association of Machinery for Graphic, Converting and Paper Industry), ARGI (National Industry Suppliers Association) and ICE (Agency for Italian Companies Internationalization and Promotion), with the collaboration of Assografici (Giflex and Gipea), the Italian Institute of Packaging and Omet as main sponsor.
Famous experts took the floor introducing reports and animating debates. Some of the most renowned relators were Carlo Alberto Carnevale Maffè (SDA Bocconi), Oscar Farinetti (founder of Eataly, who presented the new project called Green Pea) Marco Sachet (Italian Institute of Packaging), Francesca Righi (Barilla), Paolo Zonca (Lavazza), Eliana Farotto (Comieco), Oriana Savonitti (Illy caffè) and many others.
Several interesting topics raised from the discussions: the transformation of packaging from mere "container" to social element and the new functions it has to accomplish through the help of innovation; all the shades of packaging printing, packaging customization and connectivity, creative packaging, recycling and economy circle.
Print4Pack is part of a series of business conventions inaugurated in December 2014, which will continue in 2017 with "Print4Graph", involving also editorial and commercial printing, and in 2018 with the concluding event at Fiera Milano: "Print4All", the new exclusive Italian trade fair of printing industry, which will pick up the baton from Converflex, Grafitalia and Inprinting.
Industry conventions have been proving to be a fundamental tool in facing market changes, since they allow to understand upstream and downstream supply chain complications and activities, conferring new value to the challenge of Made "by" Italy, original term forged by ACIMGA to mark the prime quality of Italian industries.
The convention held at the Savio Theater in Palermo, gathered students of local graphic arts academies. "If schools need strong connections with the industry – pointed out Marco Calcagni, ACIMGA president and Omet commercial director – in order to offer a coherent education that goes along with labor market's requirements, even the industry needs them. With the eyes of the young generations, we can understand how the world is changing and with their strength we can conduct our projects, offering new reasons to support the achievement of  important goals".
---

Print4Pack, il futuro del packaging passa dall'Italia
Grandi numeri e ospiti di alto livello per "Print4Pack", convegno che il 20-21 settembre ha riunito nel cuore del Mediterraneo i principali player italiani e stranieri della filiera del packaging. L'affluenza oltre le aspettative – oltre 230 aziende e 50 buyer provenienti da Usa e Nordafrica – ha avvalorato il forte interesse per il format innovativo dell'incontro: un convegno sul packaging del futuro che raccolga rappresentanti dell'intera catena del valore – dagli industriali grafici ai grandi buyer passando per analisti, tecnici e creativi.
Promosso da Acimga (Costruttori Italiani di Macchine per l'Industria Grafica, Cartotecnica, Cartaria, di Trasformazione e Affini), Argi (Associazione Nazionale dei Fornitori dell'Industria) e ICE (Agenzia per la promozione all'estero e l'internazionalizzazione delle imprese italiane), ha avuto la collaborazione di Assografici  (Giflex e Gipea) e dell'Istituto Italiano Imballaggio e OMET come main sponsor.
Esperti di chiara fama sono intervenuti sul palco e nei gruppi di networking, presentando relazioni e animando dibattiti. Tra i nomi più noti Carlo Alberto Carnevale Maffè (SDA Bocconi), Oscar Farinetti (fondatore di Eataly che ha presentato il nuovo progetto Green Pea) Marco Sachet (Istituto Italiano Imballaggio), Francesca Righi (Barilla), Paolo Zonca (Lavazza), Eliana Farotto (Comieco), Oriana Savonitti (Illycaffè) e molti altri.
Diversi i temi sul tavolo: la trasformazione del packaging da mero "involucro" a elemento sociale, le sempre più numerose funzioni che è tenuto ad assolvere con l'aiuto dell'innovazione, i trend di mercato, la stampa di imballaggi in tutte le sue articolazioni, la connettività e personalizzazione del packaging, il packaging creativo, il recupero tramite riciclo e l'economia circolare.
"Print4Pack" fa parte di una serie di convegni di filiera inaugurati nel dicembre 2014 il cui percorso proseguirà nel 2017 con "Print4Graph", che coinvolgerà anche la stampa editoriale e commerciale, nel 2018 con l'evento conclusivo "Print4All" in Fiera Milano, che si propone come nuova fiera italiana della filiera della stampa, con l'obiettivo di raccogliere e valorizzare la migliore eredità di Converflex, Grafitalia e Inprinting.
I convegni di filiera si stanno rivelando strumento irrinunciabile per vincere sui mercati che cambiano, perché permettono agli operatori di comprendere le attività e le problematiche "a monte" e "a valle" della supply chain, dando un valore nuovo alla grande scommessa del Made "by" Italy, declinazione originale coniata da Acimga per marcare la qualità primaria delle industrie italiane.
Il convegno è stato ospitato dal Teatro Savio di Palermo e ha coinvolto gli studenti dei corsi per operatori delle arti grafiche locali. «Se la scuola ha bisogno di legami con l'industria – ha sottolineato Marco Calcagni di Omet, presidente di ACIMGA – per offrire ai ragazzi una formazione realmente coerente con le esigenze del mercato del lavoro, anche l'industria ha bisogno di loro. È con gli occhi dei ragazzi che possiamo capire come sta cambiando il mondo, con le loro forze portiamo avanti i nostri progetti e la loro generosità stimola la nostra offrendo nuove ragioni a sostegno degli obiettivi che contano».