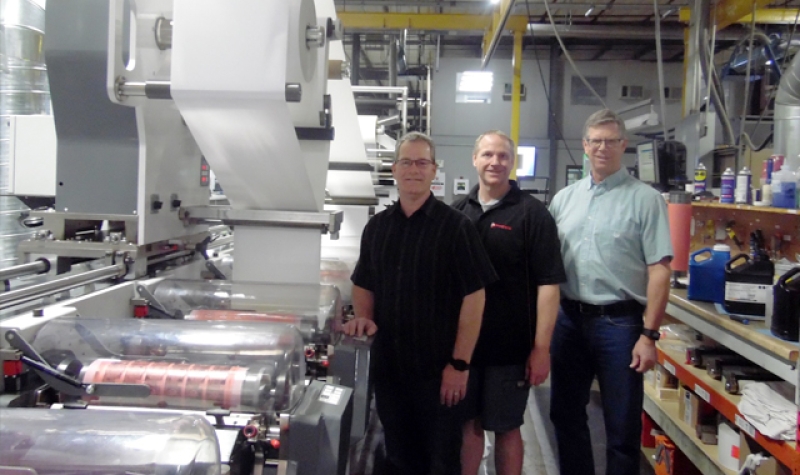 Phenix Label boost capabilities with OMET iFLEX with LED UV from GEW
April 13, 2017
Phenix Label of Olathe, Kansas have installed an additional OMET iFLEX printing press with LED UV to boost reliability and production speed.
Phenix Label Company, Inc. is a business with a longstanding tradition in the manufacture of self-adhesive labels with headquarters in Olathe, Kansas. It was originally founded in 1896 and today continues to be a family-owned business run by Hans M. Peter, the founder's great-grandson. Their product range includes innovative labelling and packaging solutions for the food and beverage sector, for beauty and personal products and the pharmaceutical and automotive industries with a strong emphasis on exceptional service and rigorous quality management.
In 2016 Phenix Label installed a brand new OMET printing machine with GEW UV curing: an X4 10-colour flexo press with ten 40cm-wide GEW-designed LW1 LED UV-curing stations, intended for self-adhesives label stock, shrink sleeves and thin film substrates.
Todd Fatino, Vice-President of Innovation at Phenix Label, explains: "We choose LED UV for faster run speeds, deeper curing, instant on-off, no mechanical shutters and energy savings. And yes, in every instance LED UV has lived up to our expectations!"
The decision in favour of the GEW UV system was largely due to Phenix Label's desire to ensure important investments go only into reliable high-performance technologies. "Our objective was to improve productivity at increased press speeds with the extra benefit of ease of operation and reduced downtime," Fatino adds, "and GEW offered us a convincing package of efficiency, reliability and consistent cure."
Phenix Label also operate and OMET iFLEX with 6 GEW LW1 LED stations and they retrofitted an Aquaflex Instaflex press with 8 GEW LW1 LED stations, replacing an older system. All of the printing machines at Phenix Label are now fitted with GEW UV curing systems.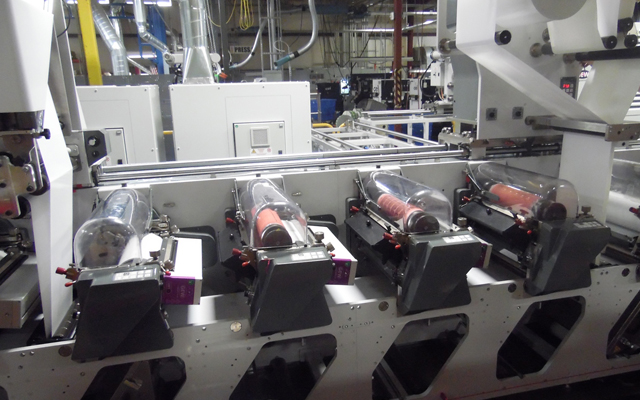 With the GEW LW1 LED system Phenix Label are able to operate full hybrid UV curing, working with both mercury arc and LED lamp technology on the same press. Mercury arc cassettes and LED cassettes both use the same lamphead casing, the same RHINO power supply and the same touch screen control. The operator simply swaps the required cassette and the RHINO power supply automatically recognises which type of cassette is installed in the machine, switches from low voltage DC power for the LEDs to high voltage AC for the arc lamps and changes the display on the control panel accordingly.
"The GEW UV system based on the high efficiency LW1 LED unit offers us the ability of hybrid operation combining conventional UV lamps and LED UV on the same press with a single straightforward user interface." Fatino adds. Printing presses with GEW's hybrid technology can be operated with mercury arc lamps and LED to fully exploit the advantages of both technologies with the same power supply and the same control panel.
Fatino concludes: "Modernising our plant and investing in high performance machinery ensures we stay competitive in the future. The GEW LED lampheads combined with the RHINO power supply bring us consistent curing with low migration inks, at high speeds and with no downtime."
Thanks to GEW for the authorization to publish this article.
---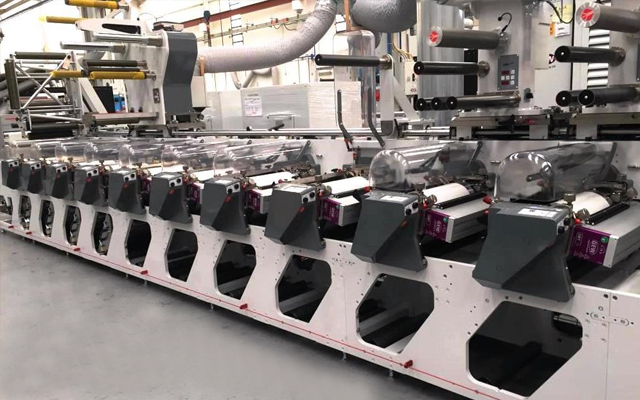 La Phenix Label di Olathe, Kansas (USA) ha installato un'altra macchina da stampa OMET iFLEX dotata di impianto UV LED per aumentare l'affidabilità e la velocità di produzione
La Phenix Label Company, Inc. vanta una lunga tradizione nella produzione di etichette autoadesive. E' stata fondata nel 1896 e oggi continua ad essere un'impresa a conduzione familiare guidata da Hans M. Peter, pronipote del fondatore. La loro gamma comprende soluzioni innovative di etichettatura e packaging per il settore alimentare, per la cosmetica, le industrie farmaceutiche e il settore automobilistico con una forte enfasi sull'eccellenza del servizio e una rigorosa gestione della qualità.
Nel 2016 la Phenix Label ha installato la prima macchina da stampa OMET con impianto UV LED fornito da GEW, azienda leader nella produzione di impianti UV per applicazioni di stampa e laminazione, storico partner di OMET. Si tratta di una X4 flexo 10 colori con dieci sistemi di polimerizzazione LW1 UV LED da 40cm, dedicati alla stampa di etichette autoadesive supportate, shrink sleeves e materiali filmici a basso spessore.
Todd Fatino, vicepresidente del settore Innovazione della Phenix Label, spiega: "Abbiamo scelto la tecnologia UV LED per la sua velocità, la polimerizzazione più completa, l'accensione e spegnimento istantanei, la prevenzione di blocchi meccanici e il risparmio energetico. In ogni campo, il sistema UV LED è all'altezza delle nostre aspettative".
La decisione a favore di questo sistema è stata in gran parte motivata dal desiderio di Phenix Label di effettuare investimenti importanti solo su tecnologie affidabili e con alte prestazioni. "Il nostro obiettivo era quello di migliorare la produttività, aumentando la velocità di stampa e allo stesso tempo riducendo le inefficienze e i tempi di inattività. GEW ci ha offerto un pacchetto convincente per efficienza, affidabilità e servizio costante."
Phenix Label ha installato anche una OMET iFLEX dotata di 6 sistemi LW1 LED, e ha ammodernato una macchina da stampa Aquaflex Instaflex con 8 sistemi GEW LW1 LED che hanno sostituito un sistema di asciugamento datato. Tutte le macchine da stampa di Phenix Label, quindi, sono ora dotate di sistemi di polimerizzazione UV LED targati GEW.
Grazie a questi sistemi, la Phenix Label è ora in grado di utilizzare sistemi di polimerizzazione ibridi potendo contare sia sulla tecnologia tradizionale arco che su quella LED. Infatti il corpo lampada a mercurio e quello a LED sono intercambiabili e inseribili nello stesso casing, utilizzando lo stesso sistema di alimentazione elettronica RHINO e lo stesso sistema di controllo touch screen. L'operatore scambia semplicemente i cassetti e l'alimentazione RHINO li riconosce automaticamente, passa da corrente diretta per i LED a corrente alternata per le lampade ad arco, e viceversa; di conseguenza viene modificata la visualizzazione sul pannello di controllo.
"Il sistema UV LED LW1 di GEW ad alta efficienza ci offre la possibilità di lavorare in modo ibrido, combinando lampade UV convenzionali a lampade UV LED sulla stessa macchina da stampa con un'unica, semplice, interfaccia utente" aggiunge Fatino.
Le macchine da stampa con tecnologia ibrida GEW possono essere azionate con lampade ad arco e con LED per sfruttare appieno i vantaggi di entrambe le tecnologie con lo stesso alimentatore e lo stesso pannello di controllo.
Fatino conclude: "Modernizzare il nostro stabilimento e investire in macchinari ad alte prestazioni è la nostra assicurazione per rimanere competitivi in ​​futuro". I sistemi di asciugamento GEW a LED combinati con l'alimentazione RHINO permetto una polimerizzazione completa con inchiostri a bassa migrazione, alte velocità e nessuna interruzione."
Ringraziamo GEW per l'autorizzazione alla pubblicazione di questo articolo.