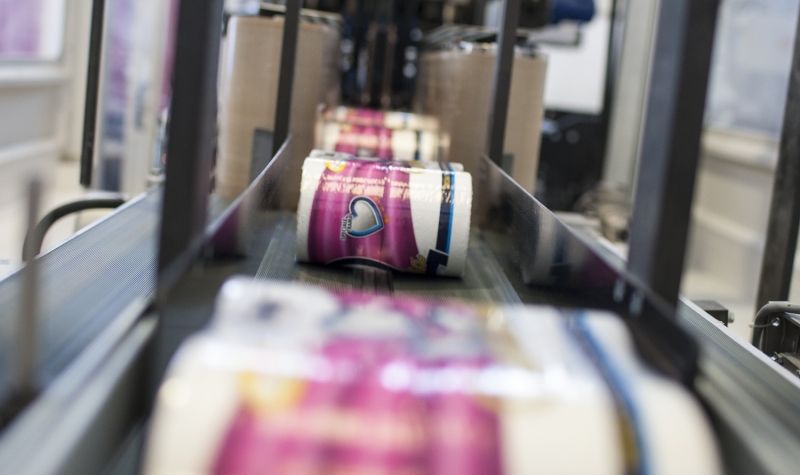 Paper Service, reliability and innovation to be leader
March 19, 2019
"The reliability that OMET has always ensured is the most precious value of all". These are the words of Giovanni Rossi, President and CEO of Paper Service Srl, a company located in S. Nicola La Strada (Caserta, Italy) that has been operating successfully for over thirty years in the tissue converting sector.
Ing. Rossi, what were the main steps of development for your company?
Paper Service Srl was found in 1999 and this year celebrates 20 years of activity, even if the founding partners have been dealing with tissue for over 30 years. The deep experience gained in the industry has allowed the company to start with a well-defined project and successfully achieve its goals. The growth is the result of different factors, beginning with the strategic choice of focusing on three different markets (consumer, ho.re.ca, private label) to the unceasing investment in innovation and the careful selection of the partners.
Considered as a point of reference for the market, Paper Service is well known and appreciated by the domestic and international retail purchasing operators, the main airlines and shipping companies, and the major hotel and restaurant chains: over the years, customer loyalty was improved through a careful policy focused on seriousness, quality, reliability, and respect for the environment.
How is organized your production process?
We work with two different business units: Rolls Division and Folded Division, located in two different, modern and functional plants, equipped with the most innovative – sometimes exclusive – technologies. Although similar, folded products have a different production process from the rolls, which is why each division has a specific management and know-how.
We work for the consumer, private label and ho.re.ca markets with different products: 1/2/3/4 veils napkins (embossed or glued, white or coloured), 2/3/4/5 veils toilet paper (smooth, embossed, glued, white or coloured), 2/3/4 veils towels (Desl, white or coloured), 2/3 veils rolls (Desl, white or coloured). For the consumer market we have different commercial lines: Classic, Cuordiseta, Infinita, Argantherapy, Grandissima, Extra, Imorbidissimi, Prestige, Cartasciuga, Asciugopiù, Desirèe, Color, Happy Hour.
What about your commercial strategy?
The Sales Department is coordinated by one manager for the three different business units, each one supervised by an area manager who organizes the specific sales force. Service is an essential element for us: the word "service" states even in our company name. A diligent and competent customer service in all phases of purchase, a graphic office available to customers and a careful logistics planning allowing fast deliveries are our winning tools to provide a tangible added value..
Which is your positioning on the Italian market and what trends do you see in the short term?
We are well-known and appreciated on the consumer market, both nationally and abroad, with our historic brand Caress, synonymous with quality and reliability. Over the years, the company has grown constantly and today looks to the future with optimism. More and more customers are relying on Paper Service, especially those looking for careful partners, willing to find the best solutions for their needs. It is precisely because of the positive growth forecasts that we are investing with confidence. The next few years will be intense and full of innovations aimed at differentiation, with innovative proposals up to date.
We export about 30% of our products throughout Europe, and recently we have entered new markets in North Africa.
Recently you have purchased an OMET TV840 and two TV503 XP, but your partnership with OMET has lasted for many years. How was this collaboration born and what are the goals of your recent investments?
Our partnership with OMET has lasted for over 30 years and with these three new lines, we have a total of 10 OMET machines: we are among the most important OMET's clients in Italy. We started producing personalized napkins and we have always found in OMET the perfect partner for this technology. We have experienced almost all the stages of the technological development over the recent years, witnessing an incremental evolution, from the first TV500 folder, nr 2, to modern contemporary lines. Knowing our starting point and making a comparison with the current activity allows us to appreciate the commitment that OMET has profused over the years to become – and rightly so – an absolute leader in this industry. Relying on a serious partner has allowed us to fully develop our projects, and we hope will this will continue to happen.
What development prospects do you see for your company?
The new OMET lines will allow our company to expand and update the portfolio with innovative and very high quality references, which will give us the opportunity to satisfy an increasingly demanding and careful market. We are very happy with OMET's technological innovations and we are already evaluating investments in both digital printing and interfolded products. This time again, the long-lasting collaboration and the personal relationship with Marco Calcagni, OMET Sales Director, guarantee us the opportunity to feel comfortable in making our choice, counting on OMET's reliability, which is probably the most precious value of all.
​
---
Paper Service, affidabilità e innovazione per essere leader
"L'affidabilità, che OMET ci ha sempre garantito, è il valore più prezioso di tutti" afferma Giovanni Rossi, Presidente e CEO di Paper Service Srl, azienda di S. Nicola La Strada (Caserta) che opera con successo da oltre trent'anni nel settore del tissue converting.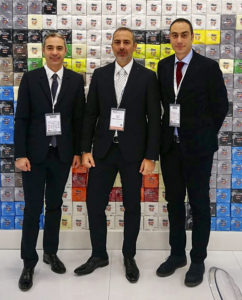 Ing. Rossi, quali sono stati i risultati e le tappe principali del cammino di sviluppo della vostra società?
Paper Service Srl è nata nel lontano 1999 e quest'anno festeggia i 20 anni di attività, anche se i soci fondatori si occupano di tissue da oltre 30 anni. La profonda esperienza maturata in precedenza nel settore ha consentito agli stessi di partire con un progetto ben definito che ha portato l'azienda a raggiungere con successo i traguardi prefissati. Le tappe fondamentali di questo cammino sono state diverse, dalla scelta strategica di puntare su tre differenti mercati (consumer, ho.re.ca, private label) a quella determinante di investire sempre in innovazione selezionando con attenzione i giusti partner.
Considerata oggi punto di riferimento del mercato, Paper Service è conosciuta ed apprezzata nelle principali arterie della moderna distribuzione organizzata nazionale ed estera, dalle principali compagnie aeree e di navigazione, e dalle principali catene alberghiere e di ristorazione: negli anni ha conquistato la clientela con una attenta politica incentrata sulla serietà, sulla qualità, sulla affidabilità, e sul rispetto dell'ambiente.
Oggi come siete organizzati sotto il profilo produttivo?
La struttura produttiva prevede due diverse business unit: la Divisione Rotoli e la Divisione Piegati che operano in due moderni e funzionali stabilimenti, attrezzati con le tecnologie più innovative del settore, in alcuni casi addirittura esclusive, adiacenti ma separati. Per quanto simili, i prodotti piegati hanno un processo alquanto differente da quelli arrotolati, ragion per cui ogni divisione si occupa della gestione specifica del proprio contesto, concentrando in esso tutto il know how caratteristico.
Lavoriamo per i mercati consumer, private label e ho.re.ca con diverse tipologie di prodotti: tovaglioli a 1/2/3/4 veli (goffrati ed incollati, neutri e stampati), carta igienica a 2/3/4/5 veli (liscia, goffrata, incollata, neutra e decorata), asciugatutto a 2/3/4 veli (Desl, neutro e decorata), bobine a 2/3 veli (Desl, neutre e decorate). A livello consumer abbiamo diverse linee di prodotto: Classic, Cuordiseta, Infinita, Argantherapy, Grandissima, Extra, Imorbidissimi, Prestige, Cartasciuga, Asciugopiù, Desirèe, Color, Happy Hour.
Sotto il profilo commerciale, come vi muovete verso i vostri clienti?
Il comparto commerciale è coordinato da un unico direttore commerciale che segue i tre diversi settori di vendita; a lui rispondono tre diversi capi area, uno per ogni ambito, che supervisionano le specifiche forze vendita. Il servizio è un elemento per noi imprescindibile al punto che la parola "service" fa parta della nostra ragione sociale. Un'assistenza assidua e competente in tutte le fasi di acquisto, un ufficio grafico a disposizione della clientela e l'attenta pianificazione logistica che ci consente di offrire consegne in tempi brevissimi sono le principali armi sulle quali puntiamo per fornire a tutti un valore aggiunto concreto e tangibile.
Come siete posizionati sul mercato italiano e quale andamento e prospettive di crescita vedete a breve?
Siamo conosciuti ed apprezzati sul mercato consumer, nazionale ed estero, attraverso lo storico brand Caress, da sempre sinonimo di qualità ed affidabilità. L'azienda ha avuto negli anni una crescita costante e progressiva che non si è mai arrestata e che la porta oggi a guardare con ottimismo anche il prossimo futuro. Sono sempre di più infatti i clienti che si affidano alla Paper Service, soprattutto quelli alla ricerca di partner attenti e disponibili a trovare le soluzioni più adatte alle proprie esigenze. E' proprio in virtù dell'importante crescita prevista che continuiamo ad investire con fiducia. Il programma dei prossimi anni è molto intenso e pieno di novità che puntano alla differenziazione, offrendo una proposta innovativa ed alternativa al passo coi tempi.
Esportiamo circa il 30% dei nostri prodotti in tutta Europa, e di recente abbiamo preso nuovi mercati nel nord Africa.
Recentemente avete acquistato una OMET TV840 e due TV503 XP, ma la vostra collaborazione con OMET dura da molti anni. Come nasce questa collaborazione e quali sono le ragioni della vostra recente scelta di investire in tre nuovi macchinari?
La nostra collaborazione con OMET dura da oltre 30 anni e con queste tre nuove linee, arriviamo ad un totale di 10 piegatrici OMET: siamo forse tra i clienti italiani che ne hanno di più. Siamo nati con i tovaglioli personalizzati ed abbiamo da sempre trovato in OMET il partner perfetto per questa tecnologia. Abbiamo vissuto insieme quasi tutte le fasi di sviluppo tecnologico che ci sono state in questi anni, diventando testimoni di un'evoluzione incredibile, dalla prima piegatrice TV500 matricola n°2 alle moderne linee contemporanee. Sapere da dove si è partiti e poter fare un raffronto con il punto di arrivo attuale ci consente di apprezzare l'impegno che OMET ha profuso in questi anni per diventare – a giusta ragione – leader assoluto in questo campo. Poter contare su un partner serio ed affidabile ci ha consentito di sviluppare in pieno ed al meglio i nostri progetti, cosa che ci auguriamo possa continuare in futuro.
Quali prospettive di sviluppo vedete per la vostra azienda?
L'acquisto delle nuove linee consentirà alla nostra azienda di ampliare ed aggiornare la proposta di mercato con referenze innovative e qualitativamente molto elevate, che ci daranno la possibilità di soddisfare una clientela sempre più esigente ed attenta.
Siamo molto contenti dello sviluppo tecnologico OMET e stiamo già valutando investimenti afferenti sia la stampa digitale sia i prodotti interfogliati. Anche in questo caso, la collaborazione storica ed il rapporto personale con Marco Calcagni, OMET Sales Director, ci garantiscono l'opportunità di scegliere con serenità in un contesto di assoluta affidabilità, che è probabilmente il valore più prezioso di tutti.