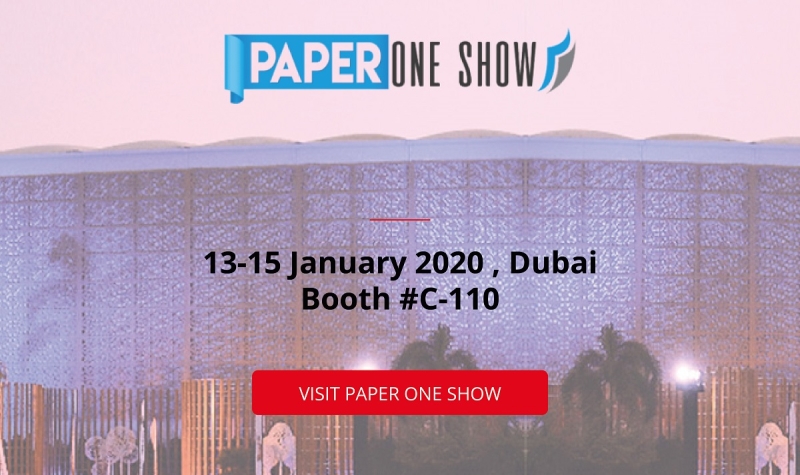 Paper One Show 2020, OMET to present facial tissue and other innovations
December 20, 2019
OMET will bring its outstanding technology in the field of tissue converting at the Paper One Show 2020, to be held at the Dubai Intercontinental Festival Arena (UAE) on 13-14-15 January 2020. OMET staff will be available at the booth to explain the best solutions developed to increase performance, quality and flexibility of tissue converting lines, showing samples of every kind of product that could be made by OMET machines.
Paper One Show, is one of the biggest international exhibitions for paper market in the MENA region, one of the fastest growing paper markets in the world. It is held every year in a different location of the area, attracting over 100 internationally recognized exhibitors from 26 countries and more than 2.500 professional visitors from Europe, North Africa, Asia and the Gulf States. It's providing a huge contribution to the development of the local market.
OMET, world leader manufacturer of converting machines for all folded products (napkins, towels, interfolded towels, facial tissue and placemats) will present its innovations at the booth C-110, with OMET Sales Area Manager Marco Gallo.
Contact us to book your visit or a meeting on our booth C-110 sending an email to omet-m@omet.it.
---
PAPER ONE SHOW 2020, OMET presenta la macchina per facial tissue e altre innovazioni
La tecnologia OMET nel campo del tissue converting sarà protagonista al Paper One Show 2020, che si terrà alla Dubai Intercontinental Festival Arena (UAE) dal 13 al 15 gennaio 2020. Lo staff OMET sarà disponibile presso lo stand per illustrare le innovative soluzioni sviluppate dall'azienda per aumentare le prestazioni, la qualità e la flessibilità delle linee di tissue converting, mostrando campioni di tutte le tipologie di prodotto che possono essere realizzati con le macchine OMET.
Il Paper One Show è una delle più grandi fiere internazionali per il tissue nella regione MENA, uno dei mercati con crescita più rapida al mondo per il settore della carta. Si tiene ogni anno in un luogo diverso dell'area, con oltre 100 espositori internazionali provenienti da 26 paesi e oltre 2.500 visitatori professionali provenienti da Europa, Nord Africa, Asia e Stati del Golfo. Fornisce un enorme contributo allo sviluppo del mercato locale.
OMET, leader mondiale nella produzione di linee di converting per i prodotti piegati (tovaglioli, asciugamani, asciugamani interfogliati, facial tissue e tovagliette) presenterà le sue innovazioni allo stand C-110, con la presenza di Marco Gallo, responsabile dell'area vendite OMET.
Per prenotare la vostra visita o un incontro presso lo stand, contattare omet-m@omet.it.