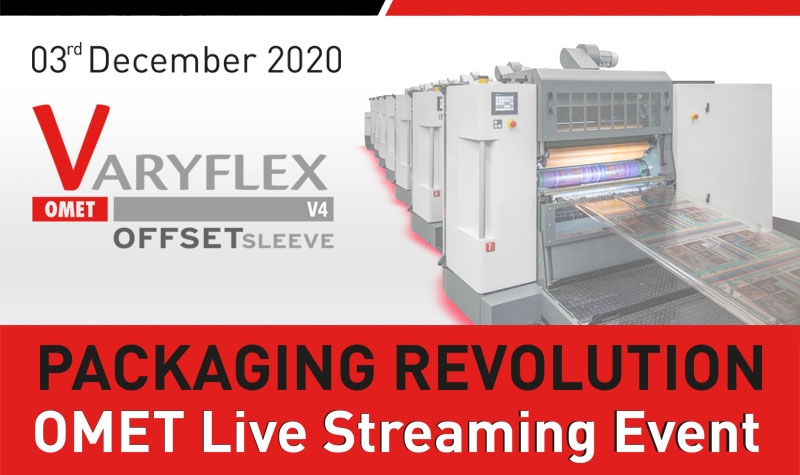 "Packaging Revolution": live streaming event dedicated to OMET VaryFlex V4
November 11, 2020
Save the date: on 3rd December 2020 you will have the unique opportunity to see the new OMET VaryFlex V4 850 mm wide web (33,5") in action. Its amazing performances will be showed during the OMET Live Streaming Event "Packaging Revolution | Varyflex V4".
Virtual events are fast becoming the new standard as the spread of the Coronavirus pandemic continues. Major marketing events have been organized on digital platforms with excellent results, increasing safety of the participants and maintaining high effectiveness in communication.
OMET, which have successfully tested virtual technologies even for remote-installations of its machines, is now organizing the first live streaming event of the industry on December 3rd. OMET Varyflex V4 is a packaging printing and converting machine with unlimited opportunities: offset, gravure, flexo, UV or EB curing. Thanks to the live streaming you will be able to know more about its operation and about OMET news and products from the comfort of your office or your home.
To book your participation contact us at mkt@omet.it: it will be free of charge and you will soon receive further information and the event agenda.
---
"Packaging Revolution": evento in live streaming dedicato a OMET VaryFlex V4
Save the date: il 3 dicembre 2020 avrete l'opportunità di vedere in azione la nuova OMET VaryFlex V4 850 mm (33,5"). Le sue incredibili performance saranno illustrate e testate durante l'open house in live streaming "Packaging Revolution | Varyflex V4″.
Con il perdurare della pandemia di Coronavirus, gli eventi virtuali stanno rapidamente diventando il nuovo standard. In questo periodo, importanti eventi di marketing vengono organizzati su piattaforme digitali con ottimi risultati, aumentando la sicurezza dei partecipanti e mantenendo un'elevata efficacia nella comunicazione.
OMET, che ha testato con successo le tecnologie virtuali anche per le installazioni remote delle proprie macchine, organizza il 3 dicembre il primo open house in diretta live streaming del settore. OMET Varyflex V4 è una macchina per la stampa e il converting di packaging con opportunità illimitate: offset, rotocalco, flexo, UV o EB. Grazie al live streaming, sarà possibile osservare il suo funzionamento dal vivo e conoscere meglio le novità sui prodotti OMET comodamente dal proprio ufficio oppure da casa.
Per prenotare, ricevere informazioni e il programma dell'evento, contattaci alla mail mkt@omet.it. La partecipazione è gratuita.