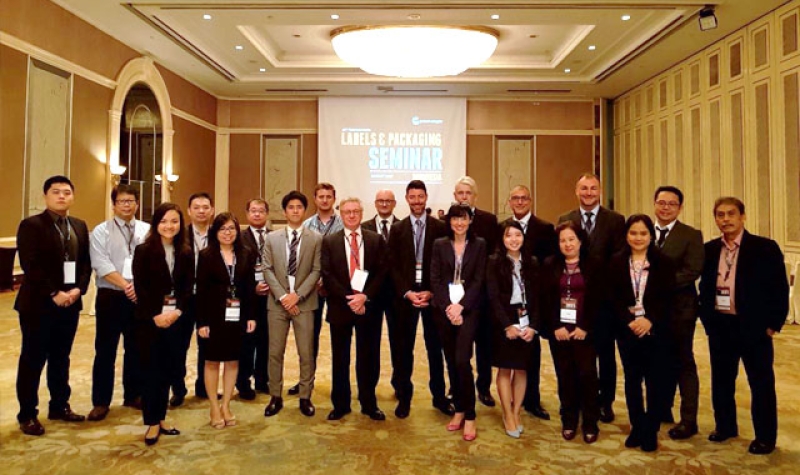 Packaging and labels: Indonesia looks ahead
October 6, 2017
The itinerant seminar "Labels and packaging into the 2020's", organized in Indonesia by Jet Technologies, local OMET agent, obtained high attendance and great enthusiasm. The event brought together many local printers in both Jakarta and Surabaya, in one of the markets with the highest growing trend in Asia.
"All the lectures had great success". This is the comment of Paolo Grasso, OMET Area manager, involved in the seminar with Dario Urbinati of OMET SEA. "Dozens of companies, including rotogravure, offset and label printers, got involved in the event to talk about flexography, digital and Industry 4.0. We felt a lot of enthusiasm and I'd like to stress the excellent job made by all the partners of Jet, who were able to introduce the latest technologies in a country still not ready for the 4th industrial revolution but in an ever-growing trend, thanks to a young and dynamic population and a constant economic growth".
During the first day in Jakarta, the main subject of the meeting was "the expected evolution of the label and packaging sector in the next decade", with a close focus on digital printing and a few relevant case studies. The following day was focused on the possible reconversions for the printers: switching from rotogravure printing to flexo in the packaging sector and from sheet-fed offset to labels and packaging business, with different detailed studies on color and plate management. In Surabaya, the program was replicated for the local printers, with a full day focused on the main innovation in the label and printing market
Mr. Grasso and Mr. Urbinati gave a few presentations about profitability with mid-web machines for flexible packaging working in short runs, about print on special non-adhesive substrate and they presented OMET iFlex as the ideal printing solution for beginners that want to start a new business in the label and packaging market.
The other lecturers were Lee Chee Leong, Asahi Technical Manager, Micheal O'Sullivan, Sales director of Hybrid, George Lyle, Pulse Roll Label General Manager for Asia-Pacific, Chiara Prati, Sales and Marketing Manager of Prati, and Jonathan Lim, Sales Manager of Screen.
---
Etichette e packaging: l'Indonesia guarda al futuro
Si è concluso con grande entusiasmo e ottima partecipazione il seminario itinerante "Labels and packaging into the 2020's", organizzato in Indonesia da Jet Technologies, agente OMET sul territorio. L'evento ha fatto incontrare gli stampatori locali tra Jakarta e Surabaya, in uno dei mercati con crescita più rapida dell'intera Asia.
"Tutte le conferenze hanno avuto grande successo" commenta Paolo Grasso, Area manager OMET coinvolto nel seminario con Dario Urbinati di Omet SEA. "Decine di aziende hanno partecipato – prosegue Grasso – stampatori rotocalco, offset ed etichettifici sono stati coinvolti da Jet per parlare di flessografia, digitale e industria 4.0. Abbiamo riscontrato un grande entusiasmo e dobbiamo sottolineare l'ottimo lavoro di tutti i partner di Jet, che hanno introdotto le più recenti novità tecnologiche del settore in un Paese ancora lontano dalla quarta rivoluzione industriale ma in veloce crescita, grazie alla popolazione giovane e dinamica e al rapido sviluppo economico".
Durante il primo giorno a Jakarta si è parlato dell'evoluzione attesa nel prossimo decennio nel settore labels & packaging, con accento sulla stampa digitale e case study d'eccellenza. La giornata seguente si è concentrata sulle possibili riconversioni degli stampatori: il passaggio dalla stampa rotocalco alla flexo nel settore del packaging, e quello dalla stampa offset a fogli al mondo delle etichette e del packaging, con diversi focus sulla gestione dei colori o delle lastre. A Surabaya il programma è stato replicato a favore degli stampatori locali, con una giornata concentrata sulle innovazioni del settore etichette e packaging.
Grasso e Urbinati, per OMET, hanno tenuto diverse presentazioni sulla redditività a basse tirature di macchinari a fascia media per il packaging, sulla stampa su materiali speciali (non autoadesivi), e ha presentato la OMET iFlex come soluzione ideale per i nuovi operatori che si affacciano al mondo delle etichette e del packaging.
Gli altri relatori sono stati Lee Chee Leong, Technical Manager di Asahi, Micheal O'Sullivan, Sales director di Hybrid, George Lyle, General Manager Asia Pacific di Pulse Roll Label, Chiara Prati, Sales and Marketing Manager di Prati, e Jonathan Lim, Sales Manager di Screen.