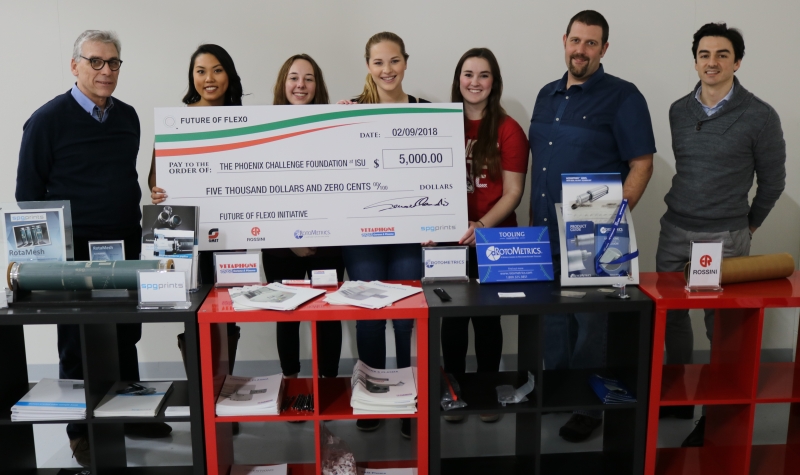 OMET's Future of Flexo Initiative Donates $5,000 to ISU Phoenix Challenge Students
May 14, 2018
ELK GROVE VILLAGE, IL—OMET Americas and a consortium of flexographic printers and suppliers—Rossini, RotoMetrics, SPGprints and Vetaphone—recently made a donation of $5,000 to the Illinois State University Department of Technology. The donation is meant to increase the growth of the industry's future workforce and technology, as well as support this group of students as they compete in the Phoenix Challenge.
OMET's Future of Flexo Initiative aims to ensure students receive exposure to the technologies and skills employees use in the flexographic field. These funds in particular will assist students in participating in unique opportunities outside of the classroom to further develop their skill sets in the package printing industry, said Adam Burke, instructional assistant professor at Illinois State University. In addition, the funds provide support for the purchase of equipment and supplies necessary to experiment with various innovations in flexographic printing.
Each student also received a goodie bag from each participating supply chain member as well.
"This donation could help us in so many ways and make it possible for us to truly show our potential as a program," says Illinois student Amanda Rapp. "This department of Illinois State University means so much to us, and we can't thank OMET enough for helping us create an even more positive experience for students of the program in the future."
"The Phoenix Challenge gives us students real-world experience of working with a client and using the flexo process to rebrand their company. This donation impacts our program by helping with travel and accommodations for the competition, allowing us to put all our focus towards the project. We are very thankful for OMET allowing us to use their press for part of our project, and also surprising us with an extremely generous donation for our team and the future of flexo," says student Kayla Mattson.
---
La "Future of Flexo Initiative" OMET dona $ 5.000 agli studenti dell'ISU Phoenix Challenge
ELK GROVE VILLAGE, Illinois – OMET Americas e un consorzio di fornitori e stampatori flexo – Rossini, RotoMetrics, SPGprints e Vetaphone – hanno donato 5.000 dollari al Dipartimento di Tecnologia della Illinois State University. La donazione è un investimento sulla futura forza lavoro e sull'innovazione tecnologica: servirà a supportare il gruppo di studenti impegnato nella "Phoenix Challenge", annuale competizione fra studenti nel campo della flessografia.
La Future of Flexo Initiative è stata attivata da OMET Americas per garantire agli studenti una formazione concreta e specifica sulle tecnologie utilizzate nel campo della flessografia. "La donazione appena effettuata, in particolare, contribuirà a dare agli studenti opportunità uniche al di fuori delle aule per sviluppare le loro competenze nella stampa del packaging – ha dichiarato Adam Burke, professore dell'Illinois State University -. I fondi saranno anche usati per l'acquisto di attrezzature e materiali necessari a sperimentare innovazioni nel campo della stampa flexo".
"Questa donazione ci aiuta in molti modi e ci dà la possibilità di mostrare veramente il potenziale del nostro programma – afferma la studentessa Amanda Rapp -. Questo dipartimento dell'Illinois State University è molto prezioso per noi, e non ringrazieremo mai abbastanza OMET per averci aiutato a creare un ambiente ancora più positivo per gli studenti futuri."
"Il Phoenix Challenge ci offre un'esperienza nel mondo reale, ci permette di lavorare con un cliente e utilizzare il processo di stampa flexo per rinnovare l'immagine della sua azienda. Questa donazione ci aiuta con i costi di viaggio, vitto e alloggio, permettendoci maggior concentrazione sul progetto flexo. Siamo molto grati a OMET per averci permesso di utilizzare la loro macchina da stampa per una parte del progetto e anche per averci sorpreso con una donazione estremamente generosa e importante sia per il nostro team sia per il futuro della stampa flexo ", afferma la studentessa Kayla Mattson.
Nel contest della Phoenix Challenge, diversi gruppi di studenti competono affrontando tutte le fasi critiche della stampa di etichette: prestampa, produzione di clichè, stampa e teoria di base. Sono giudicati da specialisti del settore.