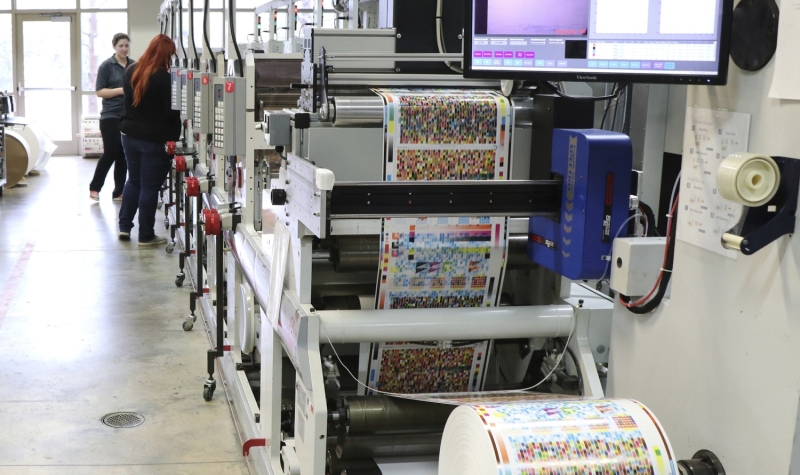 OMET's continued partnership with Clemson's Sonoco Institute serves students and industry well
December 5, 2018
CLEMSON, SC – OMET Americas, Inc. and Clemson University's Sonoco Institute of Packaging Design and Graphics have partnered over the years in many ways to provide advanced printing capabilities to Clemson students and industry.
OMET's Varyflex 530 narrow-web press provides an opportunity for students and industry to experience hands-on learning in the basics of press operation, color management, process control and more. The press is placed in the Institute's Advanced Print Lab which also houses ink and platemaking capabilities.
The press is capable of a wide range of services. By utilizing the modular design, additional processes can be added in-line. Within the past year, rotary screen, gravure and lamination units have provided increased capabilities for Sonoco Institute clients. In addition, the press is capable of running water-based, solvent and UV inks, as well as conductive inks, thanks to an extended dryer.
"We are very proud of the flexibility this press offers in providing capabilities for print testing and evaluation," said Bobby Congdon, assistant director of the Institute. "We really can offer a wide-range of services due to the flexibility of the press to be outfitted with various unique pieces of equipment, as well as work with a variety of inks and substrates."
Over the past year, a variety of tests have been orchestrated in the print lab to help companies prepare their products for market. Additionally, plate and substrate verifications have been performed, and numerous trade show materials have been produced in the lab for partners to showcase at conferences like FTA Forum and Label Expo.
The Institute also conducts printed electronics work. Recent tests have involved battery and functional inks testing for conductivity and printability in commercial applications.
Besides print testing, another opportunity for industry to experience the press is through hands-on seminars and workshops hosted at the Institute. A wide range of training opportunities are offered to enhance skills in everything from design to print, utilizing the press in every single class.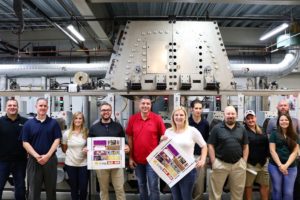 "These courses are a great opportunity for continued learning," commented Congdon. "Everyone from press operators to sales associates are invited out to learn hands-on in the print lab."
Other fully-equipped spaces are open at the Institute to practice package design, prototyping, eye-tracking research and more – but the print lab and OMET's press lies at the center of it all.
Aside from partnering through the print lab at Clemson, the Institute is also one of OMET's designated Future of Flexo schools, receiving additional support from OMET to ensure that students receive exposure to the technologies and skills employees are using in the flexographic field.
Institute representatives recently attended OMET's Join the Network charity event on September 26 in Chicago, IL during Label Expo. The gala promoted the Future of Flexo schools and provided an opportunity for industry collaborators to gather for a night of fun, food and charity.
"It was a great networking event for myself and the students," said Kariahlyn Lindsey, project coordinator of the Institute's print lab. "We enjoyed meeting OMET's in-network partners."
It was also recently confirmed that OMET will host an open house at the Institute in 2019 to offer those in the southeastern U.S. the chance to network with vendors, learn about new technologies and discover useful services that companies may not have thought to budget for. You can stay up-to-date on the progress of the open house by visiting SonocoInstitute.com.
---
OMET e il Clemson's Sonoco Institute: una partnership preziosa per gli studenti e per il settore
CLEMSON, CAROLINA DEL SUD – Dall'esperienza pratica sulle macchine da stampa a test e prototipi per le aziende del settore, dalla ricerca sull'elettronica stampata all'innovazione tecnologica nel campo della flessografia. OMET America, Inc. e il Sonoco Institute of Packaging Design and Graphics della Clemson University collaborano ormai da molti anni per lo sviluppo e la formazione degli studenti americani nel settore della stampa: una OMET Varyflex 530, cuore del loro laboratorio, offre un'opportunità unica per maturare esperienza pratica e imparare le basi delle operazioni di stampa, capire la gestione del colore, il controllo del processo e molto altro.
La linea si trova nel Laboratorio di Stampa dell'Istituto dove è possibile produrre anche clichè e inchiostri. E' in grado di offrire una grande quantità di servizi, partendo dal modello standard e aggiungendo in linea processi supplementari. Negli ultimi anni, i gruppi svolgitori, di goffratura e di laminazione hanno sviluppato capacità sempre maggiori per i clienti del Sonoco Institute. Inoltre, la OMET Varyflex 530 è in grado di supportare inchiostri a base acqua, solvente e UV, nonché inchiostri conduttori, grazie a un esteso sistema di asciugatura.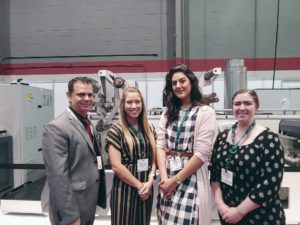 "Siamo molto orgogliosi della flessibilità che questa macchina da stampa offre" ha affermato Bobby Congdon, vicedirettore dell'istituto. "Possiamo davvero offrire molti servizi dato che può essere equipaggiata con diverse unità e lavorare con differenti tipologie di inchiostro e substrati."
Durante gli ultimi anni, sono stati effettuati moltissimi test nel laboratorio di stampa, supportando le aziende nella predisposizione e nei test per i loro prodotti destinati al mercato. Inoltre, sono stati eseguiti controlli di cliché di stampa e substrati, e sono stati prodotti diversi materiali per le fiere per i partner che dovevano esporre ad eventi come FTA Forum e Label Expo.
L'Istituto ha iniziato a lavorare anche nel settore della stampa elettronica. Test recenti hanno riguardato batterie e funzionalità degli inchiostri per la conduttività, nonchè la possibilità di stampare applicazioni commerciali.
Oltre ai test sulle stampe, la OMET Varyflex 530 è protagonista di seminari e workshop di settore organizzati all'interno dell'Istituto. Vengono offerte diverse opportunità di formazione per migliorare competenze di ogni campo, dal design alla stampa, utilizzando la macchina in ogni singola classe.
"Questi corsi costituiscono una grande opportunità per l'apprendimento continuo" ha commentato Congdon. "Chiunque, dai tecnici agli addetti alle vendite, sono invitati nel laboratorio di stampa per imparare dal punto di vista pratico."
All'interno dell'Istituto sono allestiti altri spazi completamente attrezzati per fare pratica sul packaging, la prototipazione, le ricerche di monitoraggio e altro ancora. Ma il cuore del laboratorio sono il laboratorio di stampa e la macchina OMET.
Oltre alle partnership create grazie al laboratorio di stampa presso la Clemson, l'Istituto è anche una delle scuole designate dalla OMET per l'iniziativa Future of Flexo, e che riceve ulteriore supporto dalla OMET per fornire agli studenti aggiornamenti sulle tecnologie e competenze che sono utilizzate correntemente nel campo della flessografia.
I rappresentanti dell'Istituto hanno recentemente partecipato all'evento di beneficienza Join the Network organizzato da OMET il 26 settembre a Chicago (Illinois) durante la fiera Label Expo. L'evento ha pubblicizzato l'iniziativa Future of Flexo e ha offerto un'opportunità per i partner del settore di riunirsi in una serata a scopo benefico fatta di divertimento, buon cibo e generosità.
"È stata una preziosa occasione di interconnessione per me e per gli studenti," ha affermato Kariahlyn Lindsey, coordinatore del progetto di laboratorio di stampa all'interno dell'Istituto. "Abbiamo davvero apprezzato la possibilità di incontrare i partner della OMET."
È stato anche recentemente confermato che OMET organizzerà un open house per il pubblico all'interno dell'Istituto nel 2019 per offrire a coloro che vengono dal sud-est degli Stati Uniti la possibilità di incontrare gli addetti alle vendite, di conoscere le nuove tecnologie e di scoprire servizi utili che le aziende potrebbero non aver ancora valutato a causa di restrizioni di budget. Potete rimanere aggiornati sugli sviluppi di questo open house visitando il sito SonocoInstitute.com.