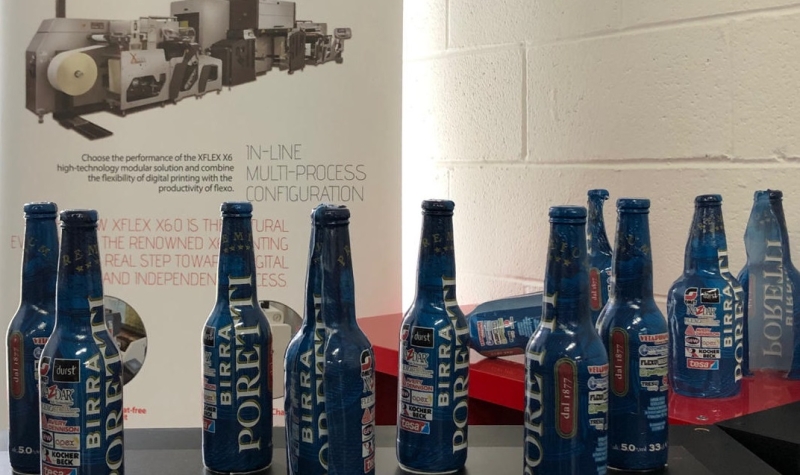 OMET XJet: the only hybrid machine able to print shrink labels
July 29, 2019
XJet powered by Durst, the OMET hybrid machine flexo + digital inkjet, is the first and only line on the market able to print shrink labels with combined technology. At Labelexpo OMET will show its performances, recently displayed in the United States during the OMET Americas' Open House.
OMET XJet powered by Durst is the hybrid printing machine that offers the widest range of in-line multi-process technologies for finishing requirements (cold foil, hot foil, embossing, varnishing, peel & seal, delam-relam…) as well as efficient converting solutions as OMET Monotwin-Cut variable size die-cut, OMET Twist easy-change die and OMET Rock'n'Roll matrix stripping.
Thanks to OMET's experience on tension control (Masters in Motion), working on special supports is not a problem but a winning challenge: XJet is the first and only hybrid machine on the market able to work shrink materials with combined printing. After having shown the excellent results of the shrink label printing during the recent Open House at the OMET Americas headquarters with samples of shrinked bottles printed by the XJet, OMET is going to revamp the hybrid printing on shrink labels at the next Labelexpo Europe.
OMET XJet will show its high quality performances at the fair, working with a resolution of 1200×1200 dpi, – high definition almost equivalent to offset printing – and maximum precision on details, with in-line finishing and converting modules and special finishing effects.
Thanks to its high printing speed (78 m/min), its limited ink consumption and its customizable configuration, the XJet is a fantastic solution for small and medium runs that involve different versions of the same subject, variable data printing and quick set-up.
OMET – Hall 6 – Stand C49-C53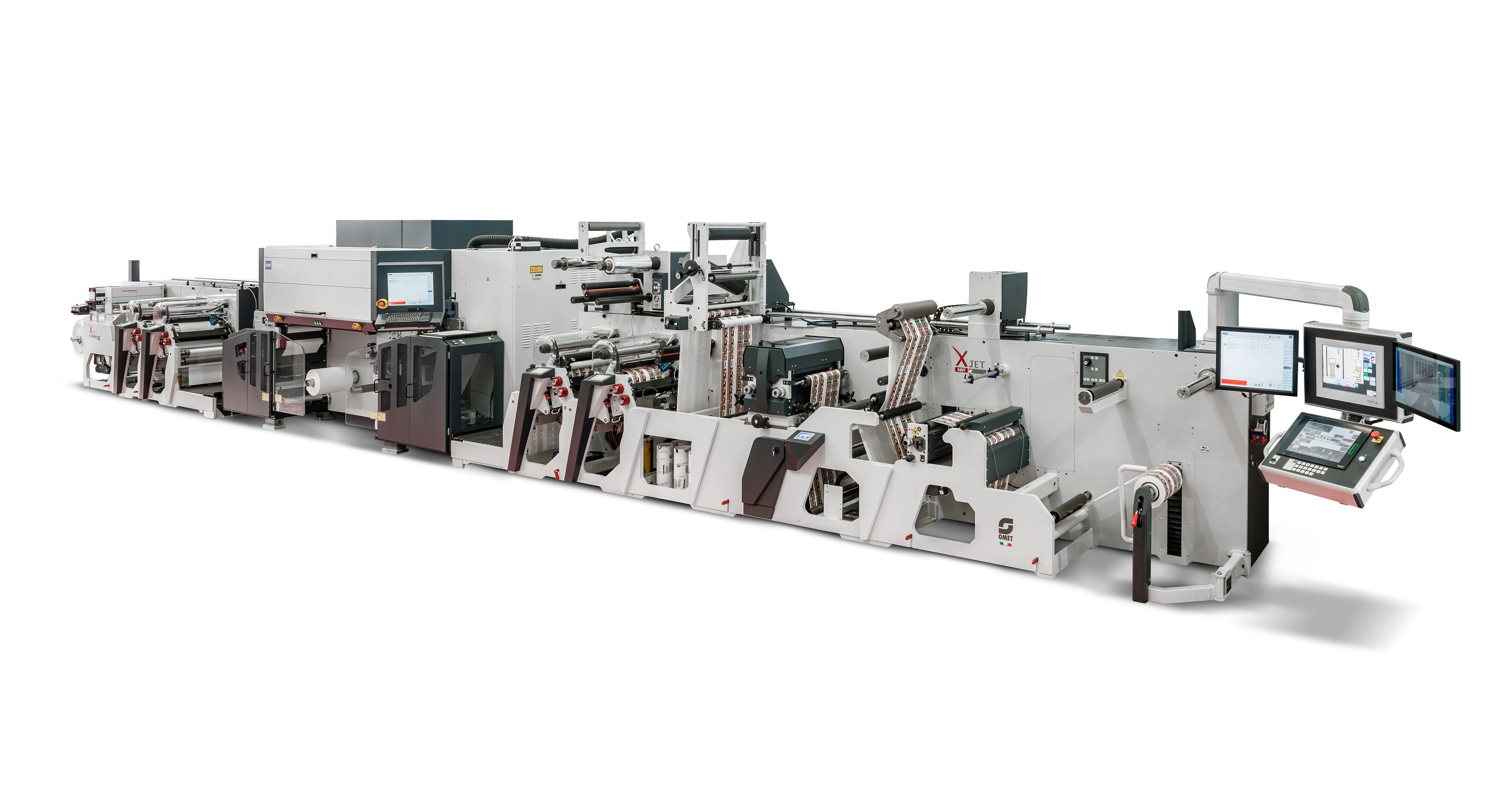 ---
OMET XJet: l'unica macchina ibrida in grado di stampare shrink label
La macchina da stampa ibrida flexo + digitale inkjet OMET XJet powered by Durst è la prima e unica macchina sul mercato capace di stampare shrink label con stampa combinata. A Labelexpo sarà possibile osservare i risultati del processo, di recente presentati negli Stati Uniti durante l'Open House organizzato presso la sede di OMET Americas Inc.
OMET XJet powered by Durst è la macchina da stampa ibrida che offre la più ampia gamma di tecnologie multi-processo in linea per la finitura e la valorizzazione del prodotto stampato (cold foil, hot foil, goffratura, verniciature, etichette multistrato, delam-relam…), con efficienti soluzioni di converting come la fustella a formato variabile OMET Monotwin-Cut, la fustella cambio rapido OMET Twist e lo sfridatore OMET Rock'n'Roll.
Grazie all'esperienza OMET sul controllo di tensione (Masters in Motion), il trattamento di materiali speciali non è un limite ma una sfida vincente: XJet è la prima e unica macchina da stampa ibrida sul mercato a lavorare materiali shrink con stampa combinata. Dopo aver mostrato con ottimi risultati la stampa di shrink label durante il recente Open House presso la sede di OMET Americas, con tanto di campioni di bottigliette shrinkate con il materiale stampato dalla XJet, OMET rilancia presentando la stampa ibrida su shrink label alla prossima Labelexpo Europe.
La OMET XJet mostrerà in fiera la sua alta qualità di stampa con una risoluzione di 1200×1200 dpi, qualità paragonabile alla stampa offset, e massima precisione dei dettagli, con gruppi di finitura e converting in linea e la realizzazione di stampe combinate con effetti speciali di finitura.
La ibrida XJet è una fantastica soluzione per le piccole e medie tirature che prevedono personalizzazioni e diverse versioni dello stesso soggetto, stampa di dati variabili e set up rapido grazie alla sua alta velocità di stampa (78 m/min) al limitato consumo degli inchiostri e alla possibilità di ottimizzazione della configurazione macchina in base alle necessità dello stampatore.
OMET – Hall 6 – Stand C49-C53