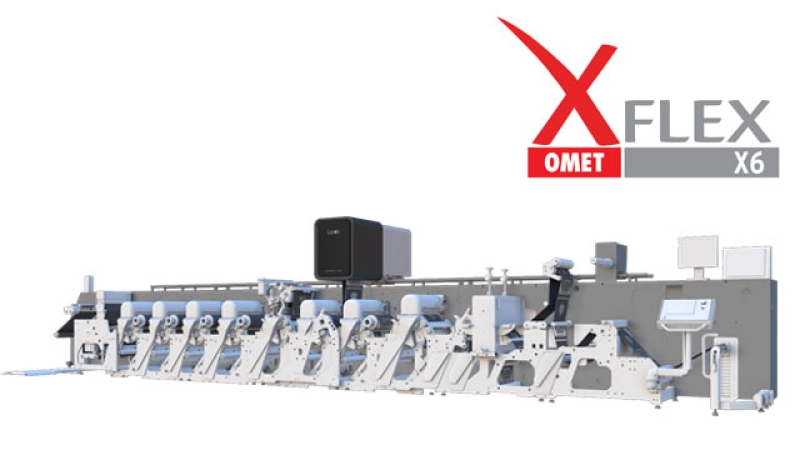 OMET XFlex X6 to be part of LANDA exhibition at DRUPA 2016
April 16, 2016
New Landa Nano-Metallography™ technology to be demonstrated for the first time on an Omet press.
Since its premiere in 2007, OMET XFlex X6 has revolutionized the narrow-web printing market. This high-level press counts hundreds of installations around the world and thanks to its modular design is able to combine in-line several printing processes and finishing units for special applications.
At Drupa 2016, the XFlex X6 will once again be part of a revolution in the label printing and finishing sector.
Landa, a world leader in innovation and development, will demonstrate publically for the first time their new Landa Nano-Metallography™ technology mounted on an Omet XFlex X6 press. Landa's new metallization technology offers zero-waste metallization at half the cost of foil. Operating with the Omet XFlex X6 it enables luxurious metallic effects with flexo, offset, screen and digital printing processes. Throughout Drupa there will be live product demonstrations of the new technology on the Landa stand in Hall 9.
Together with the XFlex X6, OMET will be showing on its own stand D90, Hall 3, the new Varyflex V2 850 Offset with sleeve technology as well as iFlex, the label press star of Labelexpo 2015.
DRUPA 2016 will be the perfect occasion for OMET to spotlight its main products and strengthen once again its leadership in label and flexible packaging printing market.
---
La XFlex X6 OMET protagonista sullo stand LANDA a DRUPA 2016
La nuova tecnologia Nano-Metallography™ di Landa verrà mostrata per la prima volta sulla XFlex X6 Omet.
Fin dal momento del suo lancio, la XFlex X6 OMET ha rivoluzionato il mondo della stampa di etichette e packaging in fascia stretta. Un prodotto di alto livello con centinaia di installazioni in tutto il mondo, che grazie al suo design modulare può combinare in linea diversi processi di stampa e unità di finitura per applicazioni speciali.
Grazie alla collaborazione con Landa, la XFlex X6 sarà ancora una volta protagonista di una rivoluzione settore della stampa e della nobilitazione di etichette.
Infatti, l'indiscusso livello tecnologico e l'elevata qualità delle macchine da stampa Omet ha indotto l'azienda israeliana leader mondiale nell'innovazione a puntare sulla XFlex X6 come complemento fondamentale per il lancio di un innovativo modulo di nobilitazione basato su un processo nano-tecnologico rivoluzionario. La tecnologia Nano-Metallography™ di Landa permette la produzione di etichette con sfarzosi effetti metallici in abbinamento a  stampa flexo, offset, serigrafica o digitale, eliminando completamente gli scarti e dimezzando il costo del foil.
Il fantastico risultato di questa collaborazione tra due aziende leader nei rispettivi settori verrà rivelato in esclusiva a DRUPA 2016 presso lo stand Landa 9A73
Insieme alla XFlex X6, OMET mostrerà presso il proprio stand D90, Hall 3 la nuova Varyflex V2 Offset 850 con tecnologia Sleeve e la iFlex 370, la macchina da stampa per etichette protagonista di Labelexpo 2015.
A DRUPA 2016 OMET si fa in 3 per valorizzare i suoi prodotti di punta e ribadire ancora una volta la sua leadership nel mercato delle macchine da stampa di etichette e imballaggi flessibili.