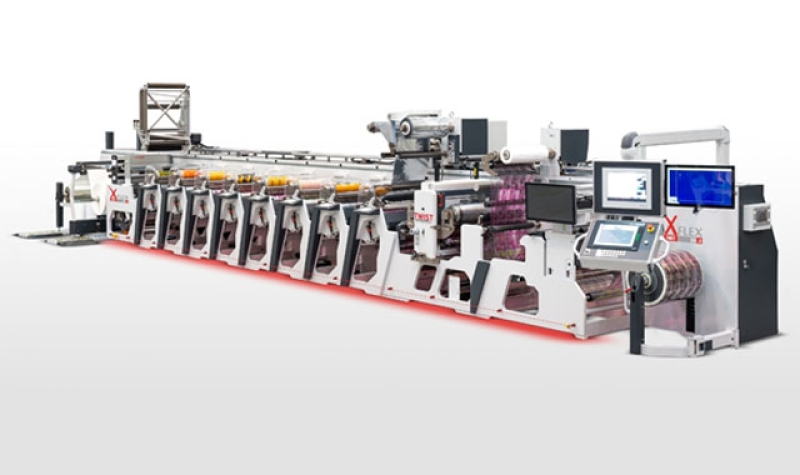 OMET X6.0 improves perfection
January 9, 2018
Enhanced automation and technology 4.0 to reach a fully automatic independent process and meet any customers' need. The OMET X6.0 launched at Labelexpo 2017 raises the bar of technology and innovation set by the OMET X6, the most valuable and appreciated narrow-web printing press for labels and packaging in the international market.
The latest innovations introduced by this new line are meant to increase the efficiency and productivity of the whole process, by simplifying the operator's job through user-friendly approach and special units.
The OMET X6.0 integrates two new main innovative features: first, renewed flexo groups with automatic pressure adjustment and Cruise Control, providing the possibility to automatically adapt the printing pressures at each change of repeat, material or production speed. Second, the Multivision system for faster printing register adjustment and control thanks to a set of smart micro-cameras, one on each printing unit, that enable the independent tuning of the register in real time, drastically reducing machine downtime and set-up waste.
Exclusive special modules made by OMET can make even more difference in terms of efficiency and productivity: the TWIST die-cutting station, with "Easy-Change Die" system, a smart unit with double sliding cassette, which enables the preparation and of the die-cutting job off-line during production and effortless changeover operations in less than 1 minute. The Double Unwinder, a semi-automatic system that helps save time in the reel changeover operation, increasing the profitability of the press no matter the length of the run.
Thanks to the Transparent Factory system, all OMET machines are prepared for the constant monitoring of the working conditions and parameters. However, the OMET X6.0 can also count on new devices driven by the concept of Industry 4.0. A concrete example is the use of the Smart Glasses: through the augmented reality, they can improve the overall performance of the operator with real benefits in terms of cost reduction, maintenance and productivity. The use of the Smart Glasses is mainly valuable in customer service support, since they allow for faster and more effective assistance operations.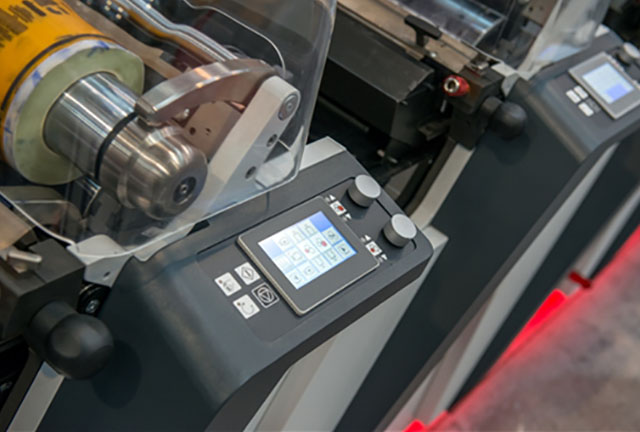 The outstanding performance in terms of flexibility, output quality and final applications, as well as the possibility to personalize the machine configuration, managed to impress those who had the chance to see it with their own eyes during the Labelexpo. The high number of requests for personal demonstrations proves the huge success of the OMET X6.0.
---
OMET X6.0, il miglioramento della perfezione
Elevata automazione, tecnologia 4.0 e gruppi speciali per andare incontro a qualsiasi esigenza dei clienti. Ma  anche approccio user-friendly, design ergonomico e processo automatico indipendente. La OMET X6.0, presentata a Labelexpo 2017, alza l'asticella dell'innovazione che già aveva affermato la OMET X6 come la macchina tecnologicamente più apprezzata a livello internazionale tra le linee a fascia stretta e media per la stampa di packaging ed etichette.
Le novità portate da questa linea si concretizzano in importanti incrementi di efficienza e produttività per i clienti, che possono contare su un più semplice approccio dell'operatore sulla macchina.
Due le novità principali della OMET X6.0 dal punto di vista tecnico: la prima sono i rinnovati gruppi flexo con regolazione automatica della pressione e Cruise Control, che danno la possibilità di impostare e correggere automaticamente la pressione di stampa ad ogni cambio di lavoro, di materiale o di velocità di produzione.
La seconda è il Multivision, un nuovo sistema per la regolazione e controllo del registro di stampa costituito da una serie di microcamere intelligenti che consentono l'impostazione del registro in modo indipendente e in tempo reale, colore per colore, garantendo il set-up in pochi secondi ed uno scarto prossimo allo zero.
Esclusivi gruppi aggiuntivi targati OMET fanno la differenza in termini di efficienza e produttività: ad esempio la fustella Twist, con dispositivo a scorrimento "Easy-Change Die" per il cambio lavoro dotato di due piani laterali dove appoggiare il cilindro in entrata e quello in uscita, che permette di effettuare un cambio completo di formato e di sagoma in meno di un minuto. Oppure il doppio svolgitore, sistema semiautomatico che aiuta a risparmiare diversi minuti nel processo di cambio bobina e cambio materiale aumentando la redditività della macchina con qualsiasi tipo di tiratura.
Rispetto alle altre linee OMET, tutte predisposte per l'interconnessione e il monitoraggio continuo delle condizioni di lavoro e dei parametri di processo grazie al Trasparent Factory Cloud, la OMET X6.0 è stata potenziata secondo i driver dell'industria 4.0. Un esempio è l'uso degli Smart Glasses, che grazie alla realtà aumentata permettono maggior efficienza nella gestione delle attività di manutenzione, controllo e supervisione, con evidenti vantaggi in termini di diminuzione costi di gestione, perfezionamento delle fasi di lavorazione e incremento di produttività. L'utilizzo degli Smart Glasses è particolarmente vantaggioso nell'assistenza al cliente, perché permette un supporto più efficiente, veloce e collaborativo.
Le prestazioni eccezionali in termini di flessibilità, qualità, gamma di applicazioni finali e le numerose possibilità di customizzazione hanno impressionato chi ha avuto la possibilità, in fiera, di rendersene conto dal vivo. L'elevata richiesta di incontri e demo sulla linea ne sono la dimostrazione.