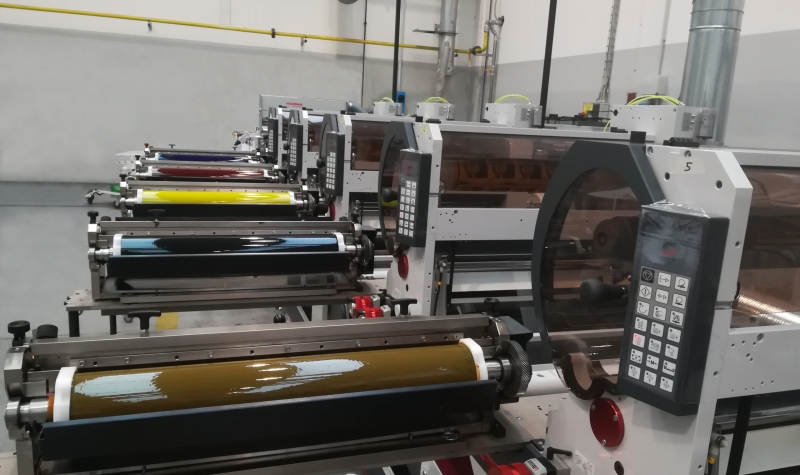 OMET VaryFlex V2 850 – The perfect finishing equipment for digital printing machines
June 12, 2020
OMET VARYFLEX is a highly modular, future proof printing press platform which offers printers infinite bouquet of options, thanks to OMET's patented Vision Register Control. It's an ideal solution for packaging products printed by digital machines.
OMET is known to adapt its machines as per demands of its customers. In recent times, printers who have invested in digital machines contacted OMET for customized finishing solution complementing their investment as a finishing equipment. OMET VaryFlex machines are an "A La Carte" module-based machines where customers are encouraged to design the machines as per their requirement. This new solution is extremely efficient and allows printers to print high quality, added value jobs, thanks to special inks, cold foils silk-screen or sealing white options available on the machine.
The VaryFlex platform provides printers with infinite configuration options. Printers can have desired number of UV, Water or solvent based flexo units or inline decoration attachments such as cold foil, screen embossing etc. amongst many other attachments. The flexo units and all the attachments seamlessly re-registers with the preprinted web from digital printing machines, thanks to OMET's patented Vision register control system. Installation of micro cameras through the machine along with OMET's proprietary software, delivers the best performing solution for such applications in the market, allowing printers to deliver superior high-quality value-added products at low cost.
VaryFlex is a future proof printing press platform. Printers can buy the press based on the current needs and then expand the machine to an independent machine in the future, by adding more flexo units and desired attachments. This makes the machine an easily amortizable asset that could be expanded over time to become a fully functional, always innovating printing press!
---
OMET VF 850: la linea di finishing ideale per le macchine da stampa digitali
Grazie all'estrema modularità della piattaforma Varyflex, alle infinite opzioni a disposizione e al controllo di registro Vision, OMET offre una soluzione di grande efficienza per la finitura di packaging realizzati su macchine digitali.
OMET ha recentemente allestito alcune linee Varyflex V2 in fascia 850mm sviluppate come sistemi finishing per le macchine da stampa digitali. Trattasi di Varyflex customizzate al 100% su richiesta dei clienti. Questa nuova applicazione è estremamente efficiente e permette di donare qualità e valore aggiunto alla stampa con vernici speciali, lamine a freddo, serigrafia o bianco di chiusura.
La piattaforma Varyflex infatti permette di sviluppare infinite configurazioni con l'utilizzo di 3, 4 od anche più colori flexo UV, a base acqua o solvente. Tutto viene semplificato dall'esclusivo utilizzo del controllo di registro OMET Vision, che permette di ristampare la bobina in arrivo dalle macchine digitali stando a passo perfetto con scarti minimi. Grazie all'ausilio di microcamere e di un sofisticato software brevettato da OMET, il controllo di registro Vision è la soluzione più performante sul mercato anche per questa applicazione e permette di consegnare packaging di qualità superiore a costi ridottissimi.
Essendo la VF una piattaforma completamente modulare, questo le permette di essere trasformata in futuro in una linea di stampa completa e indipendente, aggiungendo gruppi di stampa e qualsiasi altro gruppo addizionale. Pertanto si configura come un investimento facilmente ammortizzabile che può nel tempo essere incrementato per trasformarsi in una macchina da stampa completa e sempre innovativa.