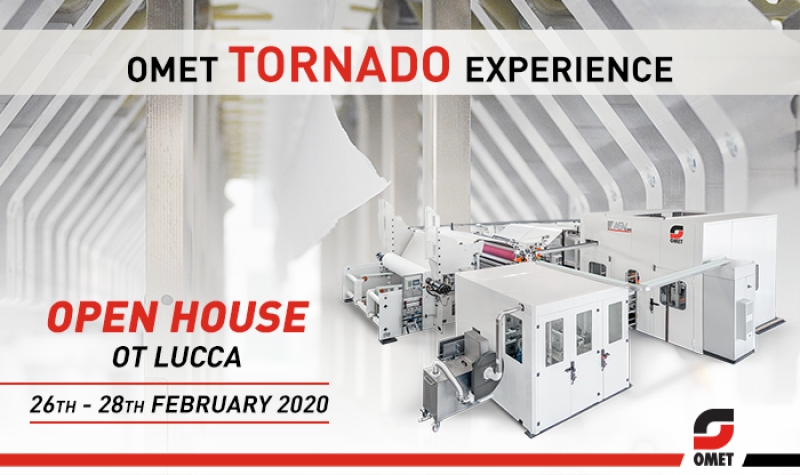 OMET Tornado Experience: Open House in Lucca (Italy) on February 26-28
February 12, 2020
The overwhelming production of the new ASV Line TORNADO will be featured at the next open house organized in Lucca from 26 to 28 February. The new OMET line, introduced at the last edition of the MIAC, will be available for live demos that will show its amazing performances at high speed in producing interfolded tissue products.
The new OMET ASV Line Tornado has been designed for whoever wants to speed up the production of interfolded tissue products, to reach the best performance in terms of quality and quantity and to reduce stops for maintenance.
During the "OMET Tornado Experience" open house, the ASV Line TORNADO will be on stage from 10 a.m. to 5 p.m. at OMET Demo Center in OT LUCCA. Visitors will see the new interfolding unit for high speed –250 m/min, the flexibility of machine configuration according to the reel width, the high number of log transfer cycles, and the high performance log saw unit.
OMET staff will explain the advantages about machine's maintenance and its components, the new NOVA system (New OMET Virtual Access) for prompt assistance with virtual reality support. It will be possible also to see an ASV Multifold Line in construction.
The open house will be held at OMET Demo Center in OT LUCCA premises (Via Micheloni 13, 55015, Montecarlo- Lucca, ITALY).
You can book your visit by writing to OMET marketing department (chiara.colombo@omet.it) or by calling our sales department (tel. 0341 282661). Please indicate the preferred day for your visit. Our offices will be at your disposal for any further information, as well as for logistic assistance (transport, hotel).
Info: http://www.tissue.omet.com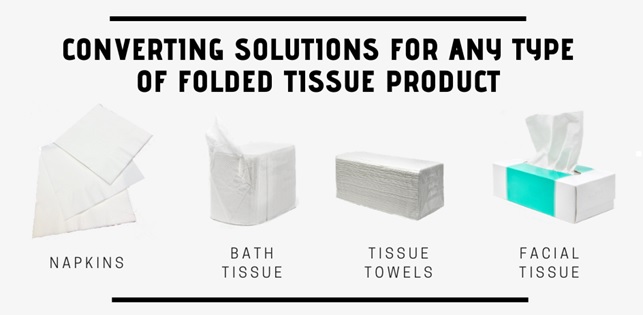 ---
OMET Tornado Experience: Open House a Lucca il 26, 27, 28 febbraio
Sarà interamente dedicato alla potenza produttiva della nuova ASV Line TORNADO l'open house che OMET ha organizzato a Lucca dal 26 al 28 febbraio. La nuova linea OMET, presentata all'ultima edizione del MIAC, sarà a disposizione per live demo che mostreranno le sue performance nella produzione ad alta velocità di prodotti tissue interfogliati.
La nuova ASV Line Tornado è stata progettata per chi vuole aumentare la produzione di prodotti interfogliati, raggiungere performance di qualità e quantità senza precedenti e produrre in velocità senza fermi macchina per la manutenzione.
In occasione dell'open house "OMET Tornado Experience", sarà in funzione dalle 10 alle 17 presso il Demo Center della sede OT LUCCA (Via Micheloni 13, 55015, Montecarlo di Lucca). Sarà possibile constatare le funzionalità del nuovo gruppo di piega per interfogliatura ad alta velocità (250 m/min), la flessibilità di configurazione macchina in funzione della larghezza bobina, l'elevato numero di cicli di trasferimento log e il gruppo troncatore ad alte performance.
Lo staff OMET illustrerà in dettaglio i vantaggi relativi alla manutenzione della macchina e dei suoi componenti, il funzionamento del nuovo sistema NOVA (New Omet Virtual Access) per la pronta assistenza con l'ausilio della realtà virtuale. Sarà possibile inoltre visionare una linea ASV Multifold in costruzione.
L'evento si terrà presso il Demo Center OMET nella sede di OT LUCCA (Via Micheloni 13, 55015, Montecarlo, Lucca).
Gli interessati possono partecipare contattando l'ufficio marketing OMET (chiara.colombo@omet.it) e indicando il giorno di preferenza. L'ufficio è a disposizione anche per supporto logistico (trasporti, hotel).