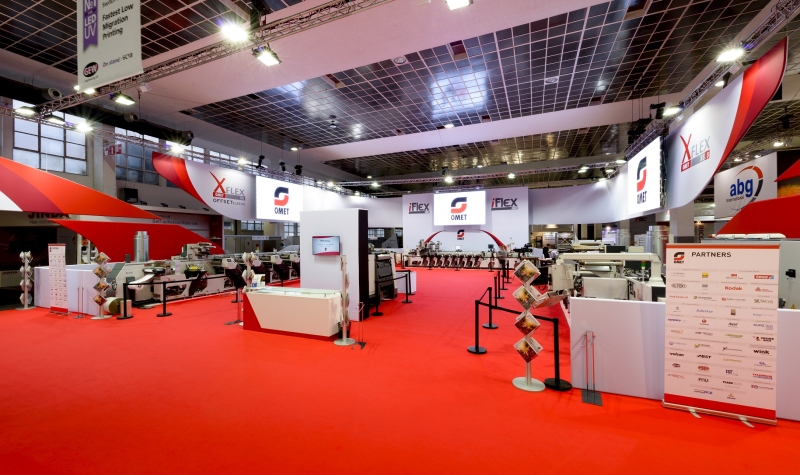 OMET to present a new printing line at Labelexpo Europe 2019
June 17, 2019
OMET will be one of the key players at Labelexpo Europe 2019 in Brussels (24-27 September 2019) with a central stand in the Hall 6 (C49-C53) and live demos on 3 machines.
Great excitement is rising around the new creation by OMET to be presented at the next Labelexpo Europe. An intense R&D work, aimed at proposing new solutions and improving printing technologies in the field of label and flexible packaging has always distinguished OMET in the small circle of the narrow web "inventors". At Labelexpo 2019, OMET will prove it again, by presenting a new machine of XFlex line: as always happens at this major world fair, all details will be revealed only closer to the event.
Three machines will be on display at the OMET Labelexpo stand. Beyond the new line, there will be an iFLEX, the queen of label printing, and the highly valued XJet powered by Durst, the best hybrid digital + flexo machine on the market today.
XJet powered by Durst offers the widest range of in-line multi-process technologies for finishing requirements (cold foil, hot foil, embossing, varnishing, peel & seal, delam-relam…) as well as efficient converting solutions as OMET Monotwin-Cut variable size die-cut, OMET Twist easy-change die and OMET Rock'n'Roll matrix stripping.
Hybrid XJet is a great solution for short run with versioning and personalisation, variable data printing and fast set up, but not only: thanks to it high speed performances (78 m/min), the low ink laydown and the cost analysis and personalisation, it could be ideal also for medium runs. It prints in high quality with 1200×1200 dpi, offset-like quality and sharp precision in details and vignette, with adding-value features, all-in-one prodution and combination printing.
For growth oriented printed enterpreneurs who are seeking for a high performance flexo press at an affordable price, iFLEX is an ideal solution that provides highest quality output with the lowest cost of production. Unlike other entry level press on the market, iFlex comes with newly designed and highly sophisticated features which help printers in reducing set-up waste, production waste, changeover times and overall cost of maintenance.
OMET – Hall 6 – Stand C49-C53
---
OMET presenta una nuova linea da stampa a Labelexpo Europe 2019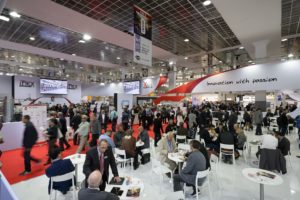 OMET ancora protagonista alla Labelexpo Europe 2019 di Bruxelles (24-27 Settembre 2019) con uno stand centrale della Hall 6 (C49-C53), dove sarà possibile assistere a dimostrazioni live su 3 macchine.
C'è grande fermento attorno alla nuova creazione di casa OMET, che verrà presentata in occasione della prossima fiera Labelexpo Europe. Un intenso lavoro di ricerca e sviluppo, orientato a proporre nuove soluzioni e migliorare le tecnologie di stampa nel mercato delle etichette e del flexible packaging, da sempre ha contraddistinto OMET nella ristretta cerchia degli inventori nel mondo della stampa su nastro stretto. A Labelexpo 2019, OMET ne darà una nuova dimostrazione: si tratta di una nuova macchina da stampa della linea XFlex, ma come sempre accade in occasione di questa principale fiera mondiale, tutti i dettagli verranno svelati solamente con l'avvicinarsi dell'evento.
Saranno tre le macchine in dimostrazione sullo stand OMET per questa importante kermesse. Oltre alla nuova linea, ci saranno la iFLEX, regina della stampa di etichette, e la richiestissima XJet powered by Durst, la macchina ibrida digitale+flexo con le migliori prestazioni oggi sul mercato.
XJet offre la più ampia gamma di tecnologie multi-processo in linea per la finitura e la valorizzazione del prodotto stampato (cold foil, hot foil, goffratura, verniciature, etichette multistrato, delam-relam…), ed efficienti soluzioni di converting come la fustella a formato variabile OMET Monotwin-Cut, la fustella cambio rapido OMET Twist e lo sfridatore OMET Rock'n'Roll.
La ibrida XJet è una fantastica soluzione per le piccole tirature che prevedono personalizzazioni e diverse versioni dello stesso soggetto, stampa di dati variabili e set up rapido, ma non solo: grazie alla sua alta velocità di stampa (78 m/min), il limitato consumo degli inchiostri e ad una approfondita analisi dei costi che può portare alla massima ottimizzazione della configurazione macchina, può dare ottimi risultati anche sulle medie tirature. XJet mostrerà in fiera la sua alta qualità di stampa con una risoluzione di 1200×1200 dpi, qualità paragonabile alla stampa offset e una massima precisione dei dettagli, con gruppi di finitura e converting in linea per il massimo della nobilitazione.
Per gli stampatori orientati alla crescita che cercano una macchina da stampa flessografica ad alte prestazioni con un prezzo accessibile, iFLEX è la soluzione ideale che permette un risultato di altissima qualità con il più basso costo di produzione. A differenza delle macchine entry-level disponibili sul mercato, iFlex è dotata di tutte le funzionalità di nuova concezione, che aiutano gli stampatori ad abbattere gli sprechi in fase di avviamento, gli scarti di produzione, i tempi di cambio lavoro ed i costi di manutenzione.
OMET – Hall 6 – Stand C49-C53